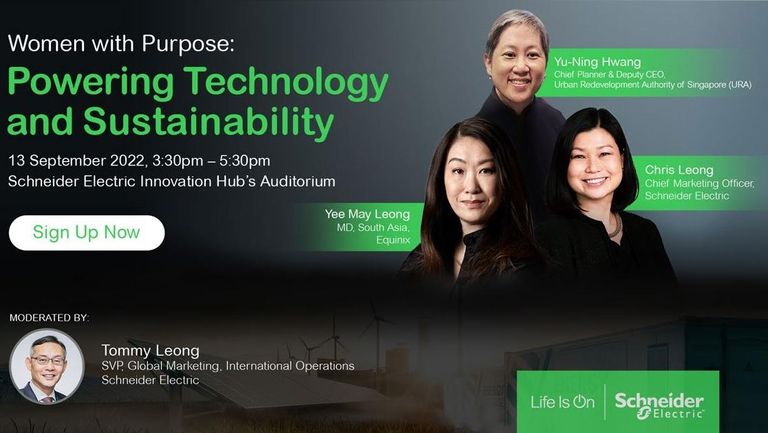 Schneider Electric launched the "Building a Greener Singapore Together" leadership dialogue series in 2022 as part of our commitment to work closely with partners in driving digital transformation for sustainability and efficiency. It aims to provide a platform for like-minded executives and thought leaders to share insights on their sustainability journeys and advance conversations on imperatives such as the role of technology and partnerships in making a positive impact for a sustainable future.
Diversity and inclusion play an important role in driving positive change and building a vibrant ecosystem for ideas and innovation. Alongside efforts to encourage more women to join the technology sector, it is also important to recognise the contributions women make in leading and inspiring actions for a more sustainable world.

We would like to invite you to attend the upcoming dialogue session, discussing the theme "Women with Purpose: Powering Technology and Sustainability". The session will be held on Tuesday, 13 September 2022 from 3.30pm to 5.30pm at Schneider Electric Innovation Hub's auditorium.
This high-level closed-door event will bring together women trailblazers in the intersection between sustainability and technology, including Chris Leong, Chief Marketing Officer, Schneider Electric, who is also a member of our Executive Committee and has over 27 years of experience of spearheading transformation and digitisation across continents.

Other guest panelists include : Yee May Leong, MD, South Asia, Equinix and Yu-Ning Hwang, Chief Planner & Deputy CEO, Urban Redevelopment Authority of Singapore(URA)
It will be moderated by Tommy Leong, SVP, Global Marketing, International Operations, Schneider Electric.
Key topics for the panel discussion include:
Opportunities and challenges on the road to a sustainable future
Role of technology and innovation in driving ESG goals
Empowering employees to take greater ownership in realising corporate sustainability commitments
Promoting gender diversity in technology and sustainability sectors