Catch Måneskin at their first Singapore show.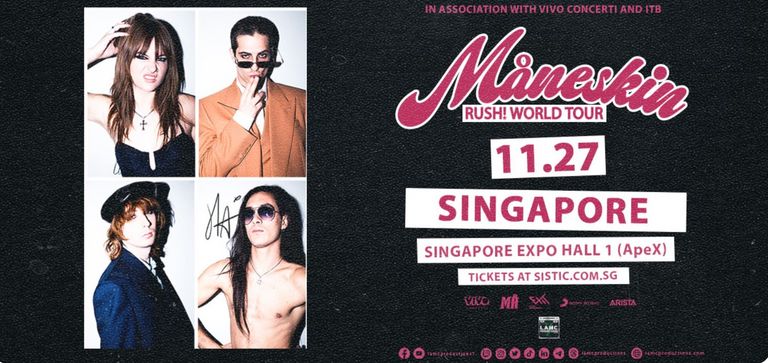 Catch Måneskin, one of the world's hottest bands, at their first Singapore show
As part of the RUSH! World Tour, which kicked off in Germany in September and has played to sold-out arenas in Europe, North America, South America and Australia, this ONE-NIGHT-ONLY concert brought to you by LAMC Productions will rock Singapore with the band's biggest hits like "Beggin'", "I Wanna Be Your Slave", the recently released Honey (Are You Coming?) and new material from the extended version of their RUSH! album (released on 10 November).
Formed in Rome in 2016, the band is fronted by vocalist Damiano David, with bassist Victoria De Angelis, guitarist Thomas Raggi, and drummer Ethan Torchio. The band first started as street performers before their rise to fame as runners up in the 11th season of X Factor Italy in 2017. They broke into the international music scene in 2021 when they won the Eurovision Song Contest for Italy with their song "Zitti e buoni" (loosely translated as "shut up and behave"), which became a massive international success. The band won the 2023 MTV Video Music Award for Best Rock Video for their 2022 release "The Loneliest".
To date, the band has sold an estimated 40 million copies worldwide, been heard over 4 billion times across various streaming platforms, including by 25.5 million monthly Spotify listeners, and has been awarded 18 diamond, 253 platinum, and 48 gold disc certifications, according to La Repubblica.
Get your tickets and get exclusive Free Priority Entry tickets for our members.