Engage in design thinking to define and explore how and where innovation can be applied to drive the maritime industry forward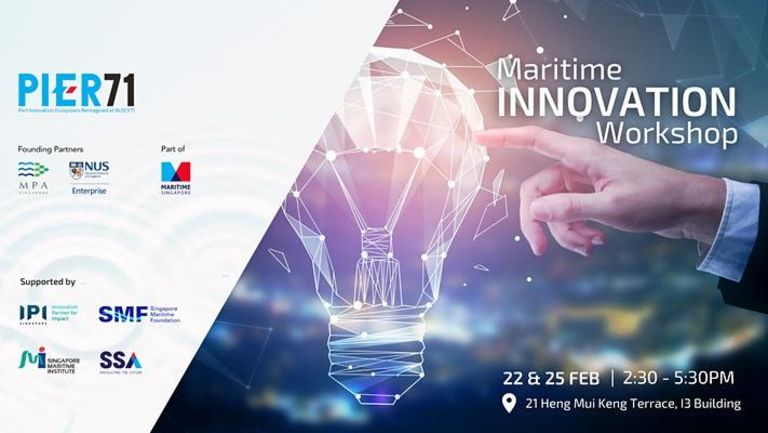 We invite you to be part of the annual Maritime Innovation Challenge to scan for innovative solutions. Join us over two half-days (22 and 25 Feb | 2:30-5:30pm) as we engage in design thinking to define and explore how and where innovation can be applied to drive the maritime industry forward.
Led by Hugh Mason, this workshop will include plenary sessions and facilitated group work to deep dive into the key priorities in four areas: Decarbonisation, Supply Chain Resilience, Digitalisation and Manpower.
In line with safe management measures, only fully vaccinated individuals will be allowed to attend this in-person workshop. All attendees are required to perform antigen rapid test (ART) no more than 24 hours prior to each workshop date.
Hugh Mason | CEO & Entrepreneur
Hugh is an entrepreneur with 30 years' success leading ventures and building innovation communities around start-ups and corporations. He is a doctoral candidate at University of Canberra and Entrepreneur-in-Residence at National University of Singapore. Since 2012 Hugh has co-founded, mentored or invested in more than 70 start-up companies, returning 29% IRR.
Building on his experience managing creative people and IP, in 2001, Hugh co-founded Pembridge Partners. This London-based investment and advisory firm raised over USD50m working with 300+ technology media and marketing firms. Hugh captured the insights he gained in his first book Brainfruit, co-authored with Mark Chong, and published by McGraw-Hill.
In 2009, Hugh co-founded JFDI.Asia. As the first business accelerator in SE Asia, JFDI proved pivotal in kick-starting Singapore's entrepreneurial ecosystem, deploying approximately USD3m into a portfolio of 70 international start-ups. JFDI has also supported thousands of start-up founders through its outreach programmes. The second book that Hugh co-edited, Facing Down Failure, captures eight Singapore start-up stories.
Expected Outcomes
Participants will walk away with:
an understanding of design thinking and managing open innovation
an understanding of how to articulate business challenges effectively
an overview of resources available to support open innovation in maritime
a call to submit business challenges
What Happens After
A team of facilitators will work in collaboration with you to review and refine your business challenges for clarity. An expert panel comprising maritime veterans will assess them for wider industry impact, addressability by the start-up community, students and/or research potential. Selected ones will be translated into compelling statements and published as innovation opportunities in the appropriate channels: Smart Port Challenge 2022 (start-ups), MINT Fund Call for Proposals (larger enterprises), SMI Grant Call (R&D projects), MSC Maritime Digital Challenge (student challenges), and more.