From MBA to EMBA, A Journey For Tomorrow's Responsible And Inclusive Leaders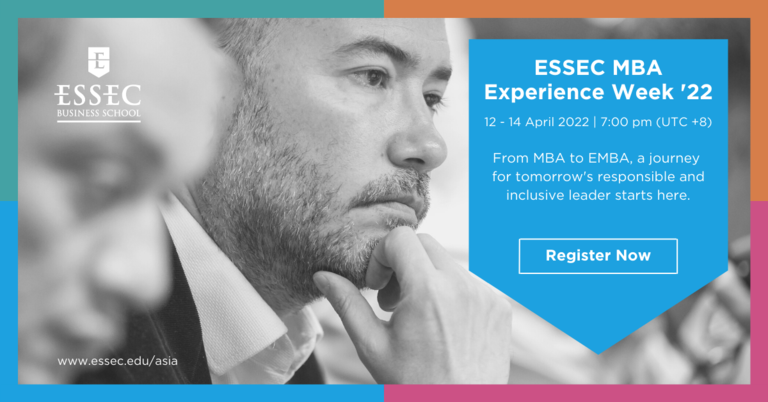 Discover the distinction of top-ranked MBA
programs at the ESSEC MBA Experience Week
Happening from 12 to 14 April 2022
Attend the sessions virtually
Join us online from 12 to 14 April 2022 to learn how ESSEC's top-ranked MBA programs can maximize your potential.
Hear from the Graduates
How can an investment in ESSEC's top-ranked MBA program increase your professional worth? Get the answers from this panel featuring graduates from ESSEC's Global MBA and Executive MBA programs.
Advance Your Career
It is never too late to rise to the top in your career. ESSEC's Executive MBA is designed for mature executives looking to break barriers. Join top alumni from the program and gain insights into your next career goal.
Day 1 - Tuesday - 12 April 2022
Understanding MBA vs. EMBA: Which one is right for you?
Gain insights into the key differences and learn more about the ESSEC Global MBA and ESSEC & Mannheim EMBA program in this session. Find out which program is right for you.
Presented by:
Johnny Liang, Assistant Director, ESSEC Global MBA | LinkedIn
Marc Nerva, Senior Manager, ESSEC & Mannheim EMBA Asia-Pacific | LinkedIn
7:00 pm to 8:00 pm (UTC +8)
Tuesday - 12 April 2022
Day 2 - Wednesday - 13 April 2022
Getting the most out of MBA career services
Be it a Global MBA or an Executive MBA, these programs address distinct needs. Learn how to maximize your prospects via MBA career services from Leo Tan, Head of Career Services, Alumni & Corporate Relations, from ESSEC Asia-Pacific.
Alumni Panelist:
James Ching, EMBA Alumnus, and Director Sales Ops APAC, The Adecco Group
7:00 pm to 8:00 pm (UTC +8)
Wednesday - 13 April 2022
Day 3 - Thursday - 134 April 2022
The art of digital luxury collaborations around NFTs and the Metaverse
In this masterclass, Prof. Denis Morisset will decode why and how luxury brands have made extensive use of collaborations in the past 10 years for multiple purposes:
- Enhance their popularity, creativity and exclusivity
- Extend their presence into experiential categories: hotels, F&B, travel, furniture, etc.
- Refresh their dream factors and attract younger consumers, particularly Gen Z.
In a second segment, he will explore opportunities for luxury brands on digital collaborations around NFTs and the Metaverse by looking at current best practices and identifying potential pitfalls. He will also focus on China's market specificities regarding NFTs & regulations.
Presented by:
Denis Morisset, Professor of Luxury Brand Management, ESSEC Business School | LinkedIn

About the speaker:
Prof. Denis Morisset worked for 25 years in the luxury fashion industry (Ralph Lauren, Pierre Balmain, Giorgio Armani, etc.). In 2004, he started a new career as a luxury marketing professor at ESSEC Business School (Paris and Singapore), specializing in luxury brand management, luxury distribution and retail, luxury service, luxury hotel management, and luxury guest experience. Based in China six months per year, Prof. Morisset is also a visiting professor in ESSEC's partner business schools in Beijing, Shanghai, and Hong Kong.
7:00 pm to 9:00 pm (UTC +8)
Thursday - 14 April 2022