The French Chamber is organising the next session of 'Meet the CEO', a great opportunity for Entrepreneurs & SMEs to connect with MNCs.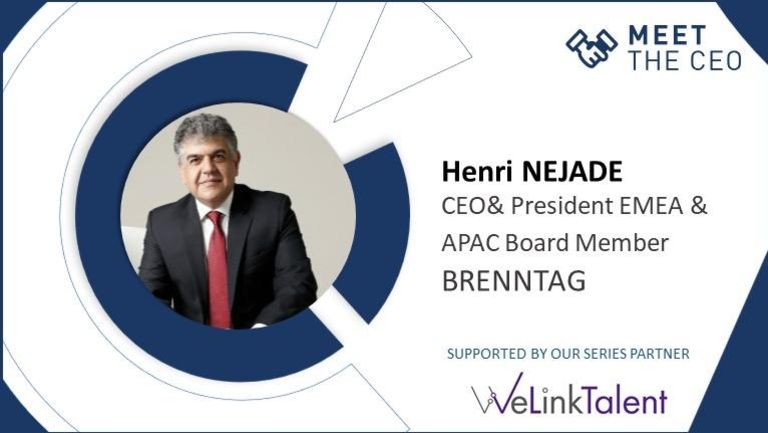 A survey conducted to the members reveals that business matching with large companies is a top priority for French start-ups and entrepreneurs.
'Meet with a CEO' is a monthly initiative organised in collaboration with one of the top executives or highest level corporate positions of a large company, in various industries.
This session will be with Henri NEJADE, CEO& President EMEA & APAC Board Member at BRENNTAG. He will be available for a 3-hour programme of 30-minute 1-to-1 meetings with 6 start-ups & SMEs selected according to his business relevance.
- Registration shall be done by latest on the 31st March
- Selected companies will be informed by latest on the 2nd April

About Henri NEJADE
Henri Nejade joined Brenntag Group, a global market leader in chemical distribution in Dec 2008 as President & Chief Executive Officer for Asia Pacific based in Singapore and with the recently global transformation of Brenntag, Henri has been appointed COO for Brenntag Specialties. With an extensive experience in Global Business Management and Merger and Acquisition arena from working with General Electric and Solvay (ex Rhodia) in Europe, Henri has created a platform within a short space of time with more than 2,000 employees covering South East Asia, India, Australia and New Zealand as well as China.
Henri postgraduate in Chemistry and holds an Executive MBA and has attained Corporate Governance certificate at INSEAD (France) in 2015 and in the same year July, Henri has been appointed Member of the Board of Management at Brenntag Group, a public listed company in Germany.

Terms & Conditions
- For Entrepreneur members and SME members only
- Up to 6 meetings are available. The companies will be selected by the company.