The French Chamber is organising the next session of 'Meet the CEO', a great opportunity for Entrepreneurs & SMEs to connect with MNCs. A survey conducted to the members reveals that business matching is a top priority for French start-ups and entrepreneurs. 'Meet with a CEO' is an initiative organised every month, with a CEO of a large company.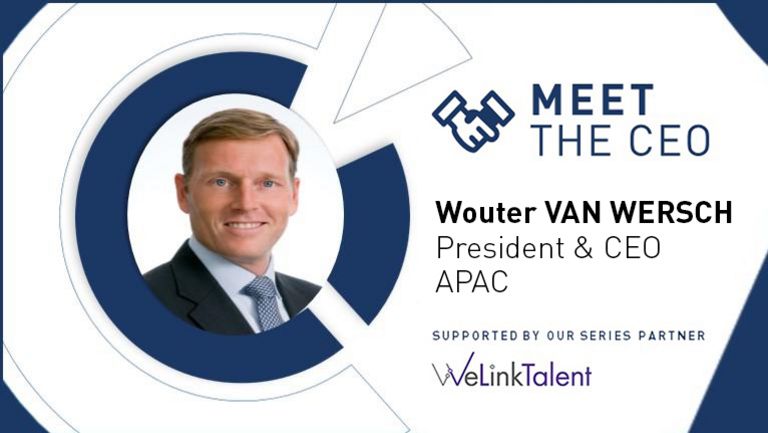 This new session will be with Wouter Van Wersch, President & CEO of GE Asia Pacific (APAC). He will be available for a 3-hour programme of 30-minute 1-to-1 meetings with start-ups & SMEs. He will meet up to 6 companies, selected according to his business relevance.
- Registration shall be done by latest on the 20th January -
- Selected companies will be informed by latest on the 24th January -
About the speaker
Wouter VAN WERSCH, President & CEO APAC of General Electric
Wouter Van Wersch, 50, is President & CEO of GE Asia Pacific (APAC), and a Vice President of the GE Company. Based in GE's regional head office in Singapore, he is responsible for driving the company's profitable business growth in the 13 countries of the region by leveraging the company's presence, enhancing cross-business capabilities, building localization strategies, and optimizing resources.
His 26-year career to date, has involved marketing, sales, and management roles for various multinational companies, in different regions, including 15 years working in Asia.
He began his career at Vivendi Universal's international marketing department in Paris in 1994, before moving to Airbus as Sales Manager Asia. In 2000, he joined Alcatel as Business Development Director Europe before
being appointed Sales Director for Asia Pacific, in Shanghai, and General Manager Indonesia, in Jakarta.
In 2006, he moved to Alstom as Vice President Sales for Europe and was promoted to Senior Vice President Asia Pacific in 2011, based in Singapore. Following the completion of the Alstom acquisition in 2015, Wouter was named President & CEO of GE ASEAN. In January 2018, he was appointed President and CEO of the newly combined APAC region comprising ASEAN, Australia, New Zealand, Papua New Guinea, Japan and Korea.
In addition, Wouter was appointed as a Board Member of the Singapore Economic Development Board with effect from 1 February 2018.
A native of the Netherlands, Wouter grew up in France, and is a graduate in Business Administration from the Erasmus University Rotterdam. Wouter and his wife have three children aged 18, 17 and 11. He is an enthusiastic sportsman, especially field hockey, which he played at the highest international level, including representing France.
Terms & Conditions
- For Entrepreneur Members and SME Members only
- Up to 6 meetings are available. The companies will be selected by the CEO.