The French Chamber is organising the next session of 'Meet the CEO', a great opportunity for Entrepreneurs & SMEs to connect with MNCs.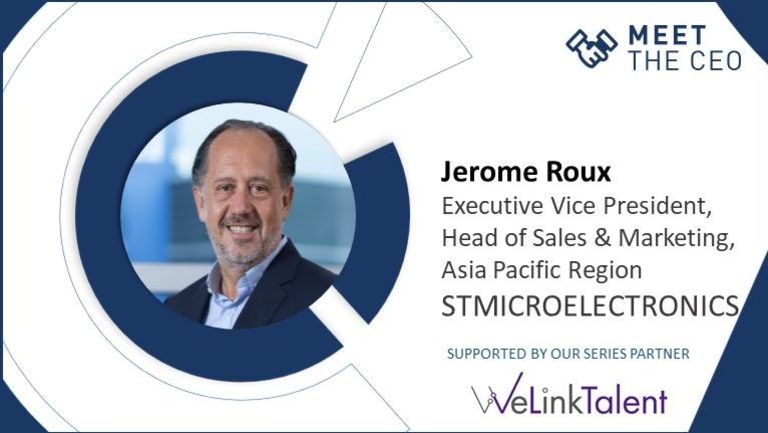 A survey conducted to the members reveals that business matching with large companies is a top priority for French start-ups and entrepreneurs.
'Meet with a CEO' is a monthly initiative organised in collaboration with one of the top executives or highest level corporate positions of a large company, in various industries.
This session will be with Jerome Roux, Executive Vice President, Head of Sales & Marketing, Asia Pacific Region at STMICROELECTRONICS. He will be available for a 3-hour programme of 30-minute 1-to-1 meetings with 6 start-ups & SMEs selected according to his business relevance.
- Registration shall be done by latest on the 19th March -
- Selected companies will be informed by latest on the 22nd March -
About Jerome ROUX
Jerome Roux is Executive Vice President, Sales & Marketing for STMicroelectronics' Asia Pacific Region, and has held this position since July 2017. Roux began his career in the Planning department of SGS-THOMSON Microelectronics, a predecessor to STMicroelectronics, in 1988. He soon moved to the Company's packaging facility in Casablanca, Morocco as Material Manager. Afterwards, Roux moved to Singapore and then Shanghai as the Asia Pacific Marketing Director for ST's Discrete and Standard Product Group. He left ST briefly to join an ST supplier company as Managing Director and Member of the Board and returned to ST in 2006 as Group Vice President, Assembly & Testing Outsourcing Operations, based in Singapore. Global Purchasing responsibilities were added to his mandate in 2008. He was promoted to Corporate Vice President in 2012 and has managed Geographic and Distribution Sales in ST's Greater China & South Asia Region (since 2015) and Asia Pacific Region (since 2016). Roux serves as Advisor to the French Government (CCEF) on Foreign Trade of the Singapore committee. Jerome Roux was born in Antibes, France, in 1965, and graduated from ISG Business School in Paris with a Master degree in Commerce (Management & Marketing).
Terms & Conditions
- For Entrepreneur members and SME members only
- Up to 6 meetings are available. The companies will be selected by the company.