Our Dispute Resolution Annual Update returns this year in a new virtual format to deliver our market-leading content during these unprecedented times.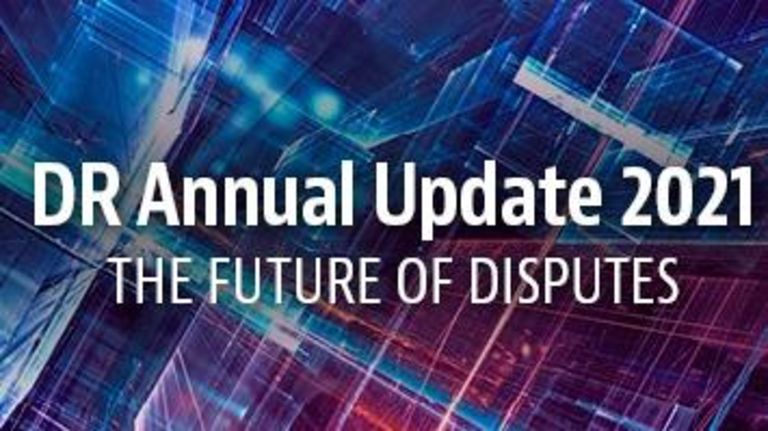 The ongoing COVID-19 pandemic has largely influenced and brought about significant changes to the way we solve disputes. We have already seen judicial systems twist and turn to adapt to the new "norm," so what will this mean for the future of disputes?
DR annual video update series: Restructuring and Insolvency

We are pleased to introduce Baker McKenzie's Dispute Resolution annual video update series. Across six video updates, our speakers recap the highlights and developments in 2020.
Update 2: Compliance
Update 3: Commercial Litigation
Update 4: Construction
Update 5: Arbitration
Update 6: Employment
Please click on the video image below for our first video update by Emmanuel Chua on key developments in the Singapore Restructuring and Insolvency space that took place in 2020.
Panel Discussion: The Future of Dispute Resolution
Join us on Wednesday, 27 January 2021 in a 45 minutes plenary session on the future of dispute resolution. During this panel discussion Baker McKenzie's Dispute Resolution partners together with guest speakers, Nadja Alexander (Professor of Law, SMU), Steven Lim (Arbitrator, 39 Essex Chambers), Jonathan Lee (Associate General Counsel, Facebook) and Jon Lavinder (Director, Technology-Assisted Review, Epiq) will explore transformation in the judiciary as courts embrace technology, innovative pandemic related dispute resolution, use of AI in dispute resolution and global trends which we can expect to see in 2021 and beyond.
Legal Clinics
Following the plenary session, we will be hosting live legal clinics for an in-depth discussion on current trends and issues impacting businesses and industries.
| | |
| --- | --- |
| | Construction |
| | |
| | Dispute Resolution - Litigation and Arbitration |
| | |
| | Compliance |
| | |
| | Employment |
| | |
| | Restructuring and Insolvency |
More information on the agenda here