Presented by SGInnovate, EDB and JETRO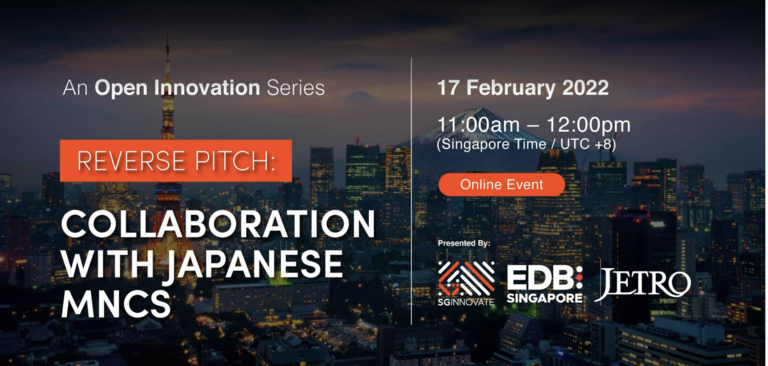 In recent years, with the establishment of the Japan Open Innovation Council (JOIC) in March 2017, more and more Japanese companies have been actively promoting the idea of open innovation. With many Japanese companies operating beyond borders in search of new solutions, there are increasing opportunities for companies from Singapore and Southeast Asia as well.

In terms of R&D expenditures and the number of R&D personnel, Japan ranks as one of the world's leading countries while also being among the top countries in the numbers of academic papers and patent applications. Along with its abundant resources such as research capabilities, financial power, and researchers, this makes Japan an attractive market for expansion.

Presented by SGInnovate, EDB and in partnership with JETRO, the Reverse Pitch event series aims to spotlight market demands for frontier technologies to better inform the startup community to support their go-to-market efforts. At these Reverse Pitch events, corporate leaders will present their problem statements and innovation needs that they are open to working with startups. This session will feature business needs in industries such as Healthcare, Supply Chain, and Sustainability from leading Japanese MNCs such as Teijin Pharma, Yusen Logistics Co., Ltd. and Mitsubishi Chemical Holdings.

The Reverse Pitch series is part of SGInnovate and EDB's Open Innovation partnership, with the aims to connect open innovation leaders in Singapore and the region, promote corporate innovation projects and adoption, and catalyse corporate-startup collaborations.

Date: 17 Feb 2022, Thursday
Time: 11:00am - 12:00pm (Singapore Time / UTC +8)

Programme:
11:00am - 11:05am: Opening Remarks from SGInnovate and Masato Tanakai, Senior Director - Business Development and PR, JETRO.
11:05am - 11:15am: Introduction and Fireside Chat with
Yutaro Kuryu, Senior Business Manager, East Japan Railway Company
Keith Tan, CEO & Founder, Crown Digital Pte Ltd
Moderator: Tuan Nguyen, Deputy Director - Community and Partnerships, SGInnovate
11:15am - 12:00pm: Presentations and Q&A with
Mitsubishi Chemical Holdings
Teijin Pharma
Yusen Logistics Co., Ltd.
About the Corporates:
Mitsubishi Chemical Holdings
Mitsubishi Chemical Holdings Corporation (MCHC) is the holding company for Mitsubishi Chemical Corporation, Mitsubishi Tanabe Pharma Corporation, Life Science Institute Corporation, and Nippon Sanso Holdings Corporation. We create innovative solutions globally based on our core values of Sustainability, Health and Comfort, striving for the well-being of people, society, and our planet Earth.
The mission of the Venture Office is to drive innovation throughout the MCHC Group through strategic partnerships and investment to startups globally. Healthcare is one of MCHC's key focus areas, and we are interested to connect with partners to build patient-centric digital health platforms in the areas of neuromuscular and autoimmune diseases.
Teijin Pharma
Teijin Pharma Ltd. (Teijin) is a subsidiary of Teijin Ltd. which is headquartered in Tokyo, focusing on the healthcare business. Teijin ranks as the top player of home healthcare business in Japan, providing home-use medical devices such as HOT (Home Oxygen Therapy) for chronic pulmonary diseases and CPAP (Continuous Positive Air Pressure) for sleep apnea. Currently, Teijin oversees new ventures with startups around the world to introduce innovative technologies and products for home use. In the past, Teijin has collaborated with startups outside APAC (North America, Europe, and Israel) working to introduce their technologies/products into Japan with various collaborations including but not limited to agreements of co-development, licensing, investment, and product distribution. Teijin is always open to exploring opportunities with early-stage (Seed or Series A stage) to late-stage (commercial stage) companies to find the best way with them depending on collaborative discussion.
Teijin is looking to build relationships with APAC startups to transform traditional healthcare models to more likely home-based healthcare by shifting from intervention to prevention and from invasive to non-invasive with cost-effective and cutting-edge solutions.

Yusen Logistics Co., Ltd.

Yusen Logistics Co., Ltd. is an insight-driven, customer-centric logistics partner to businesses around the globe. For decades, we have been delivering an extended range of services from international freight forwarding and contract logistics to supply chain solutions - covering the entire supply chain. As a company committed to building shared value with customers, we have developed a deep understanding of our customers' business and markets, the challenges they face and the goals they want to achieve. By prioritizing digitalization and innovation, we aim to help our customers better shape their supply chains, connecting them to a world of possibilities.
As ESG (Environmental, Social, Governance) takes centre stage, we are making every effort to minimize greenhouse gas emissions, optimize logistics for our clients and create innovative solutions that would add value to them by integrating ESG into every step along our investment process.
Yusen Logistics Co., Ltd. has 24,000 employees and operates more than 595 distribution centres/offices in 47 countries and regions. For more information, visit www.yusen-logistics.com

Speakers' Profiles:
Takaaki Kondo, Manager - Venture Office, Mitsubishi Chemical Holdings

Takaaki Kondo is the Manager of the Venture Office at Mitsubishi Chemical Holdings. He has 14 years of experience in early-stage collaborative research at Mitsubishi Tanabe Pharma Corporation and joined the Venture Office of Mitsubishi Chemical Holdings Corporation (MCHC) in April 2021. Prior to working on collaborative research, Takaaki was a researcher in the field of immunology and has postdoctoral experience in autoimmune diseases and immuno-oncology at Harvard Medical School.

Aki Maeda, Senior Manager of Home Healthcare New Business Planning Department, Teijin Pharma Ltd.
Akihiro (Aki) Maeda has spent around 20 years in Teijin and is currently the Senior Manager of New Business Planning and Development heading the strategic alliance in medical devices for home healthcare and coordinating corporate venture activities in Japan.
Prior to this role, Aki was a resident for business development working at the California office, US in Teijin for 5 years seeking licensing-in opportunities with North American companies.

Toshiya Kusaga, Senior General Manager of Business Development & Supply Chain Solutions Group, Yusen Logistics (SAO Region) Co., Ltd.
Toshiya was previously the Head of the Product Development team, Supply Chain Solutions of Yusen Logistics Global Management Limited. His mission was to explore innovative digital solutions that would transform the supply chain and logistics, equipping the company and customers with supply chains that are aptly prepared for future challenges. He collaborated with startups and led the project team in developing and enhancing Yusen Vantage Performance, an integrated suite of IT solutions that provides end-to-end supply chain visibility, optimization, prediction and compliance functionality.
As a seasoned global supply chain and logistics practitioner, Toshiya's experience spans over 17 years of business development, supply chain solutions and product development within the logistics industry. Toshiya is now the Senior General Manager of Yusen logistics SAO Region Co. Ltd., he is one of the key players in the development and implementation of business development strategies and activities in South Asia and the Oceanic region. In this new era of ESG (environmental, social, and governance), he is striving to formulate digital solutions that would bring new value, and empower customers to meet and exceed their ESG goals.