Join us online for our ESSEC– FCCS C-Suite Dialogue Series #2 on what are the shift in business-government relations today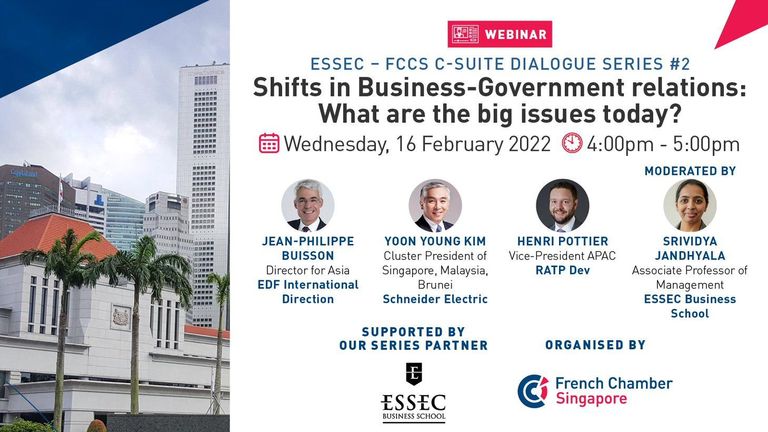 Income inequality, climate change, technology disruptions, data privacy & ownership and intensifying backlash to globalization are the top issues both the public and private sectors cannot be addressed alone but need to work together to make meaningful progress.
Today organizations across industries and sectors, including businesses, governments, non-governmental organizations (NGOs), and civil society, must work collaboratively.
In the second instalment of the ESSEC-FCCS C-Suite dialogue series, Prof. Srividya Jandhyala, Associate Professor of Management at ESSEC hosts a panel discussion among different industry sectors to tackle the shift in business-government relations today:
- How to create a new business model, more efficient which is driven by Government Relations, Politics, National security and beyond
- What are the main challenges those industries and executives face today
- How do industries and executives deal with it
- What do you recommend as best practices in your industry
OUR SPEAKERS:
- Jean-Philippe Buisson : Director for Asia in EDF International Direction.
- Yoon Young Kim: Cluster President of Singapore, Malaysia, Brunei at Schneider Electric.
- Henri Pottier : Vice-President for Asia-Pacific at RATP Développement.
- Srividya Jandhyala : Associate Professor of Management at ESSEC Business School.
Terms & Conditions:
This event is open to members only.
Full payment is required upon registration. Once paid, registration fees are non-refundable.
The Zoom link will be sent a day prior to the event.
Please note that photographs may be taken during the event for news and publicity purposes.
OUR PARTNER