Join the experts from Fidinam as they share insights on how Singapore represents a relevant gateway to serve Vietnam fast-growing market.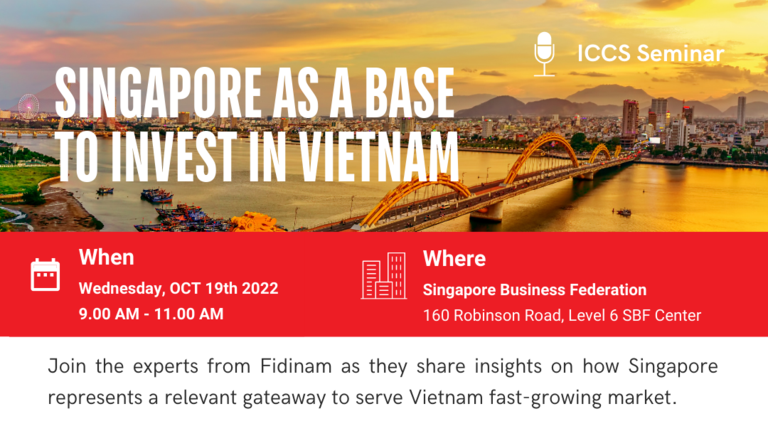 ICCS, in collaboration with Fidinam, will present a seminar focused on exploring the Singapore-Vietnam investment opportunities.
Located at the very heart of Southeast Asia, Singapore provides one of the world's most business-friendly regulatory environments for entrepreneurs. As a founding member of the ASEAN (Association of South East Asian Nations), Singapore represents a relevant gateway to serve the fast-growing markets of the region, such as Vietnam. The cooperation Singapore-Vietnam is a success: Vietnam is a key investment destination for Singapore companies: A third of total FDI in Vietnam came from Singapore in 2021, placing the city-state as the top source of FDI for Vietnam (the amount of the FDI coming from Singapore to Vietnam reached 6.7 billion USD in 2021).
In this seminar, Fidinam's experts will discuss:
Singapore as a jurisdiction for a regional hub for foreign investors.
How to access both the Singaporean and Vietnamese markets.
The important corpus of bilateral agreements and common legal frameworks to support the connectivity and the exchanges between the two countries offers many advantages to investors.
How to set up a foreign-invested company in Vietnam.
The consequent amount of taxation & investment incentives for foreign investors in Vietnam.