On 4 December, Music lovers of all ages and walks of life will come together for SINGATHON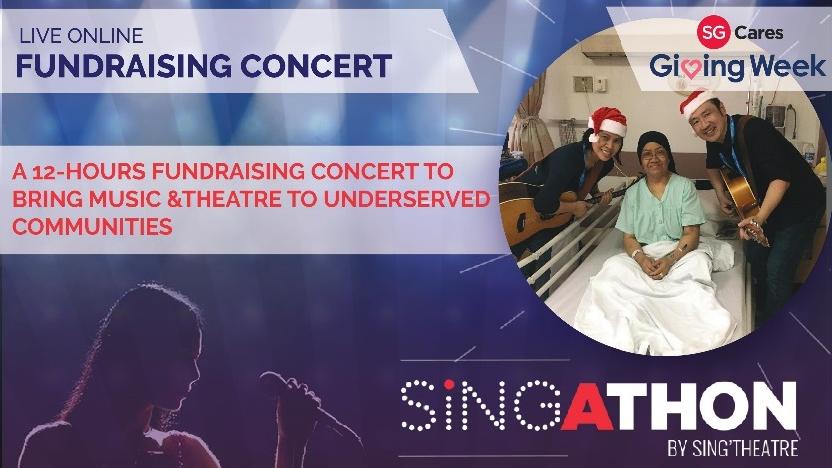 United by a common mission: singing to raise funds to bring live music to the underserved communities!
16-November-2022
In the frame of Giving Week organized by the National Volunteer & Philanthropy Centre – NVPC, Sing'theatre is launching its third edition of SINGATHON on Sunday, 4th December 2022 after 2 very successful editions in 2020 and 2021.
"If people can run a Marathon for a cause, why not sing for a cause, for a Singathon? Especially when the cause is to support Sing'theatre's community outreach programs to bring music to underserved communities," explains TJ Taylor, Associate Artistic Director of Sing'theatre, who came up with the idea in 2020.
From 10 am to 10 pm, singers from all walks of life, age, and race will take turns every 20 minutes to perform all music styles, reflecting the multi-ethnic and multi-cultural aspects of the Singaporean society. Each group has a fund-raising target of at least $ 1,000.00
The 12-hour concert will be held at ITE College Central, IlluminITE Theatre, 2 Ang Mo Kio Dr, Singapore 567720.
It will be streamed live on YouTube and Facebook and for the first time, without any safe distancing measures which means, you can expect many choirs and bigger groups of singers this year.
The final confirmed lineup will be announced on https://singtheatre.com/activity/singathon-by-singtheatre/ by 22 November.
The highlight of the concert will be the performance by the 3 choirs created, funded, and managed by Sing'theatre:
The SAVH (Singapore Association Of The Visually Handicapped) choir
The AMKFSC Community Services choir (Ang Mo Kio Family Service Centre)
The Sampaguitas (25 foreign domestic workers who get together to sing at Sing'theatre every Sunday afternoon)
For more information email: info(@)singtheatre.com - Phone Number: 96759079
https://singtheatre.com/activity/singathon-by-singtheatre/
SINGATHON FAST FACTS
Date: 4 December 2022 from 10am to 10pm
Viewing platform: YouTube & Facebook
Artistic Direction: TJ Taylor & Nathalie Ribette
Confirmed Line up: Lazmin Ibrahim and daughters, Noor Quek, TJ Taylor, Nathalie Ribette & John Davidson, Vanessa Kee, Gabrielle Rae, Mia Smith, Roshni/meta, Tony and Will, Etienne, Virgile, UFE group, Team Fusion, Numama Choir, International French School Choir, Sing Men's Chorus, The Sampaguitas, The SAVH (Singapore Association Of The Visually Handicapped) choir, The AMKFSC community services choir
and pop-rock live band in various languages: The Craig Family Band, The Grounded, Cloud 9…
Sing'theatre Academy students from all age groups
To donate:https://www.giving.sg/sing-theatre-ltd/singathon2022