Sembcorp Tengeh Floating Solar Farm - one of the world's largest inland floating solar PV systems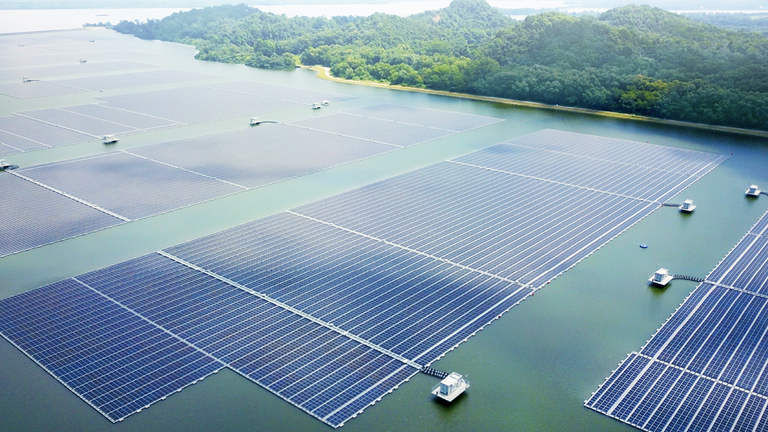 The 60MWp Sembcorp Tengeh Floating Solar farm is one of the largest inland floating solar PV systems in the world, spanning 122,000 solar panels across 45 hectares (equivalent to about 63 football fields).
Opened by PM Lee Hsien Loong in July 2021, the commencement of the solar farm's operations marks a significant step towards enduring energy sustainability in water treatment, making Singapore one of the few countries in the world to have a 100% green waterworks system while contributing to the national goal of quadrupling solar energy deployment by 2025.
During the site visit, participants will have the opportunity to take a close look of a living model of their solar panel; get an overview of their digital and technology capabilities in monitoring the solar panels; as well as learning how the solar farm was being built.
Programme
09:45 am - 10:00 am Welcoming guests and registration
10:00 am - 10:05 am Safety Briefing
10:05 am - 10:15 am Short Presentation about Sembcorp and the Sembcorp Tengeh Floating Solar Farm
10:15 am - 11:15 am Guided Tour (Building Tour + Control Room Tour + Boat Tour)
11:15 am - 11:25 am Q&A session, Discussion, Photo-taking Session
- Due to confidentiality and limited number of places, this event is exclusively by invitation. We reserve the right to review and approve your registration. Thanks for your kind understanding -
- This site visit is open to one representative per company due to limited seats available. Thank you for your understanding.
If you want to register, please contact: aboulard[at]fccsingapore.com.
Terms and conditions
Please note that photographs may be taken during the event for news and publicity purposes