One-of-a-kind 3-day event about Fintech, discover the latest funding trends globally, with an opportunity to learn about fintech startups and scaleups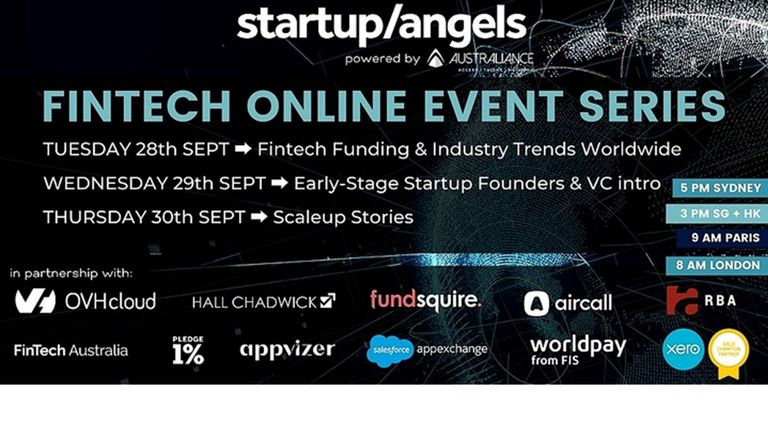 Understand better the role of Fintech in the global financial services industry today and tomorrow.
Learn about the next trends and innovations and what investors are looking at, with founders, investors and innovation program leaders. Early-stage to growth companies, VCs and funds or simply curious-minded fellows willing to learn about the current and upcoming funding trends of the Fintech industry in APAC and looking to connect and exchange with peers.
➡️ Tuesday 28 September - 3pm SG+HK
DAY 1: FINTECH FUNDING & INDUSTRY TRENDS WORLDWIDE
Panel Discussion | Networking session in small breakout rooms
Speakers:
???? Leo Denes | Co-Founder of Startup&Angels
???? Brendan Bennett | Director, Partnerships and Expansion at Fundsquire
???? Michaela Weber | Vice President, Enterprise Partners at Worldpay
???? Michael Fredericks | Founder/MD at Fupay
???? Michael Dovey | General Partner, IAG Firemark Ventures
???? Stuart Ward | Senior Director, Financial Services GTM at Salesforce
➡️ Wednesday 29 September - 3pm SG+HK
DAY 2: INTERNATIONAL FINTECH PITCHES & FOUNDERS PANEL
Pitches | Panel Discussion | Networking session in small breakout rooms
Speakers:
???? Axel Peyriere | Co-Founder at Startup&Angels
???? Mike Scott | CEO & Co-Founder at NONA
???? Sebastien Claeys | CEO at iPaidThat
???? Lucas Fernandez Brillet | Co-Founder at StockFink
???? Mathias Leopoldie | CEO at Julaya.co
???? Martin Tang | Co-Founder, Genesis Alternative Ventures
➡️ Thursday 30 September - 3pm SG+HK
DAY 3: SCALEUP STORIES
Panel Discussion | Networking session in small breakout
Speakers:
???? Leo Denes | Co-Founder of Startup&Angels
???? Pierre Vanrenterghem | General Manager at Rosemont Business Asia
???? Sam Kothari | Strategy & Growth at Airwallex
???? Jins Kadwood | CTO at AgriDigital
???? Ferdy Nandes | Head of Sales, Asia at Xero
???? Laurent Bertrand | CEO & Co-Founder at BTO