Come network and match business by tasting wine and champagne !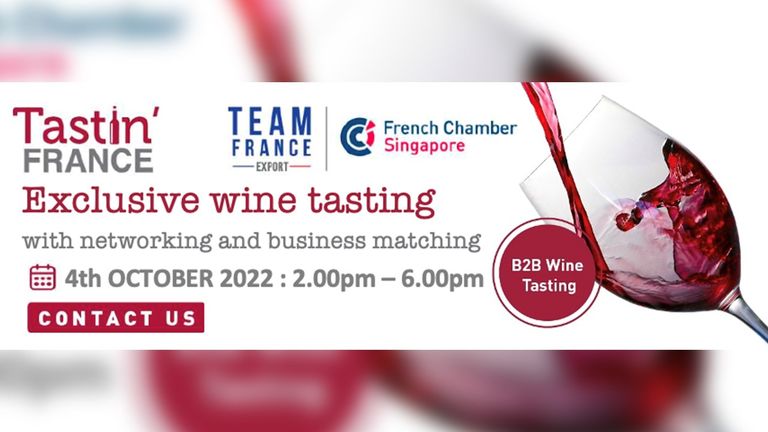 The French Chamber of Commerce in Singapore (FCCS) is honoured to host and organise Tastin' France 2022, the must-attend professional wine and champagne tasting event for B2B professionals!
A true journey to the France's wine regions: 21 French wine and champagne producers from the Languedoc, Champagne, Rhône Valley, South-West, Bordeaux and Provence... will have the pleasure of presenting around 200 wines during this event.
This exclusive annual tasting event is unique in the B2B sector: if you are an importer, distributor, retailer, or represent establishments in the FOOD & BEVERAGE sector (hotel, restaurant): Tastin France 2022 is for you!
Tastin France 2022 will be an opportunity for French wine producers to share their expertise, their know-how, their heritage through their exceptional and unique products on the Singaporean market! ✨
We are delighted to organise this Business France event and are excited to be able to share the know-how of the French wine industry!
To participate in this exclusive event limited in terms of space, please register using the following Google form ==> Registration - Tastin France 2022
We look forward to meeting you at this event! See you soon!