Top 5 Data In Motion Trends that will reshape the FSI Industry in 2021 and beyond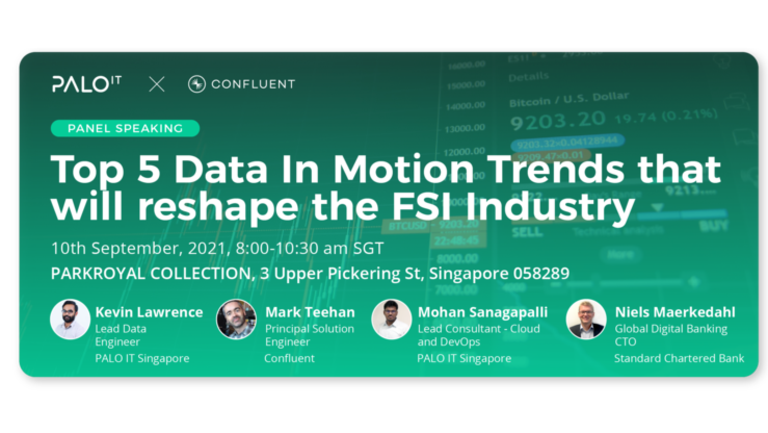 PALO IT and Confluent are pleased to invite you to the in-person event: "Top 5 Data In Motion Trends that will reshape the FSI Industry"
Join our experts and your peers for an insightful discussion as we deep-dive into understanding and applying the value of data in motion. Financial services industry in 2021 was defined by a sudden acceleration in digitization and digital engagement—pushed by the impacts of the COVID-19 pandemic.
Financial institutions are now rethinking strategically about their technical setup and questioning whether the tools that they have previously relied on are the right ones to use going forward.
You are cordially invited to this fascinating event co-organised by Confluent and PALO IT where we discuss the top five data in motion trends that are reshaping more and more enterprises globally including in Asia.
Date: 10th September 2021
Time: 8.00am - 10.30am SGT
Venue: PARKROYAL COLLECTION, William Ballroom Level 2, 3 Upper Pickering St, Singapore 058289
Note: For organisation purposes and in line with the COVID-19 restrictions in Singapore, we kindly ask you to let us know if you eventually could not attend the event. Please notify us at hellosg(@)sg.palo-it.com
For this in-presence event, we'll ask you to respect all the safety measures currently in place in Singapore as wearing your mask at all time, respect the 1 meter safe distancing and observe a good hygiene.