If you are interested in investing in Vietnam or running an existing business in Vietnam, this is a not-to-be-missed highly informative live event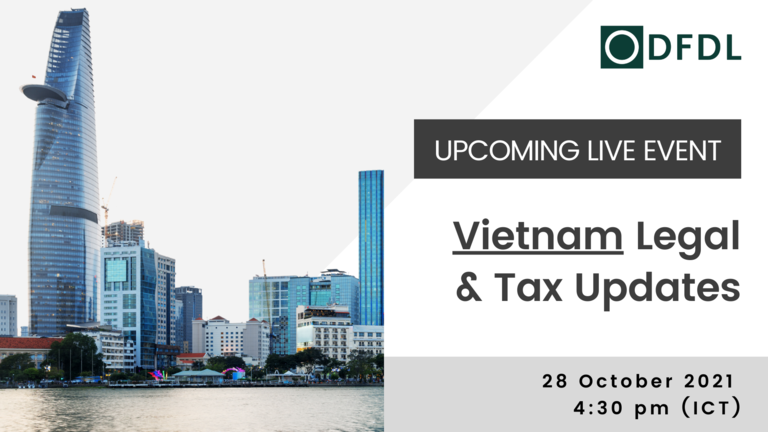 DFDL Vietnam is pleased to invite you to its upcoming live event "Legal & Tax Updates" on 28 October 2021 from 4:30pm to 6pm (ICT).
At this webinar, our local legal and tax experts will guide you through the most important legal and tax developments that arose during 2021 and the outlook ahead for 2022.
Our speakers will focus on the new Law on Investment 2020, the future of the renewable energy sector in Vietnam, and tax and transfer pricing developments.
Agenda
Legal Updates (30 minutes)
What you need to know from the Investment Law 2020 and the Enterprises Law 2020? by Hanh Tran (Partner)
Investing in Renewable Energy in Vietnam – Next Steps by Kevin Hawkins (Partner)
Tax Updates: The Tax Considerations of Cross-border Intercompany Transactions (30 minutes)
Corporate tax and withholding tax implications on intercompany transactions by Lan Hua (Tax Director)
Transfer Pricing – new requirements and obligations by Du Nguyen (Tax Partner)
Q&A Panel Session moderated by Jack Sheehan (Partner, Head of Regional Tax Practice) (30 minutes)
Don't miss out on this unique opportunity to hear from our expert speakers and learn more about these important developments and how they may impact your business in Vietnam.
Click here to register.