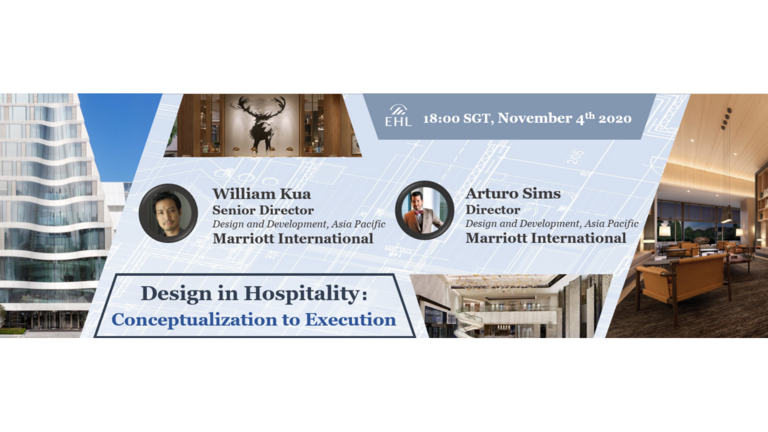 With more hospitality brands on the market than ever before, Millennial, Generations Z and Alpha consumers leading consumption behavior and authenticity and localization expected as the norm rather than exception, design has never been more important to the attractiveness and relevance of a brand. Join us in conversation with William Kua and Arturo Sims of the Design and Development team of Marriott International in Asia-Pacific as we discuss trends in hospitality design, how design impacts customer experience and how legacy brands are refreshed!
About the speakers
William Kua, Senior Director of Design and Development @Marriott International, Asia Pacific
William is part of the Design Development Operations team of Marriott International, looking after projects and renovations across different brands. He is based in Shanghai and works closely with Global Design team and the various owners and consultants to create unique F&B concepts and hospitality offerings. With the team, he is also involved in developing F&B blueprints and prototypes. William graduated from Ecole hôtelière de Lausanne in 2000 and has worked with Hyatt in the U.S. in F&B operations. Upon returning to Asia, he joined CKP, one of Asia's leading Foodservice Design companies and in 2007 started the Shanghai office as partner. In 2013, he joined Marriott in his current role and has brought his wealth of knowledge in F&B and operational planning to the group.
Arturo Sims, Director of Design and Development @Marriott International, Asia Pacific
Born in Chile, Arturo has always been surrounded by the love of food. Since an early age, always interested by the smell and noise from the kitchen, he ventured very young into cooking alongside his mother. These baby footsteps led him to a bright future in F&B where after studying in culinary school and working in kitchens in France, Chile, Switzerland and the US he ventured then to pursue his studies in EHL where he was honored to be the recipient of a full scholarship to pursue his studies at this legendary institution.