Singapore's manufacturing base has been gearing up to adopt the Industry 4.0 model.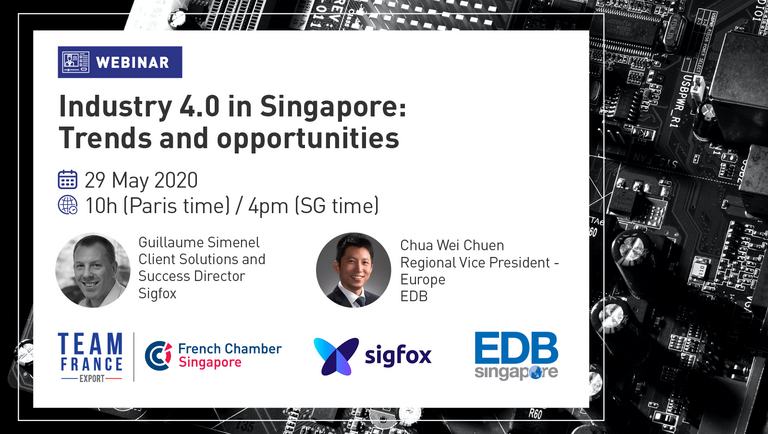 By launching the Singapore Smart Industry Readiness Index in November 2017, Singapore is setting the target for industrials to start and accelerate their transformation journey.
Singapore's largest industry by far is the manufacturing sector, which contributes 20% of the country's annual GDP and is one of the key pillars of Singapore's economy. Its manufacturing industry is the top player in many fields such as semiconductors, aerospace, transport, chemicals and biomedical sciences, energy, maritime…
Singapore's manufacturing base has been gearing up to adopt the Industry 4.0 model, to enable digitalization and automation of its processes, enhancing its efficiency and long-term competitiveness on the global stage.
Discover a dynamic business environment conducive to developing innovative manufacturing solutions where the government has earmarked time and money to empower Singapore's smart manufacturing solutions.
Speakers:
Guillaume Simenel - Client Solutions and Success Director at Sigfox
Guillaume Simenel is the director of Client Solutions and Success at Sigfox. His and his team's mission is to support Connectivity and Service sales with technical, business-minded, vertical-inspired knowledge. They navigate the rich IOT ecosystem and assemble purpose-built solutions to fit the customer's unique requirements. This support extends after the initial Presales phase to become the Client Success practice to connect more devices by demonstrating with the customer an uptrend in their own KPI.
With 19 years working for international companies such as COLT, Reliance Globalcom and Verizon, he has held several management positions, as well as technical consultant and sales specialist roles in Enterprise telecommunications, Cybersecurity and IOT. Guillaume is located in Singapore and he commonly bridges regional knowledge and central expertise.
Guillaume has a Master's degree in digital systems architecture from ENSIMAG and ENSERG France. Guillaume is also a Japanese and Brazilian Jiujitsu enthusiast.
Mr CHUA Wei Chuen - Regional Vice President in Europe for EDB
Mr Chua Wei Chuen is the Regional Vice President, Europe, at the Singapore Economic Development Board. In this role, he oversees EDB's operations in Europe and leads the team in advancing Singapore's business engagements with European based companies across a wide range of industries.
He was previously Head of Transport Engineering at the Singapore Economic Development Board (EDB). As Head of Transport Engineering, he charted and oversaw the development and growth of the Aerospace industry in Singapore.
Prior to joining EDB in 2012, he was a Naval Engineering Officer at the Republic of Singapore Navy, and was responsible for designing and establishing procurement, engineering & logistics support plans for naval platforms.
He received a Masters of Engineering (MEng) in Electrical and Electronics Engineering (1st Class Honours) from Imperial College London.
Terms & Conditions:
By registering to this webinar, you agree to receive from French Chamber in Singapore and EDB future invitations to other events or market updates
You will receive by email the link to connect to the webinar