Event report • Interview
A Conversation with Mr. Lim Eng Hwee, CEO of Urban Redevelopment Authority (URA)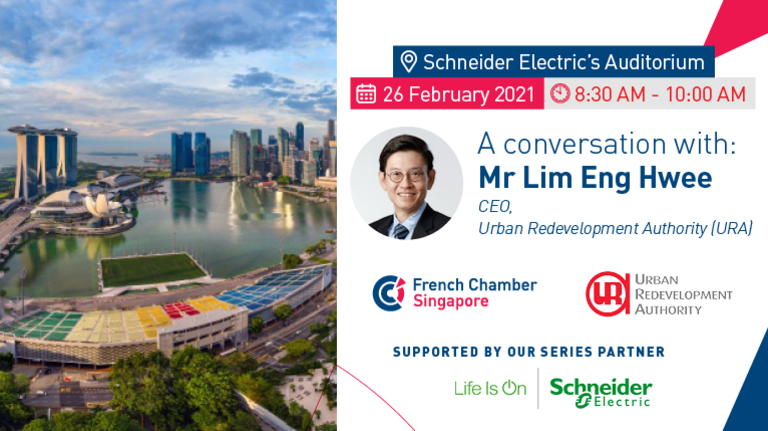 As a small city-state, comprehensive and integrated planning allows Singapore to optimise its limited land to meet the needs of current and future generations. This means taking the long-term approach to balancing the social, economic and environment considerations of urban development, and working closely amongst government agencies and the public when we produce and review our Master Plans.
In this hybrid event held at the Schneider Electric Auditorium, the French Chamber hosted Mr. Lim Eng Hwee, CEO of Urban Redevelopment Authority (URA), where he spoke about Singapore's Master Plan 2019 (MP19) and how it will guide the country's development over the next 10 to 15 years.
MP19 focuses on planning for inclusive, sustainable and green neighbourhoods with community spaces and amenities. It also includes strategies that plan for the rejuvenation of familiar places and for creating capacity to meet Singapore's future needs.
The dialogue was moderated by Alexandre Parilusyan , co-president of the Smart Cities and Mobility Committee at the French Chamber and-VP Business Transformation, Global Accounts Director at Dassault Systemes.
After the event, a small group of participants had the opportunity to have a guided tour of Schneider Electric Singapore Innovation Hub as well.
Thank you to our speakers, participants and series sponsor Schneider Electric.