Companies news
Aerospace firm Thales expands operations in S'pore with new defence hub, set to hire 1,000 people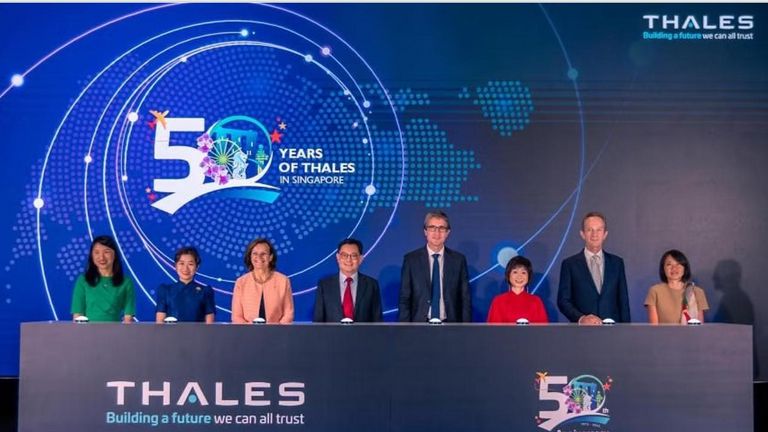 Deputy Prime Minister Heng Swee Keat (fourth from left) said that Singapore's partnership with the firm is built on strong mutual trust and a shared long-term view. PHOTO: THALES
SINGAPORE – French aerospace company Thales will on Friday officially open its defence hub here that has been supporting the Singapore Armed Forces in areas such as maintenance, support and operational availability.
The facility, which has been running since March, is in Thales' Ayer Rajah Crescent office, and runs alongside an Air Traffic Management (ATM) centre the firm has just set up at the same location.
The ATM centre – the company's third such facility after France and Australia – will support the Ministry of Transport and the Civil Aviation Authority of Singapore in new aviation technologies.
Thales employs 77,000 people in 68 countries. It employs 2,000 in Singapore, but that will increase by 1,000 over the next three years, primarily in engineering roles, the firm noted.
Its Singapore country director Emily Tan said on Thursday that Thales is expanding operations here because it already has a strong presence in Singapore. She told The Straits Times: "Singapore's environment makes it very conducive for research and innovation... We see that Singapore can become the centre of ATM innovation."
Thales set up its office here in 1973 to support the expansion of aerospace-related activities in the Asia-Pacific region. Its primary businesses include air traffic management, defence and security, as well as digital identity.
Deputy Prime Minister Heng Swee Keat said on Thursday that Singapore's partnership with the firm is built on strong mutual trust and a shared long-term view. He was speaking at an event at Fullerton Bay Hotel to celebrate Thales' 50th anniversary in the Republic.
He noted that the company's technology is present in many Singaporeans' day-to-day lives, such as bank cards and the contactless fare gates on the North-South, East-West and Circle MRT lines.
"We want to work hand in hand with like-minded partners like Thales to invest in and equip our people with the relevant skills, so that they can in turn support industry growth," he said.
Thales marked Thursday's anniversary celebration by unveiling the world's first commercial platform that manages the identification and tracking of drones. It is the first unmanned aerial vehicle product designed and developed in Singapore for commercial use.
SOURCE: The Straits Times