Companies news
Air France-KLM, Total, Groupe ADP and Airbus are mobilizing for the decarbonisation of air transport and are carrying out the first long-haul flight with sustainable air fuel (SAF) produced in France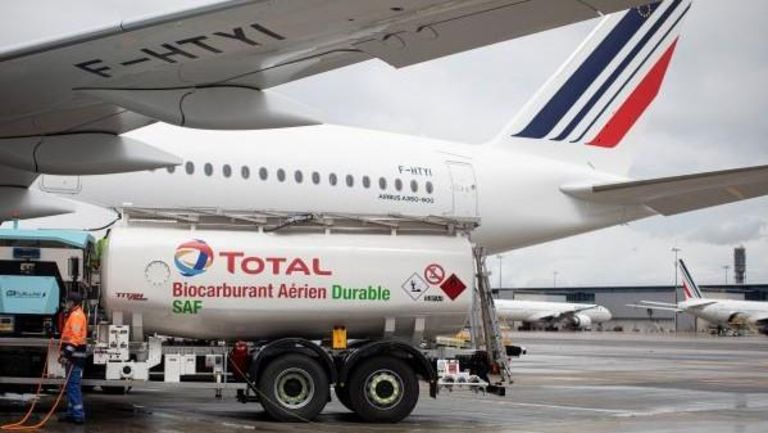 Air France-KLM, Total, Groupe ADP and Airbus have joined forces to carry out the first long-haul flight with sustainable air fuel (1), or SAF (Sustainable Aviation Fuel),produced in France. Air France Flight 342 took off on May 18 2021 at 3:40 p.m. from Terminal 2E of Paris-Charles de Gaulle Airport for Montreal (Canada), carrying in its tanks sustainable air fuel produced by Total in its French factories.
This flight concretizes the common ambition of the four groups to decarbonize air transport and to develop a French sector for the production of sustainable air fuels, essential prerequisites for the generalization of their use in French airports.
Biofuels can be incorporated without any changes to the logistics infrastructure for storage and distribution, aircraft or engines. Their progressive use on a global scale should make it possible to significantly reduce CO2 emissions from air transport, in line with the United Nations Sustainable Development Goals.
The biofuel used for this flight comes from waste and residues from the circular economy. It was produced by Total from used cooking oils thanks to its biorefinery in La Mède (Bouches-du-Rhône) and its plant in Oudalle (Seine-Maritime), without the use of any virgin oil of vegetable origin.
This first SAF "Made in France" has been certified ISCC-EU by the International Sustainability & Carbon Certification, an independent body that guarantees its sustainability. Its incorporation to the tune of 16% on this flight made it possible to avoid the emission of 20 tons of CO2.
By developing and supporting the first stage of a French sustainable air fuel sector, Air France-KLM, Total, Groupe ADP and Airbus are leading the way in making France a driving force for innovation, at the service of the energy and environmental transition. French legislation now provides for the incorporation of 1% biofuel of this type on all flights departing from France from 2022, upstream of the ambition of gradual incorporation (up to 2% by 2025 and 5% by 2030) that will be carried out as part of the European "Green Deal".
To respond to this evolution of the legislation, Total will also produce sustainable aerial biofuels from 2024 from its zero oil platform in Grandpuits (Seine-et-Marne).
This flight also illustrates the complementarity of levers to reduce the environmental footprint: sustainable air fuel, latest generation aircraft and electrification of ground operations. It was insured in Airbus A350, aircraft consuming 25% less fuel than those it replaces.
The fuel supply of the aircraft was carried out by means of the first 100% electric supply truck, developed in France with Total's expertise, and all the runway equipment used by Air France was also entirely powered by electricity.
Air France-KLM is one of the pioneers in the experimentation of sustainable aviation fuels. KLM made the first flight with SAF in 2009. Since then, the Group has multiplied its innovative programmes, notably carrying out, between 2014 and 2016, 78 Air France flights with 10% of SAF in collaboration with a subsidiary of Total. This experiment demonstrated that the use of sustainable fuel has no impact on the reliability of airlines' operations. The Air France-KLM Group intends to strengthen its leadership in sustainable air fuel in the coming years, while joining forces with research on the aircraft of the future.
In parallel with this operation, Airbus is conducting several series of tests to certify airliners in flight with 100% sustainable aerial biofuel in the coming decades. Dedicated refuelling stations for SAF have also been installed at its industrial sites, allowing Airbus to use this type of fuel in its production operations but also during deliveries of its aircraft. These installations contribute to the Airbus Group's ambition to decarbonise its entire industrial activity.
On this first flight, Benjamin Smith, Chief Executive Officer of Air France-KLM, said: "The Air France-KLM Group has long been committed to reducing its environmental footprint. Sustainable aviation fuels, together with the renewal of our fleet, are the main lever available in the medium term to halve our CO2 emissions per passenger/km by 2030. They are therefore at the heart of our approach, alongside eco-piloting and carbon neutrality of our ground operations. France now has the opportunity to position itself as a leader in the production and use of sustainable fuels and we are making every effort to contribute to this alongside our partners. The emergence of an economically viable French sector for all stakeholders is a strategic priority for the country and for the group."

Patrick Pouyanné, Chairman and CEO of Total, also said: "The development of biofuels is one of the axes of Total's multi-energy strategy to meet the challenge of decarbonising the transport sector. After successfully starting the production of sustainable aerial biofuels at our production sites in France last March, let us continue to adapt our industrial base to meet the growing demand of the aviation sector in the coming decade. By directly reducing the carbon intensity of energy products used by our air transport customers, we are actively working with them to achieve our ambition to achieve carbon neutrality by 2050, together with society."

Augustin de Romanet, Chairman and CEO of the ADP Group, said: "This first flight from Paris-Charles de Gaulle airport is a symbol of our ambition to decarbonise air transport, thanks to the integration of new sustainable air fuels into aircraft. The European air transport roadmap aims for net-zero emissions by 2050, and we, as airport operators, are keen to support this energy transition and embark, without delay, on the path of transforming our operations and infrastructures."

Guillaume Faury, CEO of Airbus added: "Sustainable fuels are a major lever to achieve our objectives of decarbonising the aviation sector, and Airbus supports aAll initiatives that contribute to their development and use on commercial flights. Coordinated action by all stakeholders is necessary in order to increase the share of these sustainable fuels that can now be used up to 50% on our aircraft, without any modification or operational impact, and thus reducing their environmental footprint".
(1) Sustainable air fuel (SAF) comes from the mixture of conventional air fuel (JET-A1) and sustainable aerial biofuel, produced from waste and residues from the circular economy (animal fats, used cooking oils, etc.). The latter has properties similar to those of JET-A1 and offers a reduction of up to 90% of CO2 emissions over the entire life cycle compared to its fossil equivalent.