Event report
An Exciting 3rd Edition at Asia Startup Summit 2021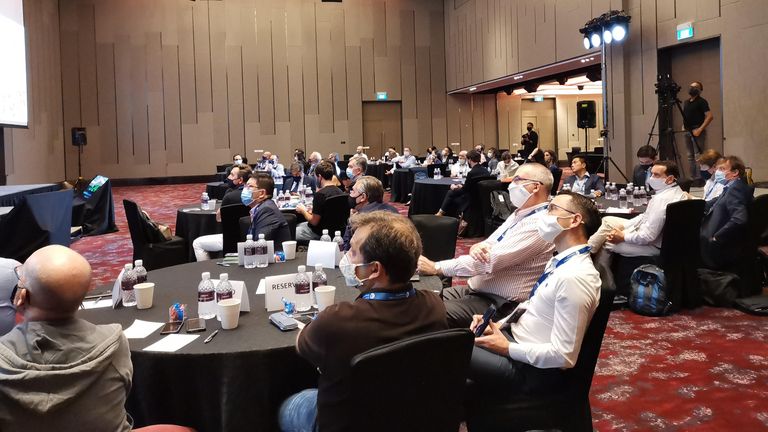 Presented by The French Chamber of Singapore in partnership with Singapore Economic Development Board (EDB), Team France Export, bpifrance and La French Tech, the Asia Startup Summit 2021 invited 50 participants on site at Sheraton Towers Singapore and almost 100 online participants.
The event commenced with an online conference on data and security and digital transformation. Key takeaways include the importance of understanding the landscape of your data, automatic classification, fraud detection by A.I, and how security is actually a culture of educating staff on access rights, authentication and software design.
Summit Highlights:
"Human connection is still paramount in an age of digital transformation. It's not always about the tools - it's about people and teamwork. It will involve many people to work towards any solution."
"Upskilling is important. Tap into the resources of other startups. Collaborate. Don't focus on the pure technology of the solution."
"D.I.I.C.E.E - Determination, a trait more apparent in the marketplace shared by the common experience of COVID; Insight, Integrity, Curiosity to seek new knowledge and also fundamentals; Engagement, to have a knack for using EQ and to connect vision with people; and lastly, Empathy which is to step back, get perspective and see how they match your value." - Charles Ferguson
Following the conference, the delegates began two and a half hours of B2B meetings which were also conducted in a hybrid format.
Thank you to our speakers in the following order:
Opening Remarks
HE Marc Abensour, Ambassador of France to Singapore

Pascal Lambert, President of the French Chamber in Singapore

Herman Loh, Vice President & Head, Regional Partnerships; Vice President, Conglomerates at EDB
Introduction Remarks : The role of ventures in driving decarbonization
Quentin Vaquette, Managing Director at Engie Factory
First Round Table: Data & Security
Edwin Chan, Head of Product Management, Transaction Banking APAC at BNP Pariba

Bertrand Billon, Founder of ILEX

Eléonore Ferreyrol-Alesi, Head of Client Solutions, Dathena
Moderated by Kevin Gallerin, Managing Director APAC, Yes We Hack
Second Round Table: Digitalization & Process Optimization
Benoit Cosserat, Head of Innovaton & Digital Projects – Asia, CMA CGM

Florian Dumas, Executive Director, U-REG

Alain Dupuis, VP Industrial Development, UnaBiz
Moderated by Fabien Tertois, Head of Innovation, Bolloré Logistics
Closing Remarks
Charles H. Ferguson, General Manager, Asia Pacific, Globalization Partners
Last but not least, our gratitude to our kind sponsors BNP Paribas, Bolloré Logistics, CMA CGM, ENGIE Factory Asia-Pacific and Globalization Partners.
Thank you to all our participating companies for your support and we wish you continued success!
Watch the highlights of our 3rd edition:
View the summary of the Asia Startup Summit 2021 in the images below: