Event report
B2B Smarthealth Summit 2021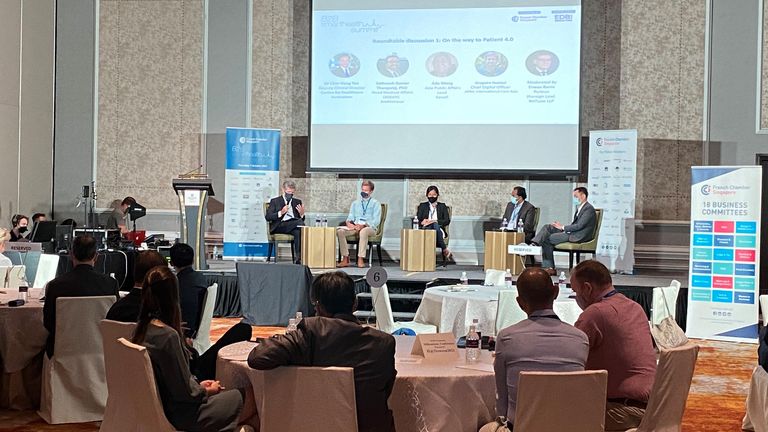 Following two very successful Smarthealth summits in 2018 and 2019, the French Chamber of Commerce of Singapore was delighted to organise the 3rd edition titled, "The Healthcare of Tomorrow – what future?
With a post-Covid world comes a new patient profile and greater challenges. Question remains for both practitioners and payers how to get consumers involved and empower them to the benefits of data to avoid immediate and long-term health issues.
Thank you to His Excellency Mr. Marc ABENSOUR, French Ambassador in Singapore, and our Keynote speaker, Professor Yik-Ying TEO - Dean, NUS Saw Swee Hock School of Public Health for your opening remarks.
Thank you to our speakers in our 1st roundtable discussion "On the way to Patient 4.0":
Ada Wong, Asia Public Affairs Lead at Sanofi
Dr Cher Heng Tan, Deputy Clinical Director, Centre for Healthcare Innovation
Gregoire Rastoul, Chief Digital Distribution Officer at APRIL International Care Asia
Satheesh Kumar Thangaraj, PhD, Head - Medical Affairs (ASEAN) at bioMerieux
Moderated by Erwan Barre, Partner (Foreign Law) at RHTLaw LLP
Thank you to our speakers in the 2nd roundtable discussion "Healthcare data revolution – why are we not there yet?":
Bill Claxton, CEO and Operations Director at NextID
Jackson Seng, Sustainability Business Development Director at Schneider Electric
Piyush Gupta, Partner (Foreign Law) at RHTLaw LLP
Weijie Poh, PhD, Head, Global Clinical and Medical Operations at Healint
Moderated by Olivier Lo, Group Medical Director at International SOS
B2B Smarthealth Summit 2021 was supported by Singapore Economic Development Board (EDB) and in partnership with French Healthcare.
Thank you to our kind sponsors bioMérieux, International SOS, RHTLaw A., Schneider Electric and Servier!
Watch the event highlights :