Companies news
BIPO Earns 2021 Great Place to Work Certification™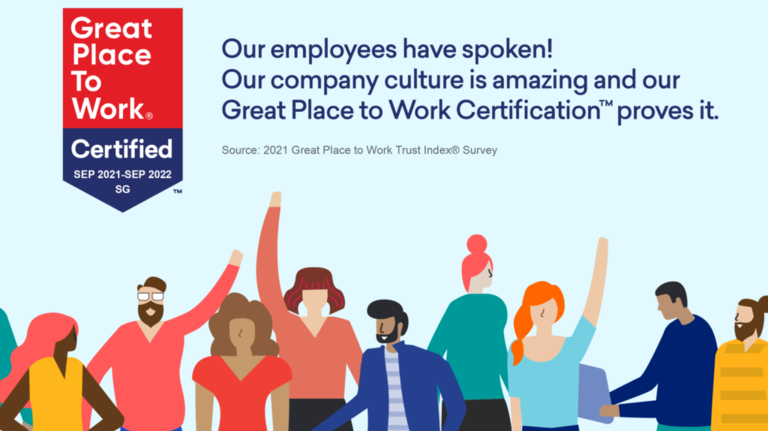 BIPO announced its certification as a Great Place to Work® in line with its continued efforts towards building a people-centric organisation.
Based on the Trust Index survey conducted in September 2021, 87% of employees located in BIPO's Asia Pacific headquarters in Singapore shared that they were given the resources to perform their tasks, contributing to a positive overall work experience.
"We are extremely proud and honoured that our employees in Singapore have validated BIPO as a Great Place to Work! We are constantly working towards aligning our business objectives with people-centric initiatives, and the results of the Trust Index are a testament that we have made, and continue to make, a positive impact on the employee experience and culture at BIPO. As a global HR service provider known for our HR tech solutions, this certification is an affirmation that BIPO firmly believes in empowering our employees, cultivating an inclusive workplace, and creating genuine experiences for our employees. These key aspects are very much aligned with the values of the HR and business communities that we are a part of and aim to serve. We look forward to working with Great Place to Work on a regional certification for all 23 of our offices in the near future." said Michael Chen, CEO of BIPO.
Great Place to Work® is the global authority on workplace culture. Certification is based on a rigorous methodology to gather and evaluate employee feedback and recognise companies that have built high-trust, high-performance cultures.
BIPO's certification as a Great Place to Work® marks the company's commitment to building a people-first culture by creating an inclusive and positive environment that empowers and supports employees. The certification marks a milestone for BIPO, recognising the dedication and contributions of its employees.
About BIPO
Established in 2004 and headquartered in Singapore for Asia-Pacific, BIPO is a leading one-stop, global HR service provider offering payroll and HR management solutions.
We are a specialized hybrid HR solutions provider, bringing the best of both worlds – a cloud-based HR technology platform and a comprehensive suite of outsourced HR, payroll, and Professional Employer Organisation (PEO) services to manage your global workforce.
Trusted by over 2,800 clients, our global infrastructure in more than 100 countries and regions helps businesses expand compliantly across the globe.
At BIPO, our passion for technology and innovation empowers businesses to revolutionize the Future of Work, ensuring increased efficiency and convenience.