Companies news
Bolloré Logistics inaugurates the Blue Hub in Singapore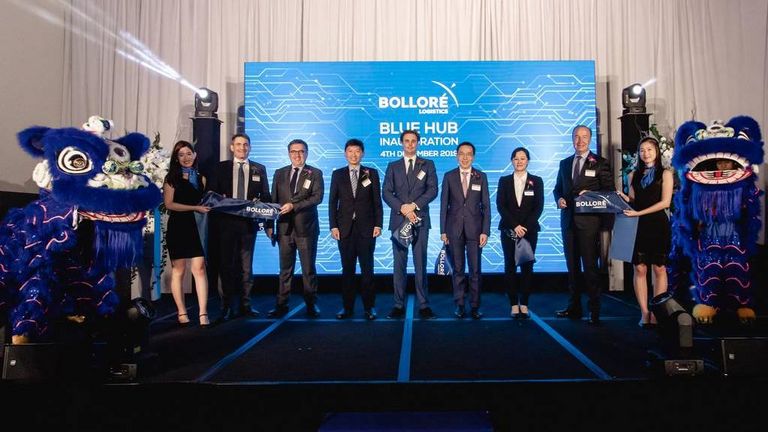 Bolloré Logistics is today inaugurating the Blue Hub, its next-generation building. Attending the event were Cyrille Bolloré, CEO of the Bolloré Group, Thierry Ehrenbogen, CEO of Bolloré Logistics and Cyril Dumon, CEO of Bolloré Logistics Asia-Pacific.
Designed to be sustainable and efficient, the Blue Hub is a new state-of-the-art building aiming at improving storage flexibility, productivity and efficiency for major customers in the perfumes and cosmetics sector.
The 50,000 m2 Blue Hub stands apart through its equipment and leading-edge-technology. The site features an automated multi-shuttle system for optimizing storage density while ensuring optimal inventory rotation. It is also equipped with a 43-meter-tall Spiralveyor® conveyor with high energy efficiency, generating energy savings of up to 87%
The Blue Hub is also home for the second innovation center B.Lab which serves as a regional platform fostering collaborative work between sector stakeholders. The approach enables Bolloré Logistics to co-innovate with its customers and partners through various projects, particularly around robotics but also on digital and sustainable technologies. These projects will allow to launch value-creating solutions for the company's customers. In line with Singapore's Smart Nation, Bolloré Logistics will use the B.Lab to work with local universities and train young talents on creative thinking and the creation of logistics solutions.
The Blue Hub, an icon of new-generation sustainable architecture
The Blue Hub sets a new benchmark on logistics platform with a strong focus on sustainability. It is equipped with an advanced energy-management system, which harnesses the Internet of Things to make predictive building analyses, and a smart lighting control system. Further initiatives include a storm-water recycling system, energy and water consumption monitoring, a photocell sensor for harvesting daylight and a food digester for a zero-waste cafeteria.
As a reward for his efforts, Bolloré Logistics received in May 2019 the Green Mark Platinum. Along with the LEED Gold and BiodiverCity® label, this marks the first certification received by an external organization. This award is also fully aligned with Bolloré Logistics' Sustainable Real Estate Policy, and its CSR Program, "Powering Sustainable Logistics", which aims at reducing the environmental footprint of Bolloré Logistics activities.
"The Blue Hub perfectly illustrates our desire to combine sustainability and innovation with a strong focus on employee-centricity. This new ultra-modern building, which we inaugurate today, prefigures logistics platform of tomorrow thanks to the technologies it incorporates and its eco-responsible dimension. It will enable us to strengthen our presence in Asia, emphasize our business development and showcase our expertise." said Thierry Ehrenbogen, CEO of Bolloré Logistics.