Companies news
Brands Going Programmatic with JCDecaux Singapore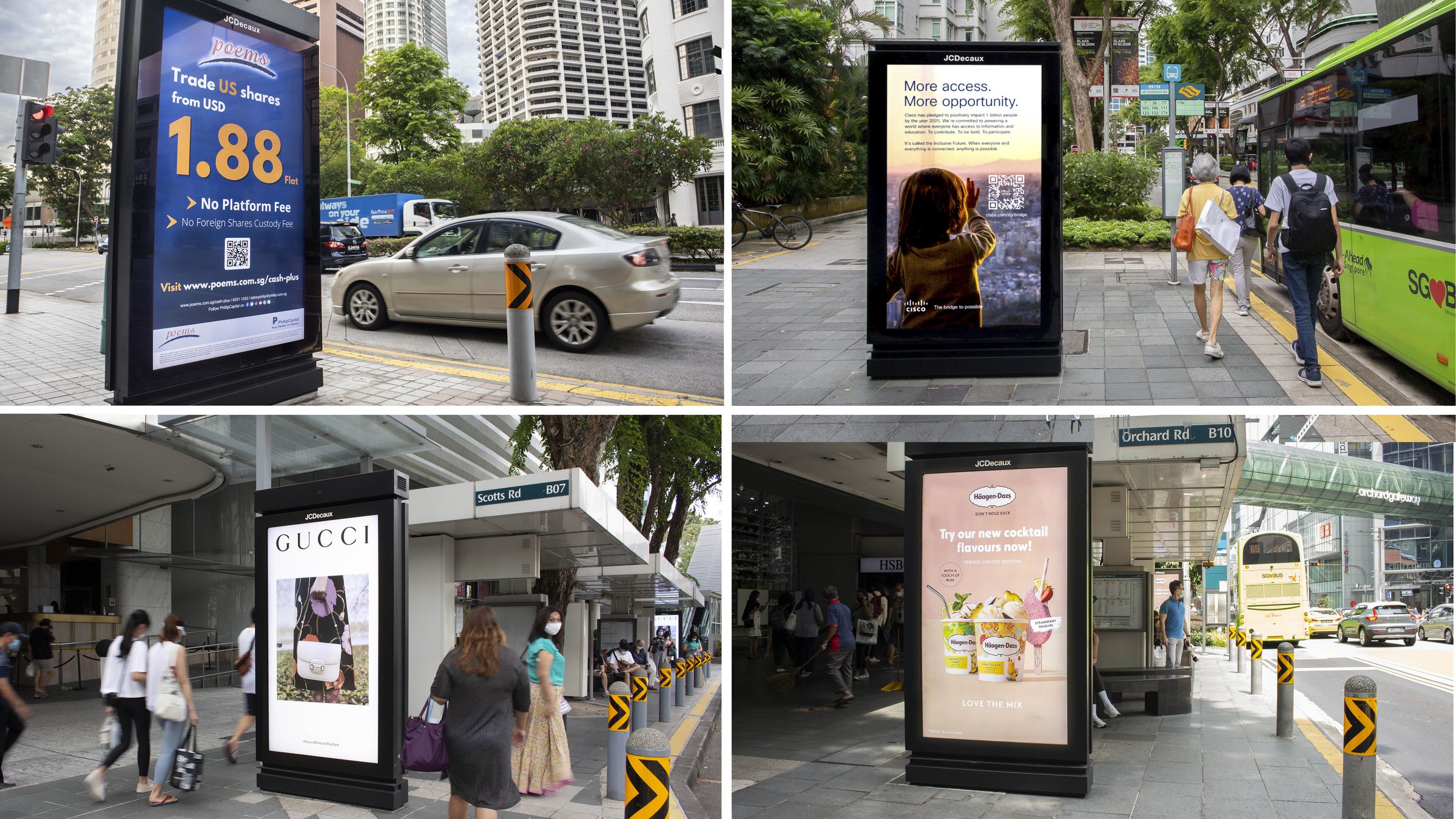 JCDecaux Singapore "JCDecaux", the number one outdoor advertising company in Singapore and a subsidiary of the JCDecaux Group, has executed several programmatic digital out-of-home campaigns since it launched its programmatic offer in November 2020.
Following the first launch with its Streetside digital inventory at bus shelters in Orchard Road and the Central Business District, JCDecaux has expanded its programmatic inventory in April 2021 to include its premium retail malls – ION Orchard, Raffles City and Jewel Changi Airport – offering more than 100 million monthly impressions across its total network. Powerhouse brands that have traded programmatically include Gucci, Häagen-Dazs, Philip Securities and Cisco.
With its premium outdoor audience across Singapore, JCDecaux offers brands access to quality future. Evlyn Yang, Managing Director of JCDecaux Singapore said,
"OOH continues to be an authentic media platform for brands to reach real-world audiences in a trusted environment. JCDecaux's programmatic DOOH offering enables brands to apply similar optimization strategies that they employ online to OOH – with the same ability to be efficient, flexible, targeted and dynamic with the assurance of brand safety.

We are proud to be an advertising partner of choice for clients like Gucci, via context intelligence company Flux Outdoor, Häagen-Dazs, Philips Securities and Cisco as we augment our media offering in the prime shopping area of Orchard Road and downtown central business district.


With our premium digital inventory made available on these multi-channel DSPs through VIOOH, advertisers can create greater brand synergy with consistent brand communications across multiple channels and touchpoints in addition to strengthening audience targeting in their daily commute and prime retail environments leveraging last window of influence."
Jean-Christophe Conti, CEO of VIOOH said,
"Our ambition is to change the conversation about out of home, with an independent platform to help accelerate transformation in outdoor advertising. Since its launch in October, JCDecaux Singapore has been a pivotal market for VIOOH's expansion in APAC. Advertisers already taking advantage of our premium programmatic inventory are seeing incredibly positive results. Our partnership with JCDecaux Singapore will give more advertisers throughout Singapore access to high quality, targeted and flexible media activation for their OOH campaigns.

We're excited to deliver campaigns that can be adapted mid-flight to drive efficiency and optimised results. We're looking forward to further expanding our offering to include Changi Airport and integration of more DSP partners over the coming months."

James Rogers, Managing Director for the APAC region of S4M said,
"Consumers don't live their lives across only one channel, they move seamlessly from one to another and back again. That's why it's so important to take an omnichannel approach when it comes to advertising. S4M has found that combining Mobile with JCDecaux's OOH can result in 2.5X higher than one channel alone, making it critical to drive-to-store success."
Matt Bushby, Managing Director ANZ and SEA of Hivestack, the leading global programmatic DOOH adtech company, said,
"Hivestack is thrilled to be a partner of JCDecaux Singapore and VIOOH. We continue to invest in the programmatic DOOH in Singapore, bringing outside-in revenue to the marketplace and strong market agency and buyer relationships. In addition, we continue to invest in talent in Singapore to support our partnerships on the buy side of the industry."
Pan Bihao, Lead Senior Director, Inventory Partnerships of The Trade Desk said,
"Leading marketers are being exposed to the power of data, and they want to embrace it more fully across advertising channels. This partnership allow brands who are looking to extend their messaging in a premium outdoor environment to utilise The Trade Desk's omnichannel platform to execute a single campaign and measure across channels."
Carol Tay, Senior Director Sales Southeast Asia of Verizon Media said,
"As people in Singapore venture out and movement patterns evolve, advertisers are looking to buy across multiple channels, formats, and screens, to effectively reach and connect with the right audiences. DOOH provides a fantastic opportunity for advertisers to engage captive audiences in high-footfall locations, where and when it matters. With VIOOH and JCDecaux's expanded inventory, we further our commitment to empowering clients as they harness Verizon Media's DSP for campaigns that are hyper-targeted, measurable and flexible."
Flux Outdoor commented,
"We're thrilled to be helping global brands like Gucci start scaling relevant billboard campaigns across the globe. It would not be possible without the unwavering support of partners like Hivestack, VIOOH and JCDecaux Singapore. The global climate accelerated the need for versatile and relevant brand experiences that use real-time business intelligence and real world context. Powered by context, our customers can now choose the perfect conditions to advertise and rest comfortably that each creative performance is relevant."