Companies news
Cartier's Regional CEO, Cecile Naour, Talks About the Importance of Empowering Women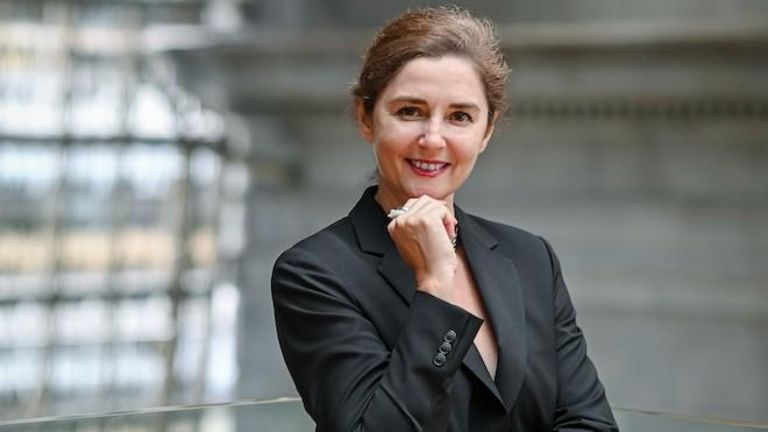 Naour, who oversees Cartier's presence in Southeast Asia and Oceania, explains how the Maison is "sowing the seeds to connect and support women".
Cecile Naour is a strong believer in phrase 'when women thrive, humanity thrives'. The 175-year-old Maison has grown from strength to strength in the decades since its founding, something that Naour attributes to the company's emphasis on nurturing female talent and fostering an inclusive, diverse environment for all.
"Leaning into the diversity of the team is very important to me," says Naour, who joined the Maison in 2014 as a business development director, and made a steady ascent to regional CEO. "My priority is to give every one room to express their views and encourage exchanges that make dialogue richer and decisions stronger."
Naour has seen first-hand the value of empowering women. The Maison's long-running Cartier Women's Initiative is a prime example of this. Now in its 15th year, the international entrepreneurship programme has benefited numerous female impact entrepreneurs: Awardees have ranged from a Kenyan woman whose company recycles waste plastic into eco-friendly lumber while creating jobs for people in marginalised communities, to a Chinese woman who uses artificial intelligence and big data to support the development of clean energy.
Here, Naour talks about what more needs to be done to ensure lasting change, and offers her advice for women looking to pursue their dreams.
As someone in a traditionally male-dominated industry, what would you like to see change for women, and how do you think this can be accomplished?
Creating an environment that supports women development and career progression is necessary to initiate change. Then creating the conditions for them to succeed in their role is even better!
Cartier has been empowering women for years, so women have an equal voice and chance to succeed in the Maison. This focus on nurturing female talent pipeline and accelerating the promotion of women into strategic positions became even stronger when Cyrille Vigneron re-joined Cartier in 2016 as President & CEO. Today, Cartier Regional CEOs in North America, Middle East, Japan and Southeast Asia and Oceania are women. It started with an unreserved trust in their leadership capacity… and it works!
In Cartier Southeast Asia and Oceania, 70 per cent of our employees are women and slightly over half of the regional leadership team are women. It took a while, but today we have found a good balance as a team and we like working together very much. This is precious, and I am mindful to preserve this balance.
The Cartier Women's Initiative was established in 2006 and aims to empower women around the world in their various endeavours. How has the Initiative evolved over the years?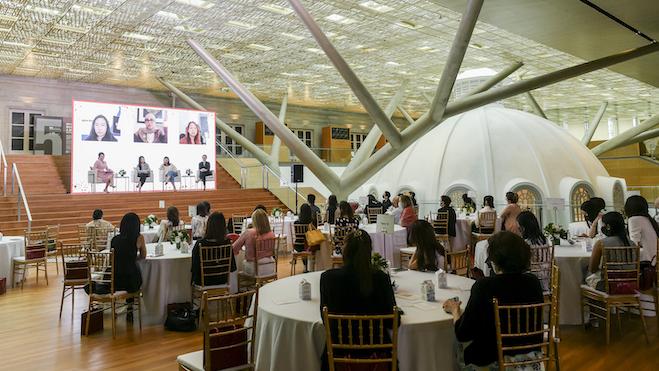 Cartier reaffirmed its commitment towards supporting women impact entrepreneurs at an event in Singapore held at the National Gallery. Image: Cartier
The Cartier Women's Initiative gives women entrepreneurs a voice and brings their ideas to light. Fifteen years on, the Cartier Women's Initiative has supported 262 women impact entrepreneurs hailing from 62 countries and has awarded a total of 6,440,000 million dollars in prize money to support their businesses.
The fellowship has expanded from funding five Fellows in 2007 to 24 fellows in 2021. Our Fellows continue to contribute and to learn from the Cartier Women's Initiative, a lifelong community of more than 500 — and that just keeps growing!
You've been with Cartier, in various directorial roles, since 2014. What are some of your most memorable experiences?
In 2016, I was based in Dubai as the Maison's Regional Business Development Director. I travelled extensively in the region where I met many incredible women. I was amazed by their brilliant minds, their proactiveness, and their optimistic view of their country's development and the standing of women in the country.
They had strong beliefs which they shared openly and I really enjoyed and benefitted from my conversations with these women. My interactions with these women left a lasting impression of what empowered women can do. I also felt an immense positivity and optimism that we can, and are already, creating the right conditions for women to thrive. And when women thrive, humanity thrives!
In your experience, why should more employers place more focus on equitable employment?
Each employee is unique. My role as a leader is to detect, understand, appreciate and value the unique strengths of each individual and to create an inclusive environment that allows men and women to shine and reveal their uniqueness.
Leaning into the diversity of the team is very important to me. My priority is to give every one room to express their views and encourage exchanges that make dialogue richer and decisions stronger.
With the younger generation reshaping the future of the workforce, do you think women today will still face the same challenges as their predecessors?
As of today, it is still a challenge for women to have it all. Women face different conditions depending on where they live and work. Some countries are more favourable towards women having both career and family, while others are still learning and need more time to support women in handling both. It will require time, effort and active change in policies to sustainably anchor such changes in societies. At a company level, improving employee benefits can certainly help.
From my experiences and interactions with women living in the different countries of Southeast Asia, I am optimistic and hopeful that opportunities are opening up for them as women empowerment gathers momentum around the world.
What advice would you give women aspiring to become leaders?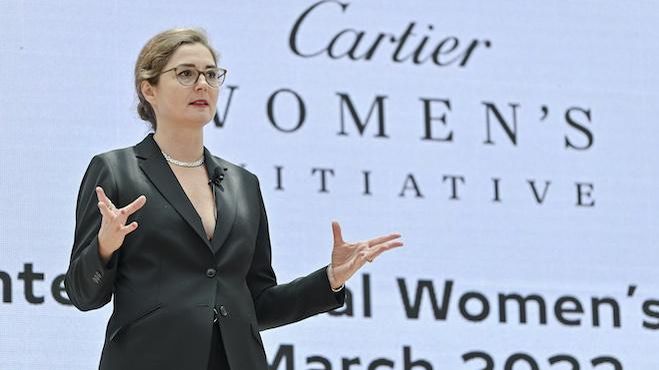 Image: Cartier
My advice is for women in general, not just for those aspiring to be leaders. It's important to go after your dream, your heart's desire, whatever that may be. Find your own space and claim it because only you can.
This also means believing in your worth and having the courage to ask for what you want. Size up the opportunity when it presents itself, don't hesitate to seize it. We need to have the courage to dream and do big, and be the change we hope to see!
Where would you like to see Cartier's SEA and Oceania divisions in the next 5 years?
Cartier is a reference in the world of luxury, making creations that spark desire and stand the test of time. Cartier is known for an iconic style and a legendary art de faire. My hopes for Cartier Southeast Asia and Oceania is to continue to build on that legacy that makes both our clients and employees proud, but also go beyond and develop our purpose-driven mission and engage and nurture dialogue around the Maison commitments.
The Cartier Women's Initiative is one of them. On International Women's Day this year, we reaffirmed our commitment towards supporting women impact entrepreneurs across the Region with the Cartier Women's Initiative (CWI). Building a community takes time, especially across a region as diverse as Southeast Asia, and we're really sowing the seeds to connect and support women who are leveraging business as a force for good. We're part of a global wave of positive change, the momentum is picking up fast in the region, and we will lead and be part of that transformation.
As a leader in the world of luxury, how else is Cartier supporting women to enact change?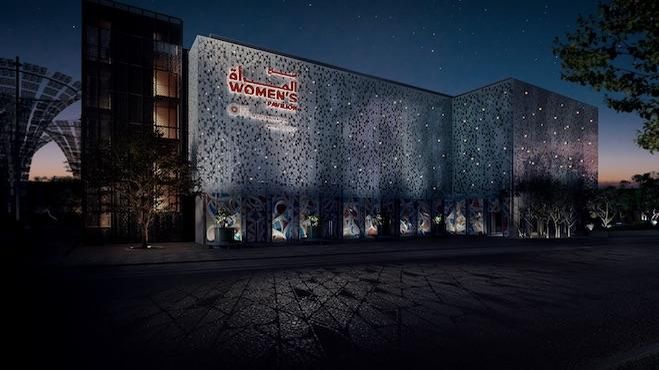 Women's Pavilion at Dubai Expo. Image: Cartier
We have brought together a global community of impact leaders with the Cartier Women's Initiative, celebrating women impact entrepreneurs who are creating ripples of change around the world. Six months ago, Cartier opened a historic Women's Pavilion at the Dubai World Expo, which is an incredible platform for sharing, dialogue and community.
As the first pavilion dedicated to women in more than a century, we collaborated with many creators and designers to recognised and celebrate the achievements of women all over the world and give hope to those who need. And we will continue to do so in time to come!