Companies news • Interview • Portraits
Caudalie, Pioneer of Sustainability – Interview with Jean-Christophe Samyn, Caudalie's South-East Asia General Manager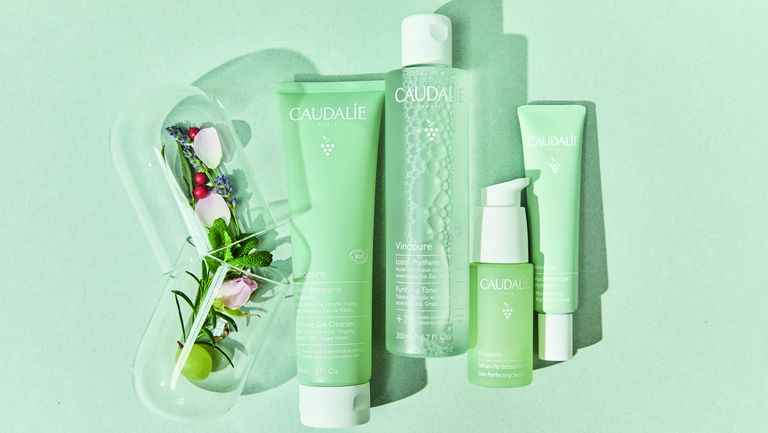 "In 2022, there are 95 ingredients that we never use in our formulas – either because they are harmful for the health, or because we judge them bad for the environment."
Jean-Christophe Samyn
It all began with this sentence: "You're throwing away treasures". In 1993, Mathilde Thomas, at the time studying to become a Nose, met Dr. Joseph Vercauteren during a visit to her parents' vineyards. It was then that Mathilde, now co-founder of Caudalie, discovered the incredible antioxidant power of grape seeds that she has been using since launching her first products in 1995.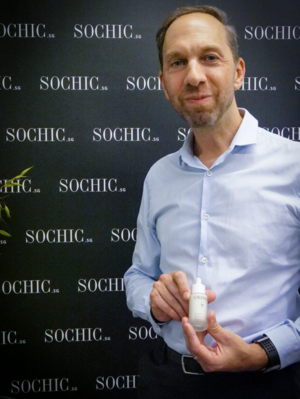 In order to learn more about the brand's strong commitments, So Chic had the opportunity to meet Caudalie's South-East Asia General Manager : Jean-Christophe Samyn.
After 12 years at Caudalie, he rightfully shares with us what is behind the notion of clean & sustainable beauty and highlights both the successes and challenges of the brand in the Asian market.
"Clean beauty is a no-brainer. Customers don't have to choose between a clean or an effective formula."
Jean-Christophe Samyn
What's the 'clean beauty' to Caudalie? Is it still relevant today?
In 2006, Mathilde Thomas first decided to take out from the formula 6 suspicious ingredients, including parabens, mineral oils & phenoxyethanol. We were a pioneer in the approach & it made the life of our labs very complicated. Years after years, that list went from 6 suspicious ingredients to 95 ingredients.
In 2022, there are 95 ingredients that we never use in our formulas – either because they are harmful for the health, or because we judge them bad for the environment.
We have been working since then on our own definition of "clean". For us, being a clean brand means that all our formulas need to have at least 95% of ingredients that are from natural origin.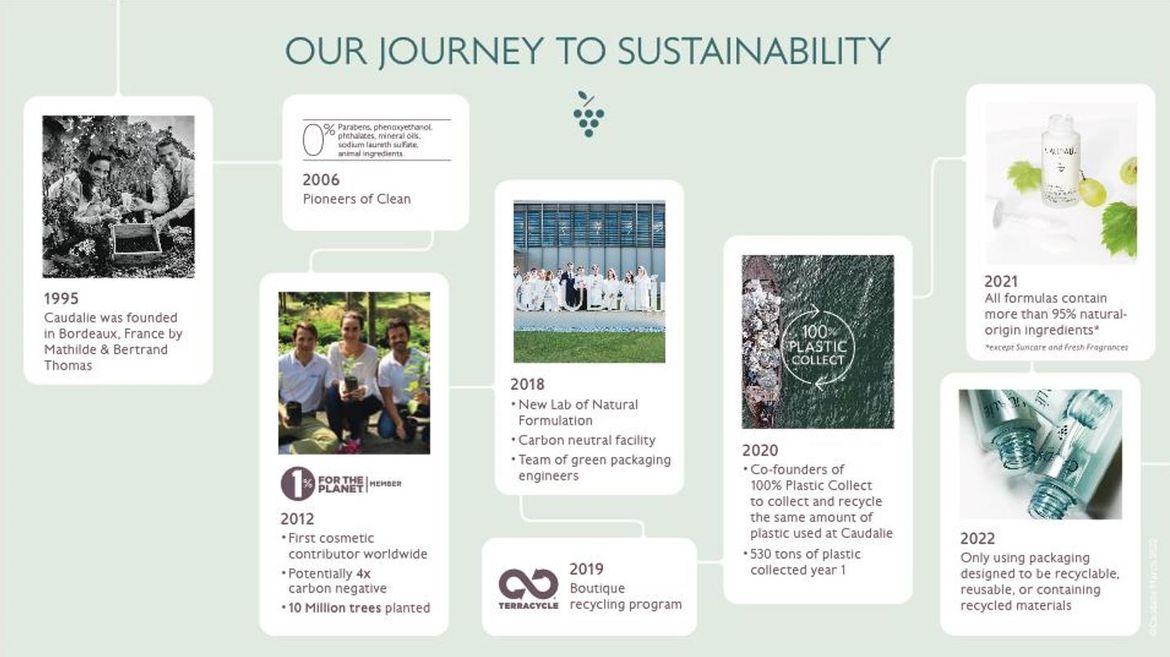 "In less than 10 years, we've actually planted nearly 10 million trees worldwide."
Jean-Christophe Samyn
Caudalie has always had sustainability at heart. Could you share some of your initiatives?
Being born in the vineyards, the brand has always been associated to nature, thus clean and sustainability came quite naturally. The first decisive moment in our sustainable journey happened in 2012 when Mathilde & Bertrand Thomas met the founder of 1% for the Planet. 1% for the Planet is an umbrella organization that regroups hundreds of companies that commit to dedicate a percentage of their global turnover to fight against climate change & other environmental issues.
Initially, we decided at Caudalie to dedicate this money to planting trees, because we felt we could have very short impact by doing so. In less than 10 years, we've actually planted nearly 10 million trees worldwide.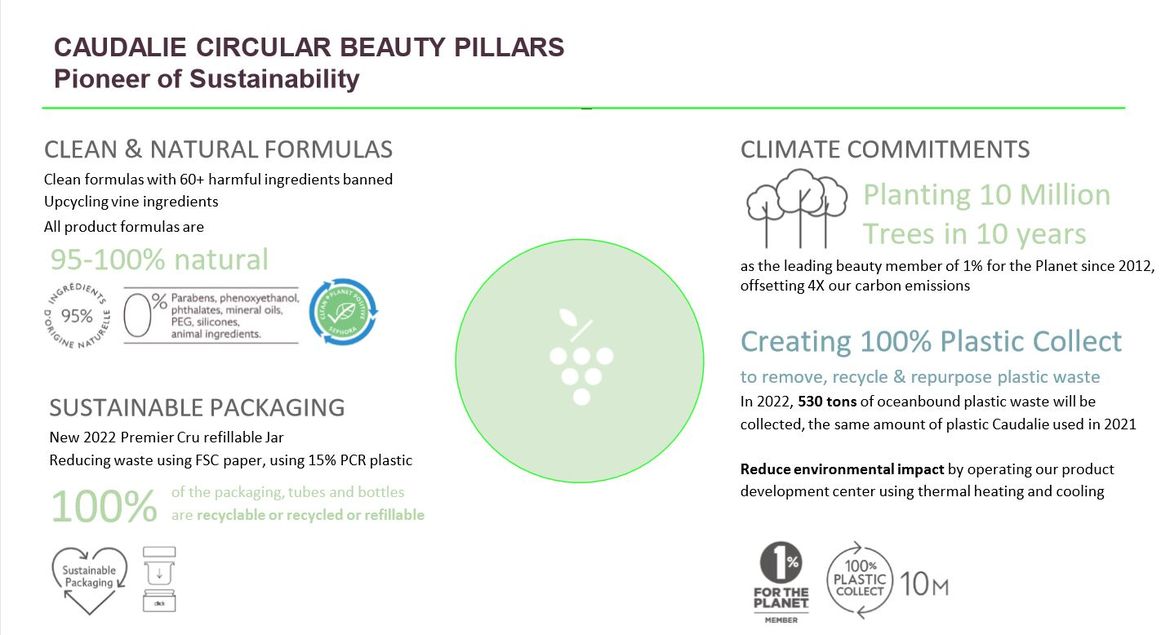 Our last project has been initiated in 2020 when we teamed up with a charity in Thailand called PUR Project. Caudalie set up with them 100% Plastic Collect, an ambitious project that operates on a circular economy model. By doing so, we dedicate to offset the plastic that we're using every year at Caudalie. I'm talking about 600 tons roughly, in spite of our efforts from the very start to avoid plastic in the conception of our products.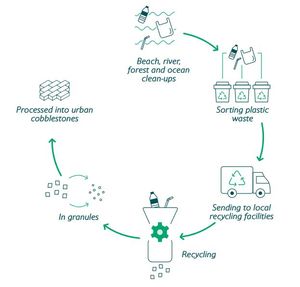 How?
The plastic is collected by local communities on the beaches.
It is then sorted out, recycled on site into granules and resold to be reused.

Caudalie is now strongly established in the Asian region, both through its environmental initiatives and from a business point of view. How did the brand manage to get into the Asian market?
Caudalie launched in China 15 years ago, so we've been in Asia for quite a while now. Because we've started working very closely with Sephora, which is a strategic partner for us, we also adapted our strategy to their own: as they started to open to new markets such as Singapore or Thailand, we launched our brand as well in those markets. In some other countries, such as China, Korea or Hong-Kong, we also decided to set up on some subsidiaries and flagship boutiques!
In 2022, we just launched the brand in Indonesia, Vietnam & India. Three very exciting new projects in three fast-growing markets! There is definitively an appetite for clean brands in these countries.
The brand is merging two approaches: a French one and a South Korean one. How do both origins reflect at Caudalie?
It's a big question [laughs]. Caudalie still is very much a French brand, rooted in Bordeaux with a unique story & a strong heritage.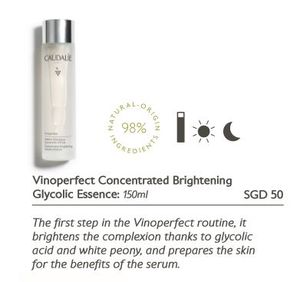 But our founders have also lived in Hong Kong for two years and used that time to travel a lot across Asia. Mathilde draws her inspiration from the 8-step Korean rituals, the watery textures, and the sophistication of K-beauty.
The Vinoperfect Concentrated Brightening Glycolic Essence is thus very inspired by Korean beauty principles.
In a more general way, should the brand adapt to the region? If so, how?
The Asian market is incredibly sophisticated. Asia is very complex: consumers are very different, even within a same country because of the seasonality, the habits… Caudalie must set up different approaches for each market. In Singapore, the weather factor is crucial because of the heat & humidity. Our products have well adapted to the region because they are very lightweight, they quickly sink in the skin so even though it's hot outside, you don't fell it on your skin. I think that's what our customers want.
"During the last two years, customers have been using skincare products more than ever - but we also had to adapt in a fast way. We have been very innovative when it came to digital, always focusing in building our social community. "
Jean-Christophe Samyn
What is the overview of Caudalie since it has been implemented in Asia and what people are thinking about your products here? Do you see some differences between the Singaporean market and the rest of the region? The rest of the world?
It's quite interesting because even if the region is extremely diversified, at the end, our hero products are the same worldwide.
Our Vinoperfect Radiance Serum Complexion Correcting is our number 1 product in France, in the US but also in all the Asian market. It seems that it transcends the borders.
How do you explain that?
Simply because it works [laughs]. You know, the first connection with a product is about sensoriality. You try it, you like the scent, you feel that it has the right consistency on your skin. Then, do not forget that people have expectations. This one is a serum, and people are buying it because this product is going to treat and prevent any dark spot. That's actually a huge concern in Asia where women are very concerned by pigmentation – whether it comes from acne scars, pregnancy marks or is induced by the sun. But it's a huge concern in France, Portugal and so on as well.
In Singapore, there is a level of maturity that you might not find in other markets because the country is incredibly skincare wise. The fact that Sephora has been established here since 2008 has helped to create among customers a strong education about clean skincare. For us, Singapore is very exciting when it comes to clean beauty: it's a city-state that really prides itself to be innovative when it comes to environmental issues. Singapore is the "Garden State". Hence clean beauty has arrived at the right moment and I think it has been for us a really good window to showcase the brand for the rest of the region.
Could you share with us a previous experience or difficulty Caudalie managed to overcome? How did the brand do it?
The last two years have been challenging for every brand, but we've been quite lucky as customers have been using skincare more than ever. Nevertheless, we had to adapt very quickly! We have been very innovative when it came to digital, always focusing in building our social community. We've got a strong one on our social networks and we're proud to have succeeded in switching online that fast.
Above all, despite everything, we always kept investing in the brand. Thanks to our investments, we're experiencing the best year ever in every market. We're even improving our rankings in France, which is a very mature market.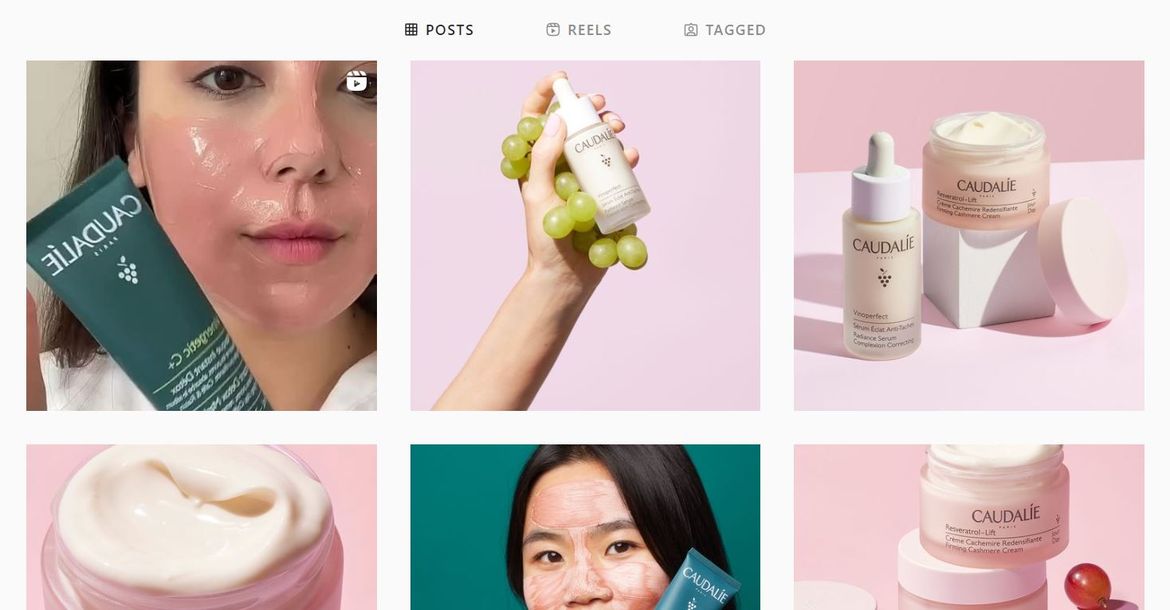 How did you succeed in keeping a relationship with your customers online?
Caudalie is initially an experiential brand, to be tried in Sephora or in stand-alone stores. In order to keep a strong relationship with our customers, we started doing lives on Instagram. People were enjoying that because actually, they were learning more. Now we're really happy to welcome them back into stores but people also continue to shop online.
Covid has probably been the biggest challenge of our lives. Many unwanted effects happened. Logistics, for every company, is a big challenge. Bringing goods from France, from Europe, takes now longer & is more expensive. We were used to fast processes, but that's not the case anymore. We had to adapt, to invest more, to stock in Asia but also in France.
"Caudalie has a French approach to skincare: less is more."
Jean-Christophe Samyn
Could you tell us a story about one of your products?
It's hard to choose [laughs] but our Beauty Elixir has quite a nice story! In the 1990s, Mathilde was browsing in Paris by the river, wandering around these outside stores selling books.
She found an old recipe from the Queen of Hungary who, apparently, was a beautiful woman – and her beauty recipe was a homemade facial mist. Mathilde took that recipe and modernized it. Caudalie's Beauty Elixir quickly started to be used by a lot of makeup artists who enjoyed the mist to prepare the skin of the models, to set the makeup & use it during photoshoots for both its mat complexion and brightness.
This product has just been re-launched this year, with a new packaging. It's also a great example of a product which transcended all borders!
Do you personally use Caudalie's products? What are the ones that you find yourself using most often?
I'm using a lot of them, yes [laughs]. Personally, I always come back to the Vinoperfect Serum. It just works. I don't have dark spots, but I feel that my skin is brighter. When I look a bit tired, I put it on, and my skin becomes more glowing.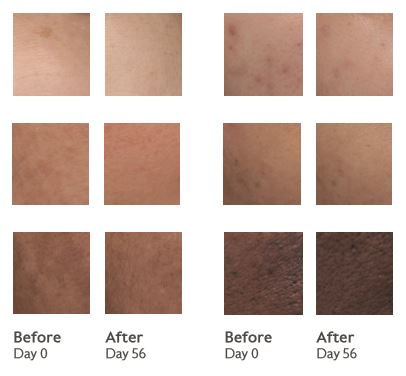 What would a full Caudalie skincare routine consist of?
Caudalie has a French approach to skincare: less is more. We like very simple routine. We know that women are busy, women are working, so you have to make it very simple. I would say that the biggest part of the job is to clean your skin properly. This is 50% of your job. We always recommend finding the right cleanser to use at night. You really take off the makeup, and you cleanse.
Then, using a good serum is also an important part. It's even more important to invest in a good serum than in a good moisturizer because the serum is going to work deep inside on the structure of your skin. Find the serum that suits you, rather it's for brightening, firming, hydrating or whatever it is.
Finally, using an SPF is also crucial, even if it's cloudy outside!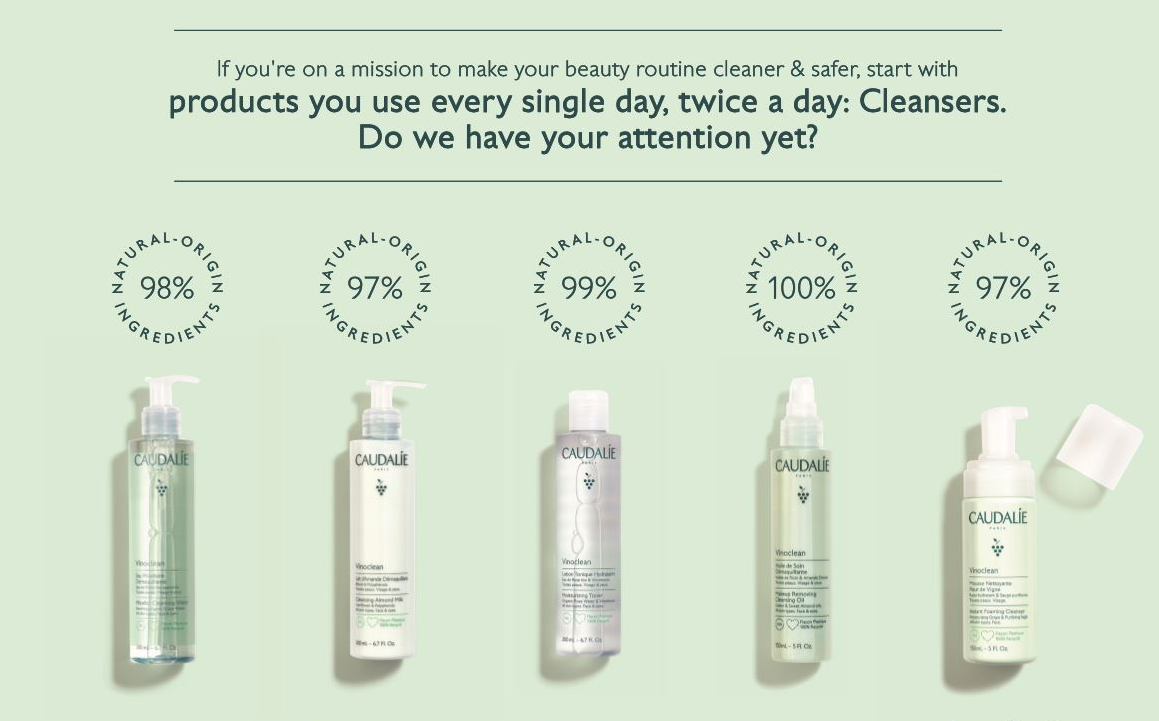 Our range Vinopure was already doing quite well before the pandemic but it really took off during the last 2 years. It has been specially designed for acne-prone skins. If you follow these very simple steps – cleansing, using a toner and then a serum – it's enough! And it works. For that particular collection, we wanted to be very approachable as a brand so we asked famous & everyday people to try our products for a week, two weeks, a month. We then did many "before & after" campaigns and communicated about that on our social networks.
Where can we find Caudalie in Singapore?
You can find them in Sephora! A brand new store just opened in Raffles City, the first of its kind in Singapore & South-East Asia. It looks absolutely beautiful. Of course, you can also find Caudalie online!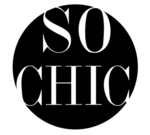 Caudalie is a participating member of So Chic. As the B2C platform of the French Chamber of Commerce in Singapore, So Chic showcases a diverse range of French lifestyle brands and entities in Singapore. For more information, visit https://www.sochic.sg/