Companies news • Analyses & Studies • Portraits • Publications
CEO Sustainability Series |André Nothomb, Executive VP Head of Government Affairs Asia Pacific, Country Manager Singapore South East Asia, Solvay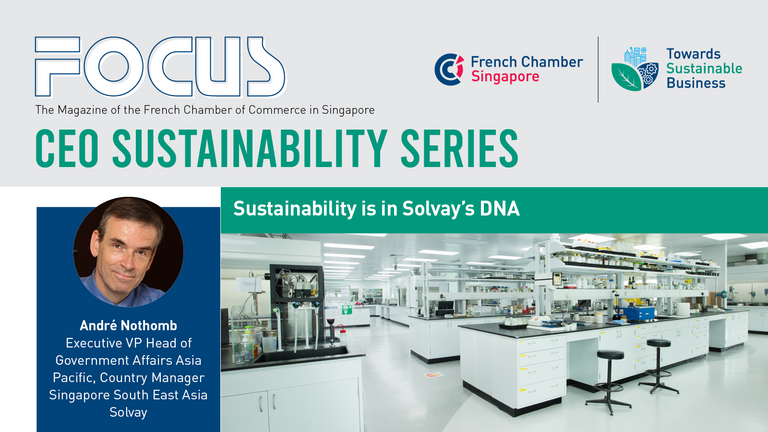 As part of the Sustainable Business initiative, the French Chamber of Commerce in Singapore presents a leadership interview series where we invite CEOs and key executives to discuss crucial management qualities that drive successful sustainable transformation
Question 1: When have you started to be confronted with sustainable development?
While Sustainability gradually became a buzzword on the global stage, at Solvay it was already high on the agenda when I started to work there in the late 80s. Back then many were conscious of various environmental risks, such as ozone layer depletion from CFCs, acid rains, oil slicks washed away from super tankers, water contamination and energy waste. Significant research and money was spent on cleaner technologies and Solvay was among those who actively contributed.
Q2: What does sustainability mean to Solvay?
Today many confuse Sustainability with cutting CO2 emissions, but this is just a piece of the puzzle. At Solvay, we implemented a "One Planet" Sustainable Development holistic drive comprising 10 distinct objectives covering 3 themes: protecting Climate, preserving Resources and fostering a Better Life. For years we have committed to ambitious goals which progress is independently measured and published annually, and raised the bar on most in the meantime. On Climate, besides actively reducing CO2 emissions at all sites, we also decided to completely eliminate the use of coal, due to its serious impact on air quality, a key issue in many large cities. As biodiversity also impacts climate change (loss of vegetation and marine ecosystems), we set targets on related factors reducing our industry impact by 30% by 2030.
Q3: What are some of the biggest sustainability issues you've faced and how did you tackle all these sets of challenges?
Without going into all the details, it's clear that the Chemical industry, which has been at the base of many problems, has the capability to provide solutions, as for those environmental crises of the past. Just look at the Ozone layer depletion, which had the propensity to eradicate life on Earth in a matter of months (not the case of Global warming): it is now gradually recovering to safer levels thanks to active scientific progress.
One challenge we now face is the lack of competent young recruits. Boys and girls are now attracted to other skill sets. I personally attend high school job forums to convince youngsters to not shy away from Chemistry, the Mother of all sciences, before they select other university disciplines. Competent chemists have what it takes to understand the root of unsustainable processes and practices, beyond the noise of so many who hope to solve problems with oversimplified solutions, wasting time and resources and even leading to counterproductive regulations derived from non-scientific reasoning.
Q4: How do you see expectations and attitudes towards sustainability changing among your employees, customers, and partners? And what are the impacts on your organization?
It is wrong to claim that business only responds to regulations. It's been a while since every industry has realized that long term profits are achieved by providing solutions demanded by educated customers who have the power to choose products satisfying the highest possible environmental standards. Besides, the industry has to be credible to hire competent and environmentally conscious employees. All Solvay employees are proud to directly work towards Sustainable solutions.
All this was recognized by Ernest Solvay, our founder in 1863 - 160 years ago this year! - who in 1911 organized the first of many Conseils de Physique, grouping the best scientists of his days, including Marie Curie and Albert Einstein, at that time still relatively unknown, where they started to develop the Quantum Physics under his support.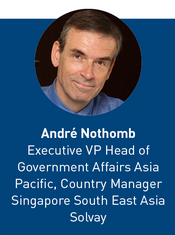 This interview was conducted with André Nothomb, Executive VP Head of Government Affairs Asia Pacific, Country Manager Singapore South East Asia, Solvay
May 2023| French Chamber of Commerce in Singapore