Companies news • Analyses & Studies • Portraits • Publications
CEO Sustainability Series |Arnaud Vaissié, Co-founder, Chairman and CEO, International SOS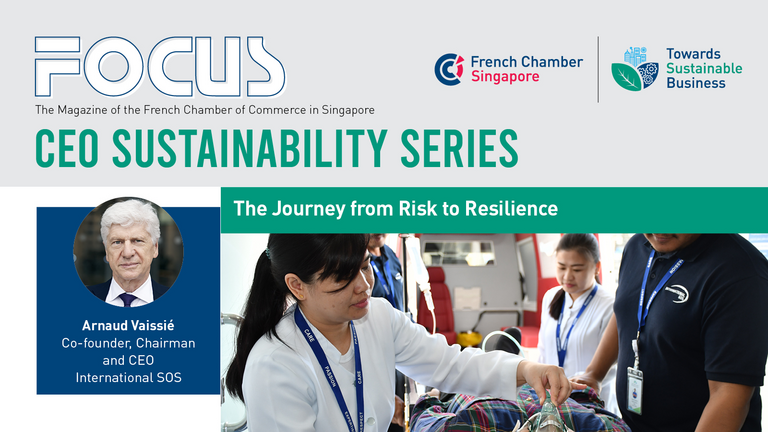 As part of the Sustainable Business initiative, the French Chamber of Commerce in Singapore presents a leadership interview series where we invite CEOs and key executives to discuss crucial management qualities that drive successful sustainable transformation
Question 1: What has your company's sustainability journey been like so far?
For almost four decades International SOS has been in the business of saving lives and protecting global workforces. As we empower business continuity and sustainability, anywhere in the world, we recognise that with our global operations we have a broader responsibility to society and the environment. More than a decade ago, we published our first CSR report followed by the definition of our sustainability priorities. As the market evolved and we increasingly integrated sustainable practices into our operations, we required a more holistic approach beyond philanthropic actions. To reflect our deeper understanding of the interdependence between our operations, society, and the environment, we decided to embed the Ten Principles of the UN Global Compact. In 2017, we became signatories of the UN Global Compact, marking a shift in our sustainability journey.
After this transition, we evolved to a broader and more inclusive scope of Environment, Social and Governance (ESG). For us, ESG is ensuring that we manage these risks in our operations, while creating shared value. A materiality risks assessment helped us identify the economic, environmental, and social issues that impact our business and that are most important to our key stakeholders. The assessment was conducted with the support of employees, clients, and management, deriving to 17 material topics. We used the Sustainable Development Goals (SDGs) as guidance for this process. Annually, we publicly communicate progress under our three reporting themes: protecting and saving lives, fuelling our clients' growth through our people and partners and living by our principles and practices.
Sustainability continues to be part of our DNA to drive positive change and ESG becomes our language. Our ESG strategy, under the vision From Risk to Resilience, is our pledge to hold the highest standards. The pandemic, combined with geopolitical uncertainty and the impact of climate change, has put new challenges in our path. However, we set ourselves up to support our clients and build partnerships to ensure progress related to their social impacts.
Q2: What are the expectations and attitudes towards sustainability changing among your employees, customers, and partners? And what is the impact on your organisation?
At times of increased geopolitical uncertainty and confronted by the negative impacts of climate change, increased alertness is key to resilience and adaptation. Our clients acknowledge that destabilising factors need to be considered and managed. These risks and threats must be built into our forecasting and business continuity plans. Sustainability data has become the unifying element. Our clients are aware that data related to social, environmental and governance issues can provide insights to their decision-making processes and better manage the related risks. Our clients are looking for services with reduced environmental impact and resilient services; such is the case of our Telehealth and Telemedicine services.
Internally, our employees have shown growing interest around sustainability issues and an increased concern of how our operations manage social and environmental related risks. This growing expectation prompted us to build a diverse and inclusive ESG Committee. The committee assembles employees volunteering their time to articulate and communicate our sustainability agenda. Our widely regarded ESG eLearning course is evidence that our employees are driven to learn.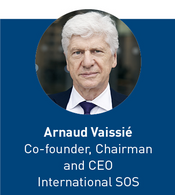 This interview was conducted with Arnaud Vaissié, Co-founder, Chairman and CEO, International SOS
June 2023| French Chamber of Commerce in Singapore