Companies news • Analyses & Studies • Publications
CEO Sustainability Series | Interview with Joris Dierckx, Regional Head for Southeast Asia BNP Paribas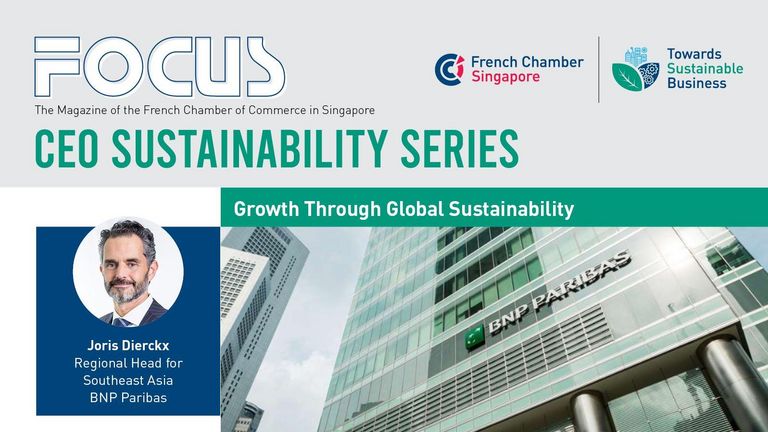 As part of the our Sustainable Business initiative, the French Chamber of Commerce in Singapore presents a leadership interview series where we invite CEOs and key executives to discuss crucial management qualities that drive successful sustainable transformation.
What do you believe is a bank's role in the global climate transition?
Climate change is a global challenge and banks, being at the heart of economic activity, have a crucial role to play in building a low-carbon economy. As clients transition, banks can support them in every stage of their journey with a strong suite of solutions tailored to meet the sustainable finance needs unique to each sector. This is because, we need to bear in mind that the transition from Brown to Green is not linear, and every client will differ in the set of challenges they face.
The Covid-19 pandemic has spurred public and corporate awareness of the importance of building a sustainable future. The sustainability transition is accelerating, with far more attention placed on environmental and social concerns. The drive and demand for sustainability has also become stronger due to the pandemic. For the banking industry, the question is how to continuously evolve its model to better service a new economy in transition.
How is BNP Paribas supporting its clients to meet their climate targets?
The BNP Paribas Group is unique in that we do not have a dedicated sustainable finance team or a sustainable finance department. We pursue, what is called, a 'mainstreaming' strategy, which means that we embed sustainability in our everyday business. We are training all our employees in topics of sustainability so that they are better able to support clients as they move towards their net-zero goals. We also offer clients access to our global pool of experts and a robust suite of products and solutions.
BNP Paribas has also stepped up its efforts to play a bigger role in supporting the global climate transition. In October last year, the Bank announced the creation of the Low-Carbon Transition Group (LCTG). The LCTG will mobilise global resources to accelerate our corporate and institutional clients' transition towards a sustainable and low-carbon economy. This group provides clients our expertise across the sectors of clean energy, mobility and built environment solutions. Over the past few years, BNP Paribas has developed a full range of expertise dedicated to the transition, as well as strategies to channel financial flows towards projects and companies that are building a low-carbon world. The Bank's efforts underscore its commitment to bring greenhouse gas emissions linked to its lending and investment portfolios to net-zero by 2050.
Can you tell us about some initiatives that BNP Paribas is involved in here in Singapore?
We have built up a good momentum in Singapore and Southeast Asia and have been involved in a number of initiatives, besides some interesting deals. Last year, BNP Paribas launched a sustainable supply chain financing framework here in conjunction with the Monetary Authority of Singapore's (MAS) new grant scheme for green and sustainability-linked loans.
As sustainability and ESG are still fairly new and moving fast, we hope that regulatory frameworks, such as this one, will provide transparency and accountability, help standardise disclosures, reinforce risk management, and provide learnings from ratings agencies.
BNP Paribas is also one of the nine founding members of the Singapore Green Finance Centre (SGFC), a research institute launched in 2020. The SGFC is dedicated to green finance research and talent development. It seeks to equip professionals with new skills and create a strong pipeline of green finance talent.
BNP Paribas is also part of the Green Finance Industry Taskforce, an industry-led initiative that is currently working on a green and transition taxonomy. Through collaboration with the MAS, we hope to support Singapore's ambitions to establish itself as a hub for sustainable finance in the region.