Companies news • Analyses & Studies • Portraits • Publications
CEO Sustainability Series | Nicolas Ricard, Country Manager Singapore and Vietnam Air France-KLM
As part of the Sustainable Business initiative, the French Chamber of Commerce in Singapore presents a leadership interview series where we invite CEOs and key executives to discuss crucial management qualities that drive successful sustainable transformation
Question 1: The Air France-KLM group has prioritised the development of a more sustainable transport industry. Why?
The latest IPCC report serves as a stark reminder of how serious the climate crisis is. To limit global warming, greenhouse gas emissions must drastically decrease within the next 30 years. Air France and KLM have already reduced their carbon emissions by 6% in absolute terms between 2005 and 2019, despite a 32% increase in traffic. However, this is insufficient, and we must continue to reduce our emissions at a faster rate.
Q2: How do you intend to reduce your carbon footprint and how do you measure this?
To guarantee the credibility of our decarbonisation trajectory, our strategy is now based on the work carried out by the independent reference organization Science Based Target initiative (SBTi), to ensure compatibility with the Paris Agreement.
Our targets are to reduce our CO2 emissions per passenger/kilometre by 30% by 2030 and to aim for zero net emissions by 2050.
To achieve these goals, we have three priorities:
1. Reduce our direct emissions generated by our operations (83% of emissions are linked to aircraft consumption). To achieve this, we rely on fleet renewal (up to 25% less emissions with new-generation aircraft), eco-piloting(up to 3% less emissions per year) and Sustainable Aviation Fuel (average of 80% less emissions over the fuel's life-cycle).
2. Reduce our indirect emissions (17% of our carbon footprint). These emissions result, amongst others, from the production and transportation of fuel, passenger transport to/from airports, and in-flight catering. Our roadmap includes developing intermodal transport and a more responsible catering.
3. Support projects that absorb and store CO2 present in the atmosphere, notably through tree planting initiatives. These projects, certified by reference labels, are a complement to, and not a substitute for actions to reduce our emissions.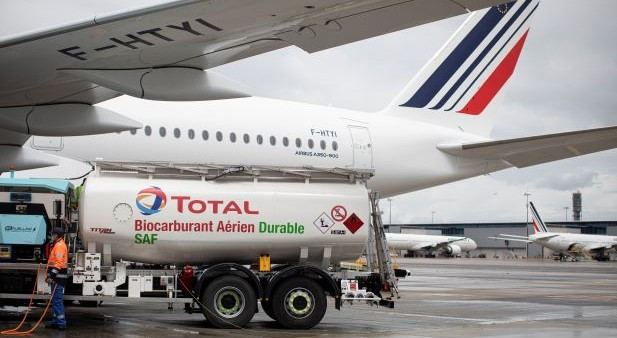 Q3: What is the role of SAF in reducing CO2 emissions in the aviation industry?
Sustainable Aviation Fuel (SAF) is set to become the main lever for decarbonising air transport. Produced from non-fossil fuel sources such as cooking oil or agricultural waste, they reduce CO2 emissions by 80% on average during the production process.

The production of SAF is currently very limited due to the lack of a sufficiently developed industrial sector, and their price is 4 to 8 times higher than fossil fuel.

As of 2022, all flights departing from France and the Netherlands will incorporate the equivalent of 1% of SAF. We aim to incorporate 10% of SAF by 2030 and achieve 63% by 2050.
Q4: What can a company or individual do to travel responsibly with Air France and KLM?
To accelerate the usage and production of SAF, corporate customers can join the "Corporate SAF Program". The annual contribution will be invested in the sourcing of SAF. At the same time, the company can reduce their carbon footprint from business travel and contribute to its sustainability goals.
Individual customers have also the option to purchase an amount of SAF or/and to contribute to the Air France's "Trip and Tree" or KLM's "CO2ZERO" options.
All these options aim for an eco-responsible travel with Air France and KLM and for making aviation greener.