Analyses & Studies • Publications
CEO Sustainability Series | Onno Boots, Regional President & CEO, Asia Pacific and Middle East, GEODIS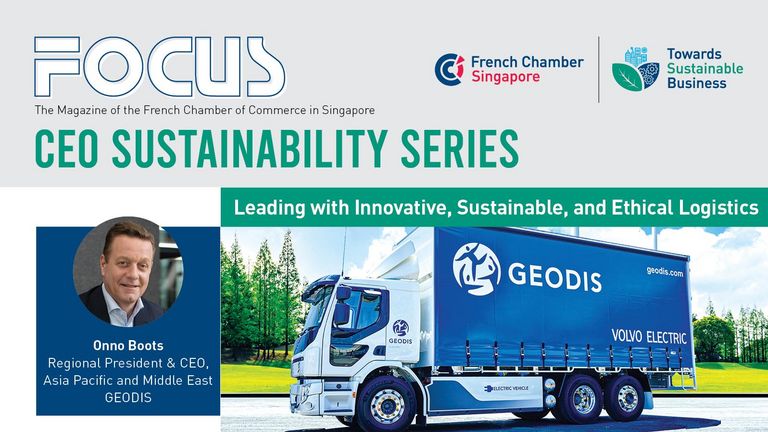 As part of the Sustainable Business initiative, the French Chamber of Commerce in Singapore presents a leadership interview series where we invite CEOs and key executives to discuss crucial management qualities that drive successful sustainable transformation
What does sustainability mean to GEODIS?
Sustainability, to GEODIS, is a fundamental aspect of our growth strategy. We recognize the significant environmental impact that logistics and transport activities can have, and we are fully dedicated to protecting the environment and the climate. Our commitment involves two crucial goals: reducing greenhouse gas emissions and atmospheric pollutants and managing resources in a respectful and responsible manner. We actively work towards developing sustainable solutions for our customers, which include low-carbon alternative transport options, multimodal solutions, and implementing virtuous circular economy loops. Faced with the global climate challenge, and in alignment with the Paris Agreement, we are actively pursuing a path to decarbonization. For years, we have taken concrete actions to reduce our greenhouse gas emissions, and we continue setting new targets based on the Science Based Targets (SBT) approach.
How is technology helping your company achieve its sustainability targets?
Operational efficiency is key to our sustainability efforts, and we leverage data and technology to achieve this. This includes optimizing truck journeys, speeding up last-mile deliveries, monitoring transport end-to-end in real-time, and integrating this with the environmental ecosystems of our partners and clients. In the Asia Pacific region, our clients benefit from our road network which offers sustainable transport between Southeast Asia and China.
We have implemented low-emission technologies in our road freight services, utilizing electric, biogas, and biofuel vehicles. 240 alternative vehicles are currently being supplied for urban delivery. We are also investing in innovative solutions, exploring the use of hydrogen, and expanding electric technology to heavier vehicles. Furthermore, we offer our customers sustainable fuel options for air and sea transport, such as Sustainable Aviation Fuel and Sustainable Maritime Fuel, capable of reducing greenhouse gas emissions by at least 75%.
Most recently, GEODIS joined forces with Volvo Australia to pilot the first Fully Electric (FE) variant truck for freight forwarding within the Australian market. This strategic partnership involves deploying Volvo's FE model trucks, powered by solar energy and energy-efficient charging systems, aligning with our commitment to low-carbon delivery solutions.
How do you see expectations and attitudes towards sustainability changing among your employees, customers, and partners? And what is the impact on your organisation?
With growing awareness of environmental issues and climate concerns, employees and customers are increasingly seeking out companies that are environmentally responsible. Our purpose is clear: to deliver innovative, sustainable and ethical logistics. To do this, we have to continually innovate, prioritize our people as our key asset, and leverage technology as our key enabler. It is essential that we continuously engage in dialogue with our stakeholders, including our employees, customers and partners. This helps us better understand their evolving expectations and attitudes towards sustainability. More importantly, we know their levels of satisfaction with GEODIS' actions and are able to identify possible risks or seize opportunities to develop new solutions together
This interview was conducted with Onno Boots, Regional President & CEO Asia Pacific and Middle East, GEODIS
October 2023 | French Chamber of Commerce in Singapore