Companies news • Analyses & Studies • Portraits • Publications
CEO Sustainability Series | Valérie Patuel, Managing Director Safran Helicopter Engines Asia CEO & Country General Delegate Safran Singapore
As part of the Sustainable Business initiative, the French Chamber of Commerce in Singapore presents a leadership interview series where we invite CEOs and key executives to discuss crucial management qualities that drive successful sustainable transformation.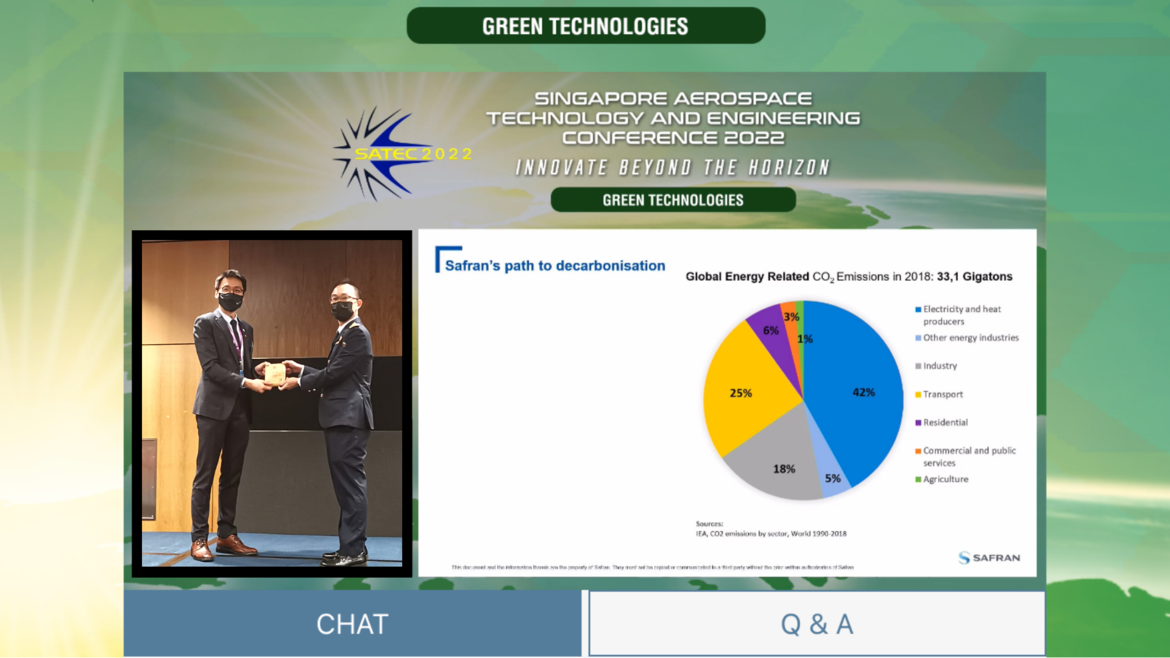 Question 1: What has your company's sustainability journey been like so far, on a Group level?

In response to the urgent climate challenge, Safran is transitioning into carbon-neutral aviation by 2050 with new engine architectures, sustainable fuels, hybrid-electric technology, new materials and reduced weight. Safran aims to reduce the greenhouse gas emissions of its operations, production sites & value chain to achieve net zero carbon emissions. The Group plays an active role in the development of technologies for low-carbon aircrafts. These
aircrafts feature ultra-efficient engines and aerodynamic designs, significantly reducing weight and offering full compatibility with Sustainable Aviation Fuels (SAF) and an optimised electrical power system.

Decarbonising aviation will depend on the use of sustainable fuels such as biofuels from biomass or synthetic fuels. These fuels reduce CO2 emissions by more than 80%. Liquid hydrogen, which eliminates CO2 emissions in flight is also an option. At Safran, we are investing in research to optimise the use of the electric power available on current aircraft, notably via partnerships with specialised startups. To meet energy efficiency targets for upcoming generations of commercial aircraft, an electric propulsion system will be used
in conjunction with conventional thermal propulsion along with increased electrification of secondary functions.
Q2: List some sustainability initiatives that your company has implemented recently.
Recently, Safran initiated plans on sustainability during the Singapore Airshow 2022. Signing of the Global SAF Declaration Agreement with Airbus, Rolls-Royce and Singapore Airlines was one of the major event that we have taken to encourage all industrial partners to work together to further the adoption of SAF to reduce carbon emissions and to regularly increase their use over the next ten years.

To mention another remarkable event, Safran Helicopter Engines Asia has signed a Memorandum of Understanding (MoU) with ST Engineering to study the use of the Sustainable Aviation Fuel (SAF) in helicopter engines. The objective is to assist helicopter operators in their transition to the use of SAF. This signifies our common milestone to transform the aviation industry towards a more sustainable future. Alongside, one of our representatives
also gave a speech on how Safran is taking the lead to expand the usage of SAF, during the Singapore Aerospace Technology & Engineering Conference 2022 (SATEC) to share our take on decarbonisation and sustainability.
Q3: What's the key to achieving these targets?
Since the launch of the Low Carbon Plan in 2018, Safran entities in Singapore have hosted various initiatives such as annual innovation campaigns, information sessions and contests -in the aim of cutting CO2 emissions by 30% by 2025. Our employees' drive towards sustainability is the key that leads us to move forward. Their innovative ideas and initiatives reflects on their participation and the changes that they would like to bring in to the organisation.

Some low carbon initiatives that we have adapted into our practices are; providing metal cutlery kit (by reducing disposable cutlery usage), reducing facility energy consumption (eg. setting AC temperature at 25oC). Installing an adapter on faucet to reduce water consumption, cleaning server storage (avoid buying another server for storage), recycling & reusing of items and installing solar panels in our office roof tops to provide 50% of our
electricity needs. These immediate actions are mandatory as collective changes require the involvement of every employee. Through these behavioral changes and adoption of good practices, we will definitely achieve our organisational goal, as ONE Safran!