Companies news • Analyses & Studies • Portraits • Publications
CEO Sustainability Series | Yoon Young Kim, Cluster President, Singapore, Malaysia and Brunei, Schneider Electric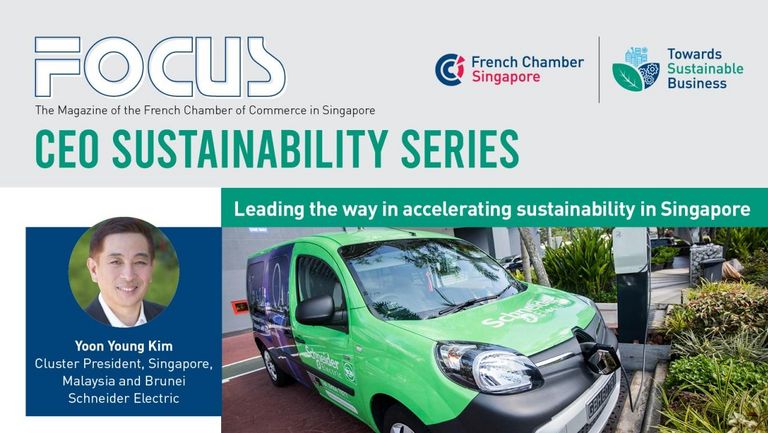 As part of the Sustainable Business initiative, the French Chamber of Commerce in Singapore presents a leadership interview series where we invite CEOs and key executives to discuss crucial management qualities that drive successful sustainable transformation.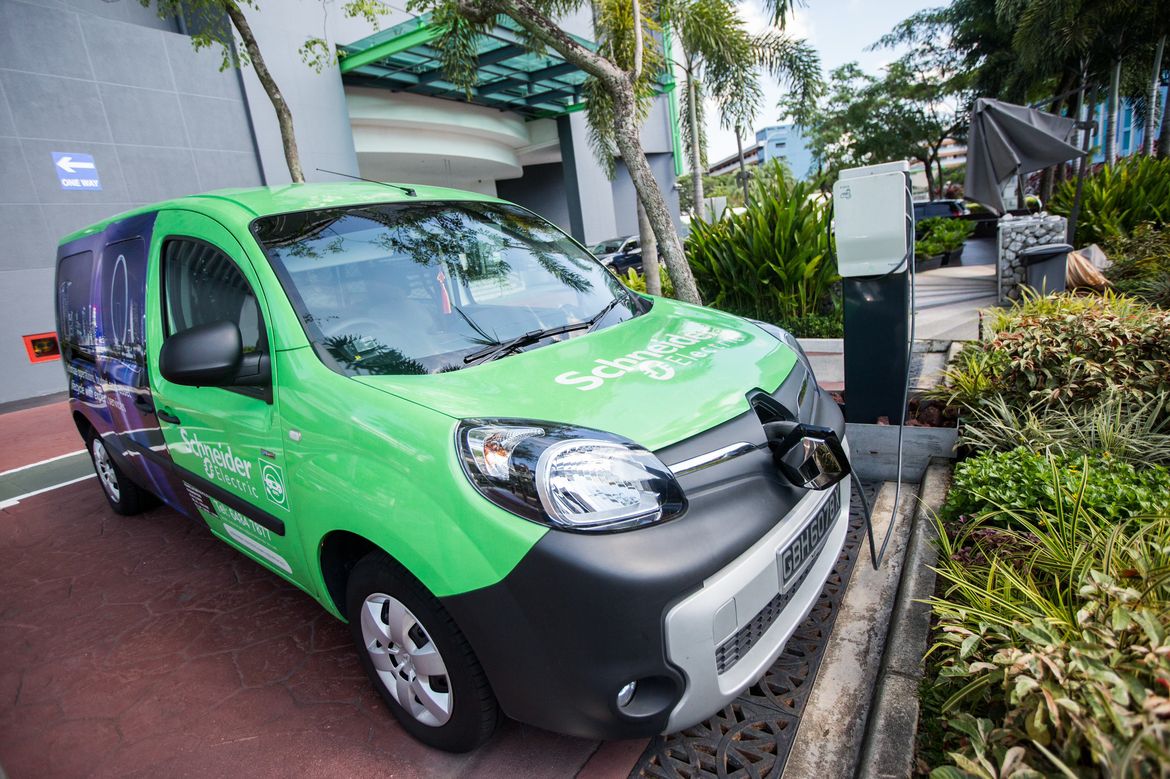 Question 1: What does sustainability mean to your organisation?
At Schneider Electric, sustainability has been at the core of our purpose, our culture and business for over 15 years. In 2005, we were among the first global companies to monitor our impact on people, planet, and profit with an industry-leading Sustainability barometer. By 2021, we were recognised as the World's Most Sustainable Company in Corporate Knights Global 100 ranking, and have earned our position among the top ranks in this list for 11 consecutive years since 2012.
Our Schneider Sustainability Impact 2021-2025 programme aims to continue to accelerate our sustainability efforts while giving more people access to energy and equal opportunities. With six long-term commitments and 11 global targets, and accompanying local targets, the programme puts places sustainability at the forefront of our business and drives action for us to go even further for our environment, society and economy.
We monitor our carbon footprint very closely, and by putting in place robust energy efficiency and renewable strategies, we have achieved significant CO2 emissions reduction in absolute terms over the years. As the global leader in the digital transformation of energy management and automation, we remain committed to achieving carbon neutral operations by 2025, net-zero operational emissions by 2030 and a net-zero supply chain by 2050.
Q2: What are some of the biggest sustainability issues you've faced and how did you overcome these sets of issues?
One of the most challenging aspects of decarbonisation for many organisations is to reduce supply chain emissions. Our top 1,000 suppliers, represent 70% of Schneider Electric's carbon emissions. Hence, as part of our Schneider Electric's 2021-2025 sustainability goals, we launched the "Zero Carbon Project", which aims to enable these suppliers to halve their operations' CO2 emissions by 2025. We provide tools and resources to help them set and achieve their own carbon reduction targets. We share our expertise and experience with them on how they can decarbonise their operations leveraging our range of Sustainability Consulting Services and digital EcoStruxureTM  platform. Our suppliers are an integral part of our ecosystem, and we are cognisant that trust and engagement are key to a successful sustainability program. By enabling them to take an active role in partnership with us, we can continue to make a meaningful reduction in our carbon footprint.
Q3: How do you see expectations and attitudes towards sustainability changing among your employees, customers, and partners and what are the impact on your organisation?
We are very encouraged to see growing momentum around sustainability among our partners, customers as well as employees, and we expect this to pick up speed as we accelerate our contributions to build a more sustainable world. Our "Building a Greener Singapore" report found that 83% of Singapore business leaders believe their organisation's sustainability performance may be a barrier or opportunity to future growth and success. More than two thirds of Singaporeans say companies should prioritise the environment over profits. The study findings show that Singapore is at the start of an inspiring green journey.
Schneider Electric has a strong track-record as a sustainability leader, and we see it as our responsibility to work with others to achieve net zero through three aspects - energy saving, electrification, and decarbonisation. We create technologies and solutions to advance these aspects and work hard to advocate and support our partners and customers to implement the right solutions in the right order. Within the region for example, Schneider Electric's Sustainability Business Division (SBD) was established to serve the growing needs of customers in East Asia & Japan. This includes advising companies on how to measure, manage, and reduce their own carbon footprints.
We also share our skills, knowledge, and expertise by participating actively in industry associations around the world such as the French Chamber of Commerce in Singapore, and partner with governments around incentives, legislation and regulation that will drive meaningful change in the fight against climate change. We also partner with schools and institutions to train a future-ready workforce to meet the growing demand of companies looking to implement sustainable solutions. For example, we launched a Sustainability Experience Centre in collaboration with Nanyang Polytechnic in Singapore earlier this year, to enable students to gain valuable hands-on experience in cutting edge solutions used by the industry to meet sustainability goals. Overall, the biggest impact for us has been making sure we rethink everything we do and to drive action, not just within Schneider Electric but with stakeholders and local communities too, to make sustainability a reality for all.