Companies news Energies renouvelables - Développement durable - Environnement
Cleantech Solar completes rooftop PV project for Kotra Pharma in Melaka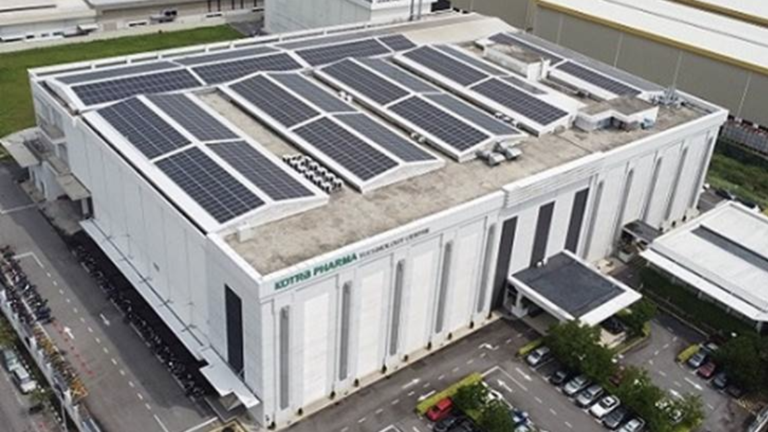 For over 38 years, home-grown Malaysian pharmaceutical company Kotra Pharma has been making its mark in Malaysia and internationally through its Appeton, Axcel and Vaxcel brands. Recently, the company has adopted renewable energy solutions to improve its energy efficiency, thus, contributing to making a difference to the environment.

The company's research and manufacturing hub in Melaka received a rooftop PV system developed in partnership with Cleantech Solar.

Cleantech Solar, a leading provider of renewable energy to corporations in Asia, celebrates the completion of a solar PV system for Kotra Pharma (M) Sdn Bhd, a wholly-owned subsidiary of Kotra Industries Bhd, which is listed on the main board of Bursa Malaysia. The solar project was awarded to Cleantech Solar under a long-term power purchase agreement (PPA) where Cleantech Solar would be responsible for funding, building, operating and maintaining the system across the term of the agreement.

The solar system retrofitted on the facility is a great addition to Kotra Pharma's world-class manufacturing and research plant. The plant, which is the hub for Kotra Pharma's R&D and manufacturing activities, is designed with state-of-the-art technology as well as advanced pharmaceutical process equipment. The 600 kW solar system is expected to generate about 790 MWh electricity in the first year.

Mr. Piong Teck Onn, Managing Director of Kotra Pharma, said:

"Kotra Pharma recognizes the importance of embedding sustainability practices into our daily operations from the economic, environmental and social perspectives.
We strongly believe that every individual has the right to a quality and accessible healthcare. We are trying to contribute to that by earning the trust of our customers.
We built that trust on technology, quality and safety. In line with this, we are pleased to see that we have made the right choice by selecting Cleantech Solar for this long-term partnership."

"Cleantech Solar remains focused on providing companies in the forefront of sustainability with cost-competitive, reliable and high performing solar solutions. Building on our solid track record in Malaysia and across Asia, we will continue to help corporations like Kotra Pharma reap the full benefits of solar," said Raju Shukla, Cleantech Solar Founder and Executive Chairman.

About Cleantech Solar (www.cleantechsolar.com)

Cleantech Solar is a pan-Asia supplier of renewable energy to corporates, combining the capabilities of a regional player with responsiveness and agility.

Headquartered in Singapore, Cleantech Solar has been selected for numerous solar power plants across India and Southeast Asia, covering over 500 MW across the various stages of operations, construction and development. This includes installations in India, Indonesia, Cambodia, Malaysia, Thailand, Vietnam and Singapore.

The company helps corporations to meet their sustainability goals, offering them a unique combination of:
Shared values ensuring long-term partnership
Leading technical expertise with a strong focus on delivering safe and high-quality projects
Experienced local teams in all markets to ensure compliance and smooth execution
State of the art control room delivering optimized performance in real time
For more information, please visit https://cleantechsolar.com/cleantech-solar-completes-rooftop-pv-project-for-kotra-pharma-melaka