Companies news
CMA CGM Clinches Judges' Choice Award at EuroCham Sustainability Awards 2021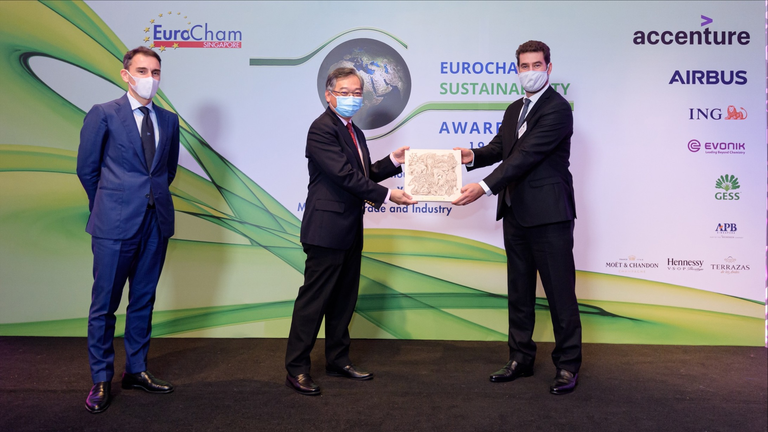 Editor's Note: The French Chamber of Commerce warmly congratulate our members CMA CGM, Engie and Sodexo on their awards.
The CMA CGM Group, a world leader in shipping and logistics, has won the "Judges' Choice" award at the EuroCham Sustainability Awards 2021 in Singapore on 19 November. The award was presented to CMA CGM by Mr. Gan Kim Yong, Minister for Trade and Industry of Singapore. The special accolade celebrates CMA CGM's contributions in the strategic sustainable development areas common to both the European Union Commission's European Green Deal and Singapore's Sustainability Concept plan. The Group has impressed the panel of expert judges with notable sustainability achievements, in particular its course in fighting climate change.
Stéphane Courquin, Chief Executive Officer CMA CGM Asia Pacific Ltd said, "The CMA CGM Group is determined to become a net zero carbon company by 2050. We are taking urgent and concrete actions to combat climate change, and in preserving biodiversity for future generations. As we continue to respond to the challenges of the COVID-19 pandemic, we shall ensure the safety and well-being of our staff and seafarers; and keep our customers' supply chains going and greener."
Accelerating the course to Net Zero Carbon
The CMA CGM Group has joined the United Nations' Race to Zero initiative to become a Net Zero Carbon company by 2050, going beyond carbon neutrality.
Having embarked on its energy transition, the Group has pioneered the use of LNG, biofuel and bio-methane in its vessels as the search for energy solutions continues. By 2023, alternative fuels will make up 10% of its fuel mix.
The CMA CGM Group currently operates 20 dual-fuel container vessels that are powered with LNG, reducing CO2 emissions, and eliminating almost all emissions of atmospheric pollutants. The engines fitted on these vessels are also capable of using biomethane that reduces 67% of CO2 emissions today; and e-methane, a carbon-neutral fuel source tomorrow. The CMA CGM Group will operate a fleet of 44 "e-methane ready" ships of diverse sizes by the end of 2024.
The Group's roadmap to be zero carbon encompasses driving energy efficiency; network optimisation; designing containerships to progressively operate with zero-carbon energy; and developing a supply chain for new zero carbon energies.
Meanwhile, the CMA CGM Group also collaborates with like-minded stakeholder groups in other industries. This includes customers and suppliers that are members of the Coalition for the Energy of the Future, initiated by the Group's Chairman and CEO Rodolphe Saadé, to accelerate the development of future energies and technologies to sustain new green mobility models to reduce the climate impact of transport and logistics.
CMA CGM has also been successful in onboarding its customers on the decarbonisation journey through ACT with CMA CGM+, a range of high value-added services, enabling customers to analyse, reduce and offset their shipments' carbon footprint as part of their sustainability strategy.