Companies news
Decathlon launches Data Lab in Singapore to develop new digital services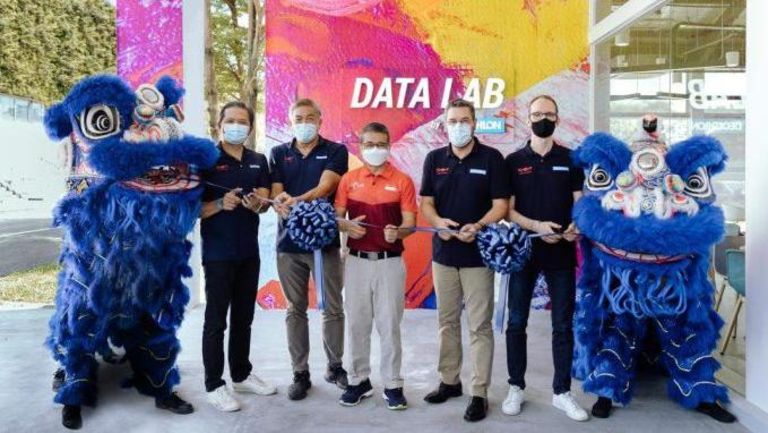 Present at the Data Lab launch were (L-R) SportSG deputy chief executive officer (CEO) Dr Chiang Hock Woon; SportSG CEO Lim Teck Yin; Minister for Culture, Community and Youth Edwin Tong; Decathlon Singapore CEO Stephan Veyret; and Decathlon Singapore technical director Matthieu Blanchard. PHOTO: DECATHLON
SPORTING goods retailer Decathlon on Thursday (Jul 7) launched a new Data Lab in Singapore to develop new digital services for Decathlon International and incubate data projects in collaboration with partners such as Sport Singapore (SportSG), research agencies and schools.
Located in the Kallang Alive district – close to the Decathlon Singapore Lab flagship store – and spanning 700 square metres, Data Lab has colourful graffiti walls and floor-to-ceiling windows for natural lighting.
It will house Decathlon's digital teams such as data experts, software developers and designers, e-commerce, network and security team, innovation teams, as well as industry partners and students. The lab also aims to attract new digital talents and host digital training programmes to upskill the existing workforce.
The partnership between Decathlon and SportSG will see both organisations sharing data to "inform the development of infrastructure and sporting programmes with the aim of fostering a healthier lifestyle and a more active community of Singapore", said Decathlon chief executive officer (CEO) Stephan Veyret at the launch.
"As more Singaporeans become active, this translates to the need for more sporting products and thus lead to the win-win situation between Decathlon and its partners," Veyret added.
Also present were Minister for Culture, Community and Youth Edwin Tong and SportSG CEO Lim Teck Yin.
As part of its sustainability goals, Decathlon has developed software to calculate and track carbon dioxide emissions from the materials, production and shipment of their products, to aid in designing eco-products.
"The process starts with the design of our products that will be 100 per cent eco-conceived by 2026, up from 30 per cent today," said Veyret.
Projects and ideas initiated in the Data Lab will be tested in the neighbouring Decathlon Singapore Lab retail store, and subsequently introduced to other Decathlon stores in Singapore and beyond.
To support its expansion, Decathlon is also hiring for over 80 full-time and part-time positions to develop sporting events and initiatives and guide customers.
SOURCE : Business Time