Companies news
ENGIE And Filinvest Partners To Bring Renewable Energy To New Clark City And Ciudad De Calamba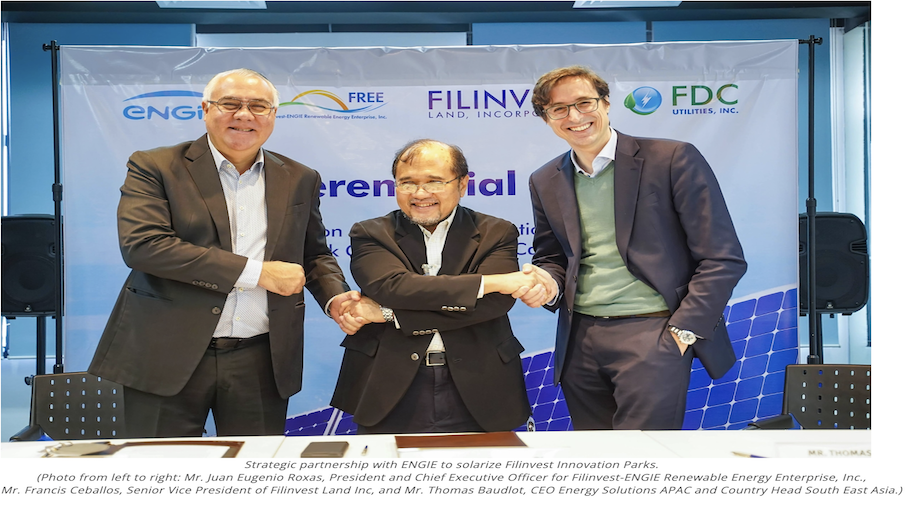 Philippines, 5 April 2022 – The Filinvest-ENGIE Renewable Energy Enterprise, Inc. (FREE), today inked a memorandum of understanding with Filinvest Land, Inc. (FLI) to explore opportunities in installing renewable energy generation facilities in its newest industrial development Filinvest Innovation Parks at New Clark City and Ciudad de Calamba.
FREE is a joint venture company between FDC Utilities, Inc. (FDCUI), the power utility arm of Filinvest Development Corp. (FDC), and ENGIE Services Philippines, established in 2018 to deploy sustainable solar solutions in the Philippines.
"Upholding the Filinvest Group and ENGIE's commitment to supporting the Philippines' transition to zero-carbon energy, this partnership allows us to help bolster emerging sustainable, smart cities in the country. With these measures that improve energy efficiency and reduce carbon emissions, we, together with FLI, aim to deliver more impactful climate action," said Juan Eugenio Roxas, President and Chief Executive Officer of FREE.
Filinvest Innovation Park at New Clark City is a 120-hectare sustainable business hub within the 288-hectare world-class, eco-efficient, and multi-use township Filinvest New Clark City. It aims to provide modern and strategically-located warehouse and factory facilities to global and local businesses alike. Filinvest Innovation Park at Ciudad de Calamba is a 25-hectare industrial development that aims to cater to the growing enterprises who wish to move or expand in Laguna.
"The Filinvest Innovation Parks are poised to be a catalyst for progress. Our industrial developments are master-planned for the needs of rapidly growing industries such as logistics, e-commerce, and data centers," shares Francis Ceballos, Senior Vice President of Filinvest Land.
This newly-inked renewable energy initiative will be the first-of-its-kind for FLI's industrial and logistics business segment. "We are excited to bring eco-efficient solutions to this business segment. This will not only create value for FLI but also for our partner tenants through competitive power rates and carbon footprint reduction," adds Tristan Las Marias, Chief Strategy Officer of Filinvest Land.
This partnership will harness the combined expertise of Filinvest and ENGIE to develop sustainable energy solutions such as solar, district cooling, and facilities management to power smart, future-forward cities that drive and accelerate progress while reducing their carbon footprint. Through the collaboration, FREE and FLI will embark on their first phase of cooperation by developing renewable energy generation systems in ready-built factories within the two Filinvest Innovation Parks.
"ENGIE empowers FLI to develop sustainable townships and business parks that are set to shape the Philippines landscape. With this partnership, we aim at contributing significantly to the country's journey towards net-zero emissions," said Thomas Baudlot, CEO Energy Solutions and Country Head for Southeast Asia.
ENGIE is a global leader in low-carbon energy and services. In line with its commitment to sustainability, it partnered with the Filinvest Group to support the country's agenda to address and minimize the impacts of climate change, advance the renewable energy sector, and transition to clean energy.
About Filinvest Land (FLI)
Filinvest Land, Inc. (FLI) is one of the country's leading full-range property developers. For over 50 years, the company has built a diverse project portfolio spanning the archipelago including large-scale townships: Havila (306 hectares), Timberland Heights (677 hectares) and Manna East (60 hectares) in Rizal, Ciudad de Calamba (350 hectares), City di Mare in Cebu (50 hectares), and Palm Estates in Talisay City (51 hectares). FLI has since built more than 200 residential developments across the country.
FLI owns 20% of Filinvest Alabang, developer of Filinvest City (244 hectares), a central business district in southern Metro Manila. FLI is also developing two townships in the Clark Special Economic Zone: its industrial and logistics park and mixed-use development at New Clark City (288 hectares) and Filinvest Mimosa+ Leisure City (201 hectares) in partnership with Filinvest Development Corporation.
About Filinvest-ENGIE Renewable Energy Enterprise, Inc. (FREE)
The Filinvest-ENGIE Renewable Energy Enterprise, Inc. (FREE) is a special purpose company established to finance, build and operate renewable energy projects across the country. Registered with the Securities and Exchange Commission (SEC) in November 2018, FREE is a joint venture between FDC Utilities, Inc. (FDCUI), the power utility arm of the Filinvest group, and ENGIE South East Asia Pte Ltd. (doing business under the name ENGIE Services Philippines (ENGIE)). The company focuses on developing solar energy rooftop systems for Philippine customers. Its technology allows consumers to save up to 30% of its energy spend while reducing carbon footprint and increasing grid reliability. FREE has multiple renewable energy projects in the pipeline with the end view of promoting sustainable energy solutions to prospective industrial and commercial customers and supporting the Philippine government's initiatives in reducing the country's dependence on fossil fuels.out
About ENGIE South East Asia (ENGIE)
ENGIE group is a global reference in low-carbon energy and services. Together with our 170,000 employees, our customers, partners and stakeholders, we are committed to accelerate the transition towards a carbon-neutral world, through reduced energy consumption and more environmentally-friendly solutions. Inspired by our purpose ("raison d'être"), we reconcile economic performance with a positive impact on people and the planet, building on our key businesses (gas, renewable energy, services) to offer competitive solutions to our customers.
At ENGIE South East Asia, we are a fast-growing team of over 2,000 employees with a geographical focus in Singapore, Malaysia and the Philippines to provide tailor-made integrated solutions for our customers in commercial buildings, industries, and cities.
Using globally leading technologies, we create innovative energy and smart solutions that enhance the performance of home, business, community, and make the world a better place. We act throughout the value chain: strategy, design, engineering, energy-efficient asset construction, digital platforms, operations management, financing syndication and outcome assurance.