Companies news
Excellence in Strategic Pricing and Commercial Transformation
A hands-on and ready-to-use solid approach for transformational initiatives in Strategy Optimization, Pricing Excellence & Commercial Effectiveness.
Event: 8:50am- 4:45pm, 7th April 2022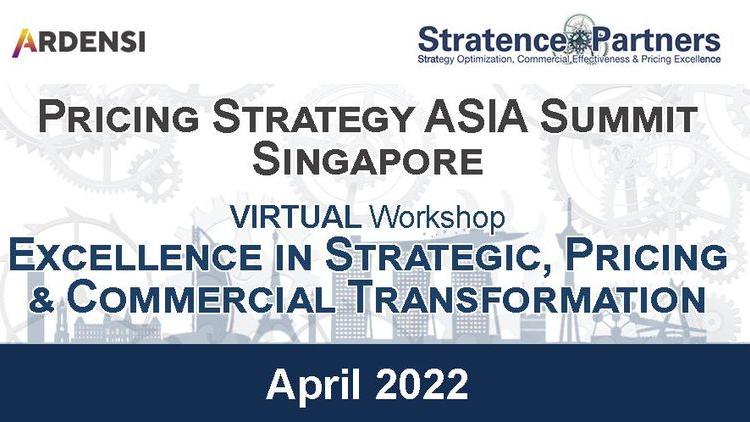 WHO SHOULD ATTEND
CxO's of Executive, Pricing, Finance, Revenue, Sales, Commercial, Strategy, Marketing, Transformation, Digital and Market Access.
BENEFITS
World class and pragmatic content with well-proven approaches and methodologies
Interactive sessions with relevant use-cases, delivery of "ready-to-use" tools and representative games
VIP networking with selected peers / decisions makers
Delivered by 25+ years expert professionals and "helped" by "Local Workshop Advisors"
Key insights for securing success and profitability
AGENDA
08:50 to 09:00 Welcome & Introduction
09:00 to 09:45 1. Understanding the interactions between Strategy, Pricing & Commercial
09:45 to 10:00 Break
10:00 to 10:45 2. Introduction to the World Class Model with 40 Best Practices
10:45 to 11:00 Break
11:00 to 11:45 3. Expert review of Strategy Optimization, Pricing Excellence & Commercial Effectiveness
11:45 to 12:00 Break
12:00 to 12:45 4. Solving the Dataflow, Systems & Tools integration piece
12:45 to 14:00 Lunch
14:00 to 14:45 5. Successful Roadmap for a transformational project
14:45 to 15:00 Break
15:00 to 15:45 6. Key metrics and analytics for measuring the success
15:45 to 16:00 Break
16:00 to 16:45 7. Relevant use-cases, cross-geographies and industries
7.1 Key Account in Chemical
7.2 Channel in Pharma
7.3 Tender in Medical Devices
7.4 eCommerce in Office Supply
OUR EXPERTS
Fernando Ventureira is Chief Executive Officer at Stratence Partners (www.stratencepartners.com). With more than 25 years of Managerial, Consulting and Systems experience in Strategy Optimization, Commercial Effectiveness and Pricing Excellence, he is is a recognized expert in helping the Organizations to produce tangible economic results by developing and implementing pragmatic Short Term Quick Hits and sustainable Long-Term World-Class Capabilities.
As a passionate about effective Methodologies, Fernando is a member of the Prince2 Project Management Forum and expert in Project and Change Management Methodologies like DMAIC (Black Belt Six Sigma), PMBok, Metrica, CMMI, Agile & Scrum.
Frédéric Duhamelle is an internationally renowned Commercial & Pricing Expert as well as a Distinguished Faculty Member of the Professional Pricing Society, USA. Frederic supports Stratence Partners' clients to establish from scratch effective new strategic pricing, revenue management and sales execution function, or to help revamp and boost ineffective existing ones. Frederic is an effective Change Leader with broad and deep Commercial and Pricing track records within renowned multinationals such as GE, DuPont de Nemours, Syngenta and Medtronic where Frederic held Senior Executive roles at country, regional and global levels. His experience spans across various industries: healthcare, chemicals, oil & gas, oil retail, agriculture, food & beverages.
Frederic holds a Master of Science ("Ingenieur Agronome") from SupAgro (Montpellier, France) in Agronomy and Engineering as well as an Executive MBA from ESCP Europe (ranked 6th worldwide by the Financial Times in 2021). He is also a Certified Pricing Professional from the Professional Pricing Society (Marietta, USA) and Six Sigma Certified by DuPont de Nemours.
Click here to register - https://www.stratence.partners/worldtour