FOCUS 70: Taking Singapore's Food Ambitions To New Heights
Melvin Chow, Senior Director (Food Supply Resilience Division) at the recently formed Singapore Food Agency, discusses the organization's key agenda – to turn Singapore's food challenges into strategic advantages
What is Singapore's vision for food security?
Singapore faces space and resource constraints, and is vulnerable to global trends that impact food supply and safety. These include the growing complexity of food systems, climate change, urbanisation, and new business models and food products. Amid these global challenges, the Singapore Food Story seeks to turn our food challenges into strategic advantages to ensure and secure safe food for all.
The Singapore Food Agency (SFA) is pursuing three broad strategies, called the 3 Food Baskets: diversify import sources, grow local, and grow overseas.
What is the "30 by 30" goal?
 The 'grow local' basket helps to mitigate our reliance on imports and serve as a buffer during supply disruptions to import sources, which contributes to our food security.
The "30 by 30" goal aims for local production to produce 30% of our nutritional needs locally by 2030. This is more than a three-fold increase from our current levels of production. It is an ambitious goal that will require our agri-food industry to transform into one that is highly productive and employs climate-resilient and sustainable technologies that will enable us to overcome our land, water, energy and manpower constraints.
To achieve this, SFA is working closely with economic and planning agencies to develop the local agri-food sector through three broad areas:
Continue to develop agriculture land and open up sea space to farms with best concepts that can raise production in a sustainable and intensive manner. Alternate spaces such as vacant state-buildings and multi-storey carparks are also innovative spaces for food production;

Build an R&D ecosystem to enhance urban food production, develop production technologies for alternative proteins, as well as strengthen food safety capabilities and technologies;

Groom local companies and the future workforce to support the local agri-food eco-system.
How does agri-food tech play a part in achieving our "30 by 30" goal and contributing to food security?
 The "30 by 30" vision calls for a transformation of the local agri-food sector into one that is highly productive, innovative and sustainable. As such, we have to expand production in high-tech, controlled environments, and adapt our solutions to protect against climate change that affects crop yield. Such technologies will enable us to overcome our land, water, energy and manpower constraints.
Technologies, such as indoor multi-storey LED lighting vegetable farms and indoor multi-storey Recirculating Aquaculture Systems, can produce 10 to 15 times more vegetables and fish per hectare than traditional vegetable and land-based fish farms. Besides being highly productive, such farming technologies have the important additional advantage of being resilient against climate change.
A farm which employs agri-food tech is local vegetable farm Sustenir, which uses advanced Controlled Environment Agriculture (CEA) technologies to grow their produce at their indoor farm in an industrial building. The technologies allow Sustenir to grow kale, arugula and strawberries which are not native to Singapore thus reducing the dependence on imports. It is the first farm in Singapore to produce strawberries for commercial sale; in 2018, Sustenir set up an indoor farming R&D facility at JTC Launchpad for R&D on urban farming. Some ideas being tested at this facility include robotics in seed sowing and seedling transplanting.
Does SFA provide any support to the agri-food tech industry?
The Singapore Food Story R&D programme was jointly developed with A*STAR to grow a vibrant and forward-looking agri-tech and food ecosystem.
SFA is committed to work with farmers to achieve the vision of a high-tech, innovative and sustainable agri-food sector that makes efficient use of limited farmland, labour, water and energy. An example of how we support farmers is with the $63 million Agriculture Productivity Fund (APF). Farmers can tap on our APF to modernise and harness innovative, sustainable technologies and advanced farming systems. These include curtain systems that shade crops and minimise the negative impact of high temperatures on crop growth, or closed-containment systems that reduce vulnerability of fish stock to environmental changes in the sea.
A farm that benefitted from the APF is N&N Agriculture Pte Ltd, which implemented a fully automated system for crate washing, eggs packing as well as automatic wrapping of egg trays. In 2017, the farm achieved manpower savings of 57,600 man-hours, and water savings of $35,700. The APF also co-funds R&D and test-bedding of technologies.
In addition, we see the need to develop a pipeline of local talent to grow and support the agri-food ecosystem. SFA has been engaging Institutes of Higher Learning (IHLs) to develop relevant programmes to meet industry demand for local talent with a good understanding of urban food production processes and business models, as well as multi-disciplinary expertise in sciences (e.g.  biology, food chemistry, nutrition engineering), engineering, info-communications, robotics, energy & waste management, and business management. In this regard, SFA has worked with Temasek Polytechnic (TP) and Republic Polytechnic (RP) to launch relevant SkillsFuture Earn and Learn Programmes (ELPs) in 2018 and 2019 respectively. The ELPs lead to diplomas in Urban Agricultural Technology from RP and Aquaculture from TP. SFA will also be partnering with universities for undergraduates/ post-graduate programmes to groom agri- and aqua-technologists and culturists, urban farming specialists, and researchers to meet future needs.
Apart from local production, does SFA have any other measures in place to ensure our food security?
 Diversification of Singapore's food import sources is one of our key strategies to bolster food security and to ensure supply resilience. By buying from many diverse sources, the risk of reliance on any one supply source is reduced, and enables us to tap on/ramp up supply from other sources when traditional sources are disrupted. 
SFA encourages food businesses to diversify their import sources and put in place business continuity plans to strengthen business resilience. We will continue to:
Explore more import sources to share with the industry to facilitate their diversification efforts.

Organise and facilitate food sourcing initiatives, such as business matching between industry players (e.g. food importers, local farmers and retailers) with potential overseas exporters. The objective is to facilitate networking and increase imports of food from non-traditional source countries as well as explore new potential source countries for supply of food to Singapore.

Regularly engage food industry associations, supermarket retailers, and importers. Issues on food supply challenges, potential new sources, consumer trends, and the plans to mitigate any supply disruption are discussed at these industry engagements. 
Apart from diversifying our food import sources, we will continue to support our companies to expand and grow overseas so that their produce can be exported back home, contributing to our food security. By venturing overseas, companies can overcome land and manpower constraints and access new and bigger markets. They are then able to reap economies of scale and can also export food back to Singapore.
Some local farms have ventured into Brunei (Apollo Aquaculture Group and Barramundi Asia) to develop fish farms, and Hong Kong (Sustenir) to develop indoor vegetable farms.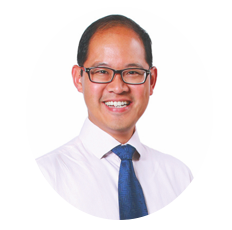 Interview with Melvin Chow, Senior Director (Food Supply Resilience Division) , for FOCUS #70. To read more articles from this issue, download your digital copy here