Publications
FOCUS 72: Law Specialisation In The International Shipping Industry
Helene A. Sironneau, Associate, and Ina Lutchmiah, Specialist Counsel, at Wikborg Rein Singapore give their perspective on the digitalisation of the maritime industry.
Please share with us about Wikborg Rein's operations in Singapore and the region
Wikborg Rein's Singapore office was established in 2000, and we specialise in shipping & offshore (including transactions/contracts, finance, dispute resolution and casualty response/investigation). The Singapore office is also more and more involved in green/renewable energy projects (e.g. floating wind farms and autonomous ships) and assists with ship recycling projects.
Our lawyers across all of our offices work together in a fully integrated team to achieve results for our clients regardless of project complexity. In addition to working closely with our London, Oslo and Bergen offices, we also often team-up with our bilingual colleagues in Shanghai on APAC projects.
What are the key areas to watch out for in the maritime industry?
Leading up to the January 1 2020 deadline for the implementation of the reduction in the global sulphur cap from 3.5% to 0.5% pursuant to the IMO's MARPOL Annex VI ("IMO 2020"), there is an increased awareness and enforcement in the context of transboundary movements of ships and rigs for recycling that is slowly but surely redefining the shipping sector's approach towards marine asset recycling.
Although the shipping trade press initially took a somewhat pessimistic view of liquefied natural gas (LNG) bunkering as a solution to the IMO 2020 problem with forecasts suggesting that high costs and technical difficulties, in the past year we have seen an interesting series of "world firsts" for new-build and retro-fitted LNG powered vessels in different sectors including cruise ships, ferries and more general commercial carriers. Shipowners are also adopting a range of different solutions within the same fleet in order to hedge their position. However, we are clearly seeing a shift and "green shipping" are no longer merely buzz words with the maritime industry taking onboard the next environmental challenge.
On the recycling side, there is a slow but steady movement towards reducing environmental damage and increasing standards for workers in yards situated in developing countries. Over the last few years, it has become increasingly evident that illegal transboundary movements of vessels for recycling will not be tolerated by regulators and the courts.
Another area which is bound to gain traction is maritime autonomy which allows a vessel to sail by itself, independent of human interaction. The first fully electric and autonomous containership is currently under construction in Norway and the potential environmental benefit is obviously significant should such projects be adopted on a wider scale. However, unmanned ships on the high seas also raise some potential legal and technical challenges, in particular with regard to liability and risk but also maritime safety.
How does Wikborg Rein take onboard the digitalization challenge?
Recently, the firm completed the first 100% digital negotiation of a wreck removal contract. Contract drafting and contract review was done electronically, both in meetings with clients and in negotiations with contractors, partly on iPads and partly on big screens in the meeting rooms. We have also developed new digital tools to enhance the client-lawyer experience such as "WR Collab", a collaboration portal where documents and communications in a project can be shared between relevant parties. On specific projects, Wikborg Rein is using artificial intelligence for document review and proofreading, making it less time consuming and streamlining the work processes and interactions. Recently, the two of us took part in the first Virtual Maritime Conference organized by Klaveness Digital during which we presented on effective digital collaboration from a legal perspective and provided tips on identifying and avoiding risks.
As a final point, we are seeing more and more enquiries as to the effect of COVID-19 on the shipping and offshore trades and want to reassure our clients and business partners that the Singapore office (and our other offices) remain open and fully set up for remote working.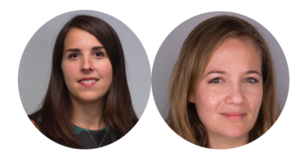 Interview with Helene A. Sironneau, Associate, and Ina Lutchmiah, for FOCUS #72. To read more articles from this issue, download your digital copy here