Publications
FOCUS 74: Air Conditioning In Singapore: Problems And Solutions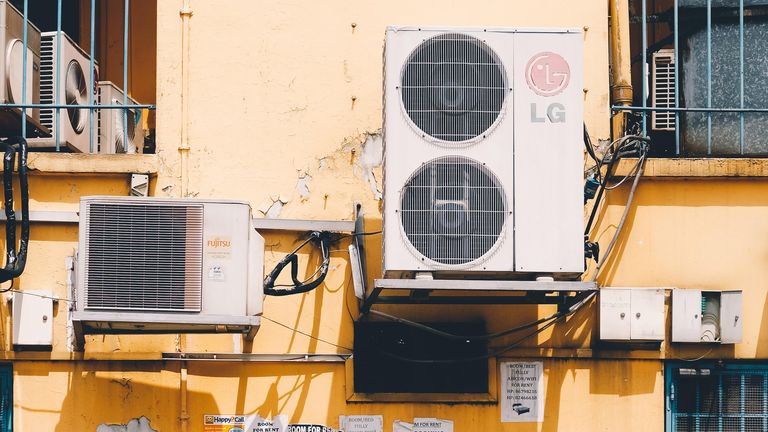 Brice Degeyter, General Manager at Bizsu, shares how the company's technology optimises energy consumption in Singapore
Singapore's tropical climate is characterized by high temperatures and humidity. With temperatures frequently rising above 32 °C, air conditioning is more a necessity than a luxury. Buildings and households contribute to around 20% of the total emissions in Singapore. Cooling systems in buildings and homes make up a sizeable amount of this sector's emissions. However, most people are oblivious to the fact that by turning their air conditioning systems on, they are making matters worse! A 2017 survey by Eco-Business revealed that almost 70% of the total respondents encounter excessive cooling in public spaces such as offices, cinema halls, and shopping malls.
What is being done?
The good news is that Singapore has set rules and regulations to control the giant carbon footprint from air conditioners.  The flowchart published by the National Environment Agency (NEA) accurately sums up this dedication and adherence with which Singapore is making strides to find a solution to this problem.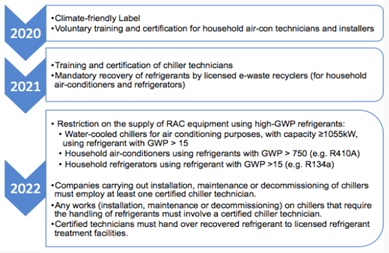 Under the Building Control Regulations, all the new buildings and those undergoing major retrofitting must achieve a minimum sustainability standard. The Green Mark Scheme encourages building owners to achieve higher energy efficiency by reducing the building's cooling demand and adopting more efficient cooling systems. To top it all off, Singapore has also introduced Carbon taxes, thus pushing developers towards lower energy alternatives. 
To help households make more environmentally friendly choices, a mandatory Energy Labelling Scheme- that uses a tick system to denote greener options has been passed. This scheme aims to encourage consumers to purchase more energy-efficient cooling systems for their households.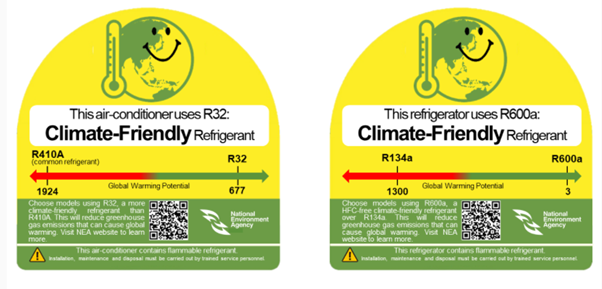 What needs to be done?
While these plans and proposals are encouraging, they are not sufficient. We need to focus more on technological innovations that reduce the energy consumption by the ACs and maximize on the already existing technologies. For instance, certain technologies are available, such as the 'AC nets,' which can reduce the AC's energy consumption and cut down the electricity bill by up to 25%. What's more, is that there is no modification required for its installment. The buildings' architecture and the materials used in its construction could significantly reduce the need for cooling systems. Additionally, keeping the temperature of the AC to the required maximum could result in a remarkable improvement in its energy efficiency.  For example, maintaining a temperature of 24°C instead of 23°C could reduce an AC unit's annual energy consumption by up to 15%. Such simple yet effective solutions must be encouraged.
Tackling this issue requires participation at every level, right from the policymakers to the common man. On an individual level, consumers can be more conscious of the cooling systems that they buy and be more environment friendly in that aspect. Choosing more energy-efficient systems, fitting them with energy-saving AC nets, constructing buildings adaptive to climate change, or even reducing the cooling systems' use to a necessary bare minimum are few options that can help combat this crucial issue.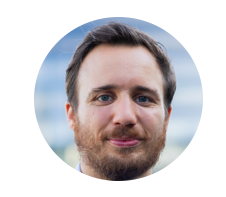 Interview with Brice Degeyter, General Manager at Bizsu , for FOCUS #74. To read more articles from this issue, download your digital copy here