Publications
FOCUS 75: Key attributes for an inclusive workplace
Nathalie Rascle, Vice President of Human Resources at IDEMIA, speaks about how the tech company strives to create a safe, vibrant and rewarding working environment.
IDEMIA was announced as a winner in the Singapore edition of the HR Asia 'Best Companies to Work for in Asia' Awards 2020. Tell us how IDEMIA enhances the employee experience?
Our first priority is to support and recognise our employees. With Covid-19 crisis management, all aspects of the employee experience had to be reshuffled - from remote recruitment to on-boarding, training management, and performance management. We had to rethink new programmes and upgrade our onboarding program to include new touchpoints.
We also rolled out some dedicated training workshops for our people to adapt to this new work from home arrangements. Last year was truly an opportunity to update our training catalog in line with our business needs. Our trainings doubled globally despite the situation! Overall, we continued to activate our mobility committee to empower our talents to gain new experiences and grow in their IDEMIA journey.
We strongly believe in diversity and inclusion, harmonising our HR policies to ensure all employees have the same rights. The end of year was a good opportunity to thank our employees for the year's work, and we provided for instance an individual 'we care' package as well as dedicated engagement activities.
What were your priorities to keep up efficiency levels across teams, in the backdrop of COVID?
To cope with the effects of the unprecedented pandemic, we prepared employee-centric business continuity plans and established a regional crisis community. As IDEMIA was categorised as an essential service in Singapore, some employees had to be deployed on-site during lockdowns while others worked from home. We followed government-mandated safety protocols and had managers checking in regularly with their teams and exploring flexible working practices. We enrolled staff in telemedicine services and invited a doctor to provide consultations.
The regional management team created a dedicated communication plan and activity roadmap to ensure our employees stayed informed and connected. For instance, we supported employees through the upheaval with bi-weekly internal webinars on mental health and best practices for remote communication and networking. Employees could also upskill themselves through our frequent training programs. Some are even now recurrent activities as part of our 2021 regional strategic plan.
What are the key drivers for an employee-centric business?
We believe that management and HR policies must respect diversity and be inclusive. Leaders need to take the lead in exemplifying our values for employees to follow suit. There also needs to be clear communication on the company's vision to the teams and realistic objectives to achieve this vision must be set so that everyone is aligned towards the same goal. This will drive strong teamwork, agility and productivity.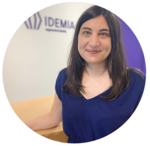 Interview with Nathalie Rascle, Vice President of Human Resources at IDEMIA, for FOCUS #75. To read more articles from this issue, download your digital copy here