Companies news
Following the success of the inaugural flight, Arianespace to start operations of Vega C with seven launchers already sold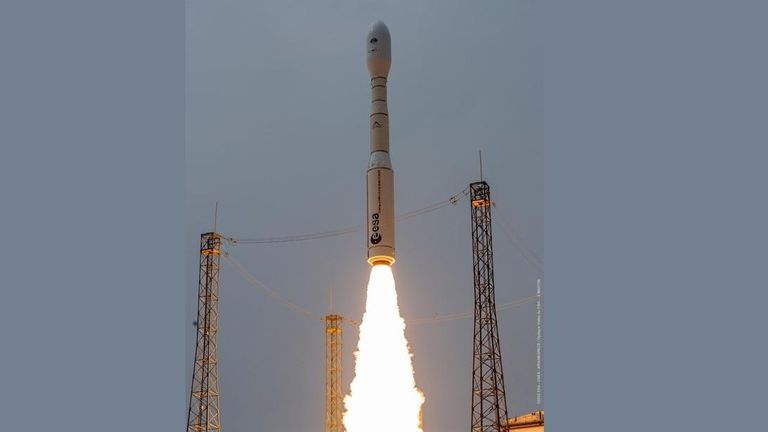 Following the success of its inaugural flight, Vega C will now begin its operational phase, under the responsibility of Arianespace, with a target of at least four launches per year and a fast-growing backlog that already includes 7 launches and 10 auxiliary payloads.
Vega C is an upgrade to the Vega launcher and can better answer institutional and commercial customers' needs. Thanks to its increased capabilities, Vega C will serve the burgeoning Earth observation market as well as long-term institutional and commercial needs.
The first commercial launch of Vega C is scheduled in November 2022. The flight, designated VV22, will deliver Pléiades Neo 5 and 6, a pair of satellites wholly funded, manufactured and operated by Airbus.
On Wednesday, July 13 at 10:13 am local time in Kourou, French Guiana, the first Vega C, the new European launcher designed and manufactured by AVIO, was successfully launched under the supervision of ESA from the Guiana Space Center, Europe's Spaceport in Kourou, French Guiana (South America).

"With this inaugural launch officially declared a success, Arianespace will now commence Vega C operations, a key milestone for European sovereign access to space. My warm congratulations on this success go to ESA, who operated this inaugural launch, as well as to Avio, who is responsible for the Vega C launch systems," declared Stéphane Israël, CEO of Arianespace. "Vega C, with its increased capabilities and versatility, already allowed Arianespace to capture many important customers; we are confident this is only the beginning of a true success story! Its configuration, based on our customers' needs, has been designed in alignment with our upcoming heavy launcher, Ariane 6. This is a first step towards the full renewal of our product range, which will allow us to honor our motto: any mass, any orbit, anytime!"

Seven Vega C have been already filled and will serve both institutional and commercial missions:
- Among the institutional missions we recall: Sentinel-1C that will be launched for ESA on behalf of the European Commission; FLEX and ALTIUS, two ESA programs at the service of the environment; CSG 3 that is developed by Thales Alenia Space for the benefit of the Italian Space Agency (ASI) and Italian MoD; PLATiNO 2 that is developed by SITAEL for ASI; and Microcarb contracted by the European Commission on behalf of CNES;
- Among the main commercial missions: Pléiades Néo constellation composed of 4 satellites for Airbus Defence and Space; KOMPSAT 7 for KARI (Korean Aerospace Research Institute); Theos-2 manufactured by Airbus Defence and Space for the Geo-Informatics and Space Technology Development Agency of Thailand; and Formosat-7R manufactured by NSPO for Taiwan;
- Multiple small spacecraft missions are already contracted by Arianespace and will complete most of the Vega C flight configurations thanks to the modular SSMS (Small Spacecraft Mission Service) adaptation systems.

First in the series, Vega C Flight VV22 is planned in November 2022. With this flight, Arianespace will orbit Pléiades Neo 5 and 6, two additional satellites that will join Airbus' Earth observation Pléaides constellation. With 30cm-native-resolution, best-in-class geolocation accuracy and twice-a-day revisit capability, the four Pléiades Neo satellites unlock new possibilities with the ultimate in reactivity. The satellite constellation has been fully funded and manufactured by its operator Airbus, whose team will also operate the satellites and sell services to commercial customers.

Vega C, which stands for Consolidation, will better respond to customers' needs based on the lessons learned from the first decade (2012-2022) of Vega operations. The launcher has been upgraded with more powerful first and second stage Solid Rocket Motors, the first SRM being shared with Ariane 6 (where it will be used as a side booster), and with a larger fairing that will significantly increase payload mass (up to 2,350 T in SSO) and double allowable volume. This performance increase will allow Vega C to launch larger radar satellites of the class of Sentinel 1C, part of Copernicus program, previously flown on Soyuz. The launcher will also be able to better meet the specific needs of small spacecraft, thanks to its improved SSMS dispenser and to its AVUM+ that will allow seven re-ignitions instead of five. Vega C can thus achieve three reference orbits for its multiple payloads on the same mission, instead of the two previously possible with Vega.

Vega C development program is managed by ESA. It associates 12 of Member States of the Agency. Avio Spa (Colleferro, Italy) is the industrial prime contractor for both launch vehicle and interfacing ground infrastructure. Avio is also responsible for campaign operations and preparation of the launch vehicle up to lift-off. Avio hands over a "ready to fly" rocket to Arianespace, which sells the Vega C, prepares its missions, validates its flight worthiness, and operates it from Europe's Spaceport in French Guiana. During launch campaigns, Arianespace works closely with CNES, the launch range authority at the European Spaceport in Kourou who is notably in charge of the satellite preparation facilities as well as the protection of populations.
SOURCE : Arianespace