Companies news
HOPSCOTCH PR obtains 3 stars from the "RSE Agences Actives" label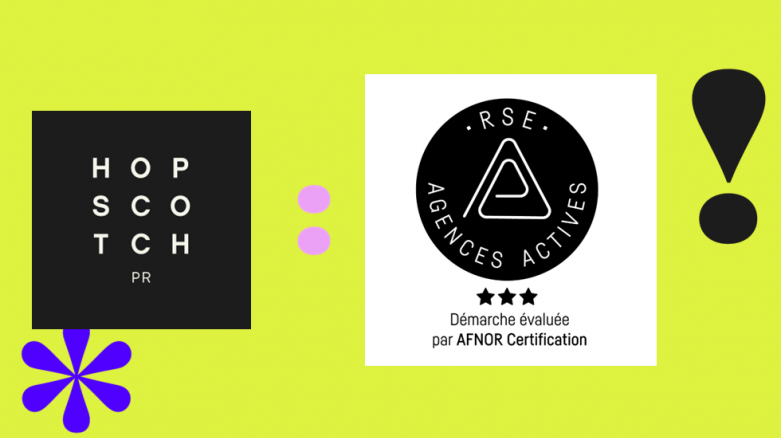 HOPSCOTCH PR, the first public relations agency to obtain 3 stars from the 'RSE Agences Actives' label (AACC – SCRP)
The Hopscotch PR agency, designer of relational ecosystems, obtained a score of 90/100 and the highest level of "RSE Agences Actives" labeling from the Association des Agences-Conseil en Communication , SCRP (Syndicat du Conseil en Relations Publics) ) and AFNOR Certification .
The "RSE Agences Actives" label, which is based on the ISO 26000 international standard, certifies for two years the CSR commitments of the Hopscotch PR agency on four criteria: vision and governance, performance of services, human resources and social aspects, environmental impact. While this label distinguishes three levels of maturity of the CSR policy of a consulting agency, Hopscotch PR becomes the first PR agency to obtain the "Expert" label, ie the maximum number of stars for its responsible governance.
Cécile Granat and Charles-Antoine Colomb , Managing Directors of the Hopscotch PR agency:
"We are very proud, along with all of the agency's employees, of this "RSE Agences Actives" label, the high standards and visibility of which contribute to promoting our best practices in the service of the collective and our clients, today. today and tomorrow. The score of 90/100 that accompanies this label obliges us to set an example with all of our stakeholders, by applying to ourselves the vision of Relationship Capital that guides our action on a daily basis. »
Benoît Désveaux , Managing Director of the Hopscotch Group:
"Obtaining the three stars of the "RSE Agences Actives" label marks a new stage in the structuring of the progress approach of the Hopscotch Group, a pioneer in responsible communication. This label helps to recognize the positive social and environmental impact of our consulting activities, and the value of the employees who carry them out. The joint work carried out by AFNOR, the AACC and the SCRP gives a unique scope to this label, which thus commits all of our activities towards ever greater exemplarity and responsibility in the establishment and dissemination of good practices. This collective and rigorous effort, which the "RSE Agences Actives" label once again certifies, is the key to an essential transition that we will continue to lead actively. »
The "RSE Agences Actives" label was adapted to the Public Relations professions by the Syndicat du Conseil en Relations Publics based on the label created by the AACC (Association des Agences-Conseils en Communication).
In June 2022, the Hopscotch Group obtained the Platinum EcoVadis medal which rewards the Top 1% of the best performing companies in CSR among all the companies evaluated by the EcoVadis organization.
SOURCE : HOPSCOTCH GROUPE