Companies news
IMDA accredits UnaBiz under Accreditation@SG Digital programme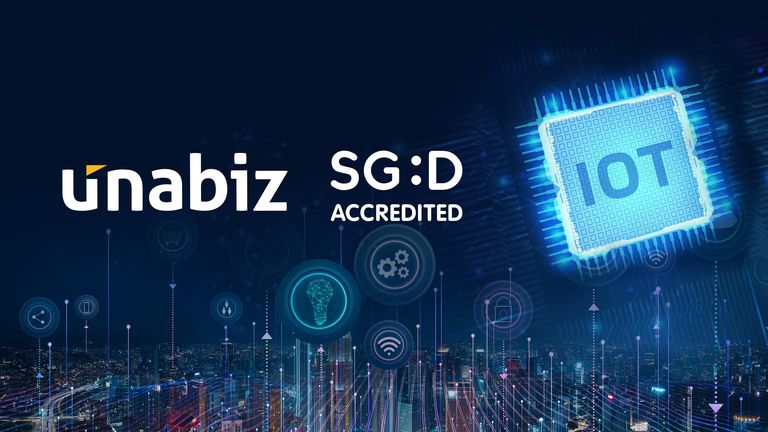 Massive Internet of Things (IoT) services provider UnaBiz has been accredited by the Infocomm Media Development Authority of Singapore (IMDA). Being accredited affirms UnaBiz's position as one of the digital champions to contribute to Singapore's Digital Economy vision.
Accreditation@SG Digital (Accreditation@SGD) is an elite programme under IMDA to identify innovative technology companies based in Singapore to accelerate their growth and help them compete globally. SG:D Accredited companies undergo vigorous financial, commercial and technological evaluation to ascertain their ability to drive digital innovation and deliver to Government institutions and large enterprises in Singapore.
"As a Singaporean company, UnaBiz is proud to be part of the Accreditation@SGD programme. Having designed and deployed over 1 million sensors in key verticals like Smart Metering, Facilities Management, and Asset Tracking, the accreditation is a testament to our capabilities and unique expertise in Network Management, Custom Hardware Design and Cloud Platform Services. Besides working with IMDA, EDB, Enterprise Singapore, SGTech, and other industry accelerators to realise Singapore's Smart Nation vision, we are also eager to collaborate with GovTech and A*Star I2R to bring our product development to the next stage," said Jonathan Tan, Managing Director of UnaBiz Singapore.
UnaBiz started in 2016 as Sigfox Low-Power Wide Area (LPWA) network operator in Singapore and Taiwan, and has since evolved into a tech-agnostic, custom-built IoT service provider that leverages a hybrid of LPWA technologies to help government and large enterprises drive digital transformation in a cost-effective and sustainable way. The company's unique experience in massive IoT projects such as smart metering in Japan and beer keg tracking in Australia, highlighted a gap in the market for middleware cloud platforms that address the challenges of device management and data security for IoT device management in the millions - giving birth to UnaConnect, a unique cloud platform that now manages close to a million devices with its patented technology for data encryption through wireless transmission.
"IoT is one of the four key pillars under the Infocomm Media Industry Transformation Map, where Singapore will invest and build capabilities. UnaBiz has a proven track record in delivering large scale IoT projects in Singapore and overseas markets and has demonstrated its ability to collaborate with other industry leaders and global innovators to accelerate digital transformation. We are pleased to have UnaBiz come on board Accreditation@SGD and we look forward to helping them unlock more opportunities and accelerate their growth in the IoT domain in Asia and beyond," said Edwin Low, Director, Innovation & Tech Ecosystem of IMDA.
Since its inception in July 2014, Accreditation@SGD has generated more than S$650M worth of project opportunities for accredited companies, which includes over 1,200 government project opportunities from over 80 agencies. By giving SG:D Accredited companies like UnaBiz first consideration for government projects through a streamlined Government procurement process, IMDA hopes to expand their pipeline and shorten the amount of time needed to close a deal.
The programme also helps accredited companies leverage capital markets for expansion, facilitate pre-IPO funding, and prepare them for IPO listing. According to IMDA, more than S$386 million of new growth capital has been invested in accredited companies while others have successfully exited through acquisitions or IPO.
"The evaluation performed by Accreditation@SGD complements the due diligence from our potential investors and increases our attractiveness for capital investment," Jonathan added.

UnaBiz recently announced its new Japan Office through Invest Tokyo, a programme initiated by the Tokyo Metropolitan Government and supported by Japan External Trade Organization, Accenture, Enterprise Singapore and Economic Development Board. It is currently raising its Series B for expansion into new markets.
About UnaBiz
UnaBiz is a proven massive IoT service provider who specialises in sensor product design, manufacturing, and cloud platform services across a hybrid of low-power wide area (LPWA) technologies such as Sigfox, LTE-M, NB-IoT and LoRa, to power business growth. Since its inception, the company has deployed over 1 million sensors globally in 28 countries including Singapore, Japan, Australia and Taiwan, focusing on Smart Cities applications such as Smart Metering, Facilities Management, Asset Management and Asset Tracking. UnaBiz envisions a closely connected world powered by simple technology because we believe in "Less is More".

The company's mission is to accelerate data-driven business efficiency for its clients and partners with agility and ingenuity. By uniting people and technology, UnaBiz aims to create an impact on a massive scale, to help every person and every organisation live smarter, simpler, and in a more sustainable way. UnaBiz is based in Singapore, Taiwan and Japan and has been accredited with ISO 9001:2015 certification for Design of IoT Product and Provider of Network Connectivity Solutions. For more information, visit our website and follow us on LinkedIn, Facebook & Twitter.