Analyses & Studies • Publications
IN FOCUS: As aquaculture booms, what role can small fish farms play in helping Singapore achieve its food security goals?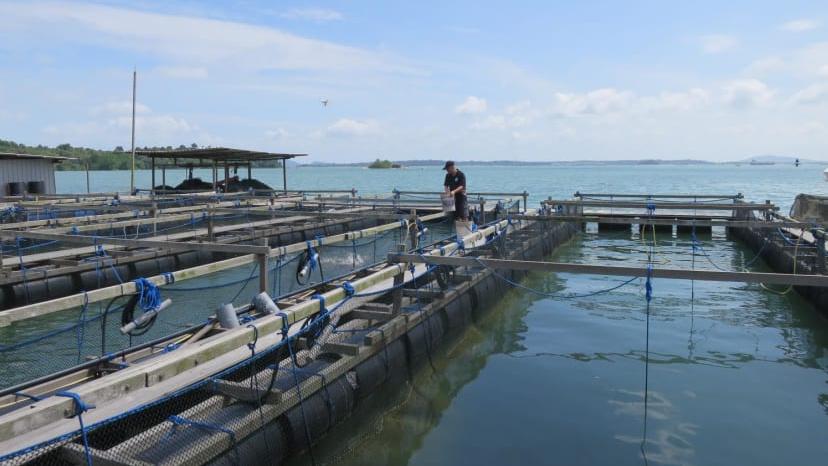 A floating fish farm in the waters off Singapore. (Photo: The Fish Farmer)
While many fish farms have been around for decades, tides are changing in the aquaculture sector, putting a sharper focus on modern farming technologies. CNA looks at how small, traditional farms are keeping pace with these developments.
SINGAPORE: In the waters off the north-western coast of Pulau Ubin, Timothy Ng's fish farm gently bobs up and down as each wave passes.
Away from the hustle and bustle of the mainland, everything is quiet except for the occasional bark from dogs at nearby fish farms.
Like many of Singapore's off-shore fish farms, Mr Ng's farm features a traditional set-up comprising wooden boards and platforms as well as an open-net cage system. It is one of Singapore's 110 licensed sea-based fish farms.
The 2000 sqm floating farm is the pride and joy of the 74-year-old, a lean and sinewy man with salt-and-pepper hair.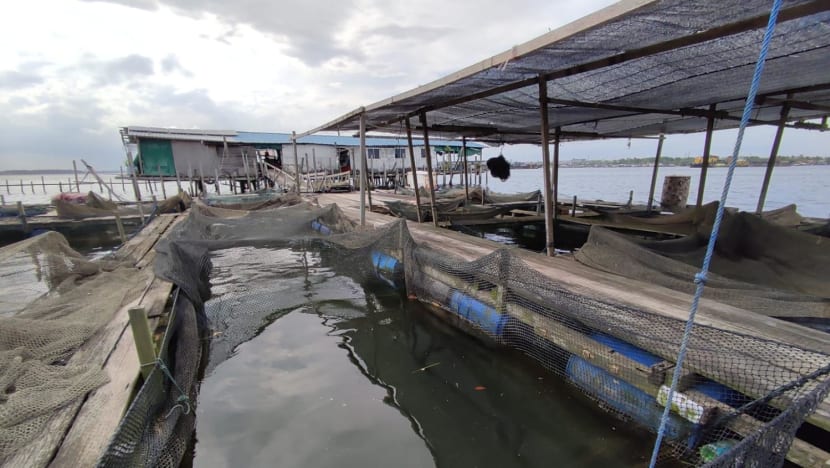 A traditional set-up comprising wooden boards and platforms as well as an open-net cage system. (Photo: 2 Jays Farm)
Here, about 10 tonnes of sea bass, snapper and grouper are produced each year and supplied to the local market.
But behind the tranquility, storm clouds have been brewing.
Over the past two years, supply disruptions and manpower constraints amid the COVID-19 pandemic have increased the cost of producing fish, making it harder for small farmers like Mr Ng to compete with the low prices of fish imports from neighbouring countries like Malaysia.
More recently, the Russian invasion of Ukraine has pushed up prices of commodities including corn and wheat, which are important ingredients for fish feed. The two countries are major exporters of grain, together accounting for nearly 30 per cent of global wheat exports.
This could significantly increase costs for fish farmers, as feed typically accounts for between 50 and 60 per cent of their production costs, said Associate Professor Matthew Tan, who co-chairs sustainable development in agriculture and fishery sectors at the Asia-Pacific Economic Cooperation (APEC) Policy Partnership on Food Security.
On top of all this, the worsening impact of climate change - including higher ocean temperatures and declining ocean oxygen levels - is putting a strain on aquaculture.
According to a report published last month by the Intergovernmental Panel on Climate Change (IPCC), rising global temperatures will increase the likelihood of heatwaves and floods in Asia, exposing the region to threats including food scarcity and human-health risks.
Such factors pose a particular challenge for Singapore, which imports more than 90 per cent of its food. The countr
However, with latest figures from the Singapore Food Agency (SFA) showing that just 9 per cent of the fish consumed here was produced locally last year, what more can existing sea-based farms do to boost their production?
HARNESSING TECHNOLOGY
With growing challenges such as climate change, some small farms are already taking steps to make their farms more sustainable and resilient.
The Fish Farmer, which operates four farms in the waters off Lim Chu Kang and Changi, may look like any other traditional fish farms floating on the sea.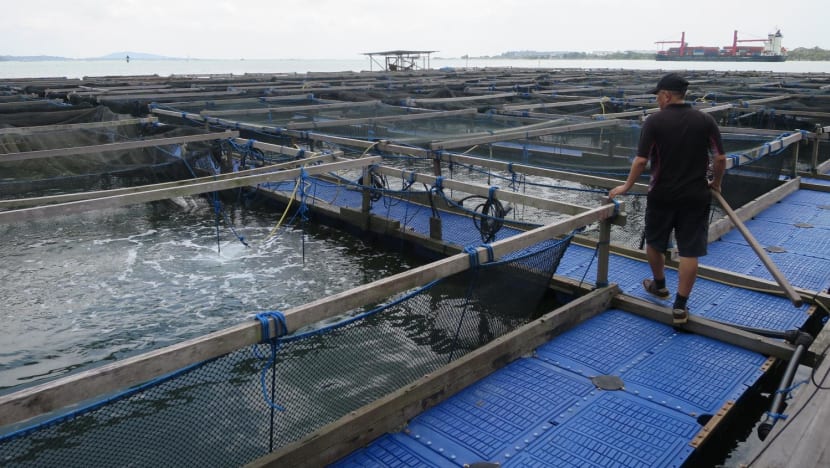 The Fish Farmer operates four farms located in the waters off Changi and Lim Chu Kang. (Photo: The Fish Farmer)
However, the farms have been fitted with high-tech equipment to improve the environmental conditions for the fish and mitigate negative factors.
It includes a monitoring system that sends out alerts when oxygen levels in the water are low as well as pumps and aerators to ensure adequate oxygen in the water.
These are powered by solar panels mounted on the farms' rooftops, which help to lower energy costs and reduce carbon footprint.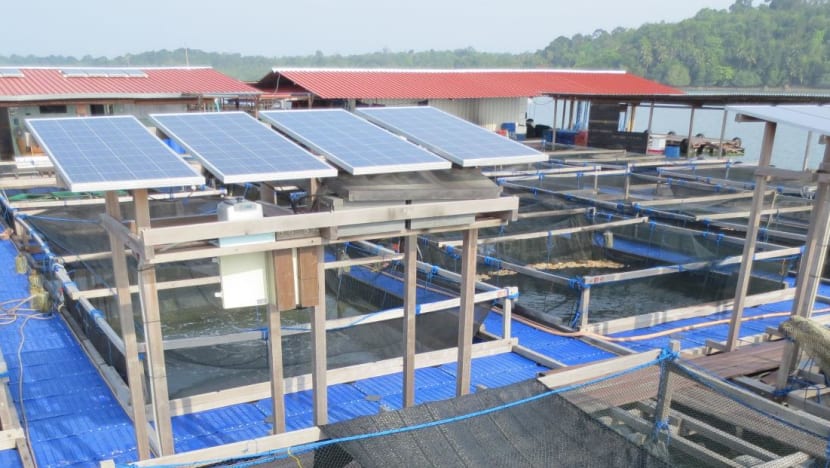 Solar panels mounted on the rooftop to power the farm's operations. (Photo: The Fish Farmer)
Such technologies have helped The Fish Farmer to stand out in an industry that has generally depended on low-cost labour instead of innovation.
With the Government announcing that fish farms operating in Singapore's waters will have to pay for the use of sea spaces from next year, experts say this could push more farms to review their business model or invest in high-tech farming solutions to reduce their costs in the long run.
Pointing to the issue of fish feed wastage which is currently "very high" in the aquaculture sector, Prof Tan said the use of modern technologies like Artificial Intelligence (AI) and video analytics can help farmers to monitor their fish and adjust the amount of feed accordingly.
"If the water is too cold or the fish is going through a period of stress or is on the onset of a disease outbreak, the fish will not eat - but because farmers can't see their feeding behaviour from above, they won't know and will continue feeding them, resulting in more wastage," he said.
"But if they have video analytics in the tank, and the AI picks up erratic swim behaviour it can send a signal to the automatic feeder to stop feeding and alert farm workers," he said, adding that this will help to reduce feed wastage and costs.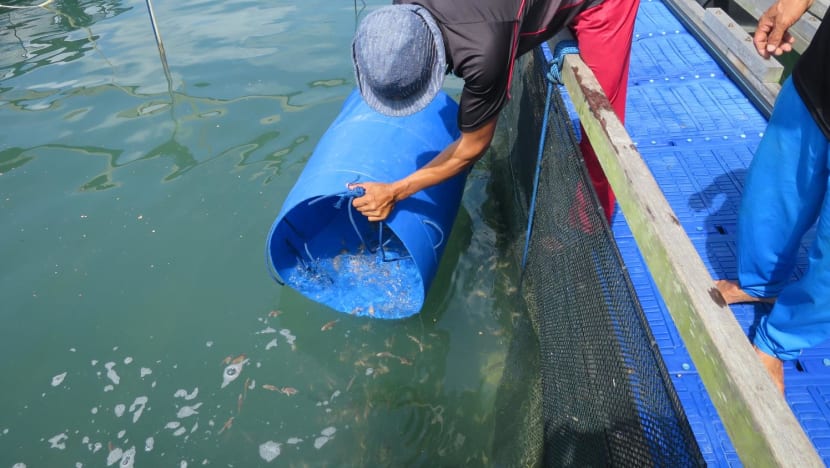 A man feeds fish at a floating farm in Singapore. (Photo: The Fish Farmer)
With Singapore looking to roll out an islandwide 5G network by 2025, Assoc Prof Tan said this could help to reduce the time taken to upload data from the sensors to the cloud and to the clock back to their server, further lowering costs.
"This is the time for (existing fish farmers) to sit down to think what areas they can zoom in on and they can work with the government or even bigger players to develop a new business model so that they can keep their profit margins," said Professor William Chen, director of Nanyang Technological University's (NTU) Food Science and Technology Programme.
Currently, sea-based fish farms do not have to pay for the use of sea space. Instead, they are required to apply and renew their SFA-fish culture farm licence annually, which is set at $850 per half-hectare per year.
As part of the transition to leases, existing farms will see the introduction of yearly renewable temporary occupation licences from Jan 1 next year.
Under the scheme, those in the Straits of Johor and Southern Waters will have to pay S$3,600 and S$6,000 per half hectare respectively.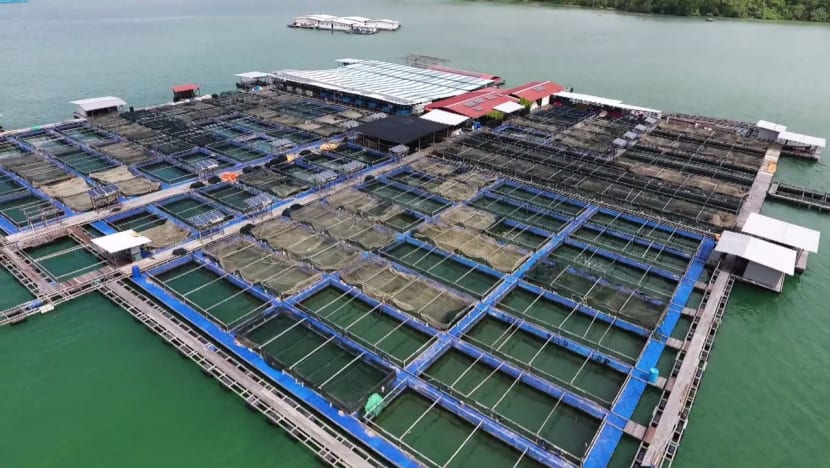 A floating farm in the waters off Changi. (Photo: The Fish Farmer)
The move to introduce leases for fish farms comes as Singapore's sea space becomes increasingly crowded for purposes including maritime, infrastructure and utilities, and recreational activities.
"The aquaculture industry faces space constraints," said SFA, in response to queries from CNA.
"It is therefore critical that we optimise the space available for aquaculture, and one way to do so is to embrace technology and adopt productive and sustainable practices," the agency added.
BALANCING BETWEEN SUSTAINABILITY AND THE BOTTOM-LINE
But for smaller and traditional farms, which tend to be heavily driven by the bottom-line, the lack of an obvious financial incentive to implement technology may hinder efforts to transform the sector.
"I'm not against technology and I can see how technology works but the reality is - we are also struggling with costs," said Mr Ng, who is also the president of the Fish Farmers Association of Singapore.
"Our experience is that we are already finding it difficult to (sell our fish) at a price that is above our cost," he said.
"For sea bass, if we try to sell it at S$7.50, it's so hard to get (customers) because they will always compare to fish imports from Malaysia, which can be sold at S$5 or S$5.50 (because their production costs are much lower). So if our production cost goes up further - who is going to buy from us?"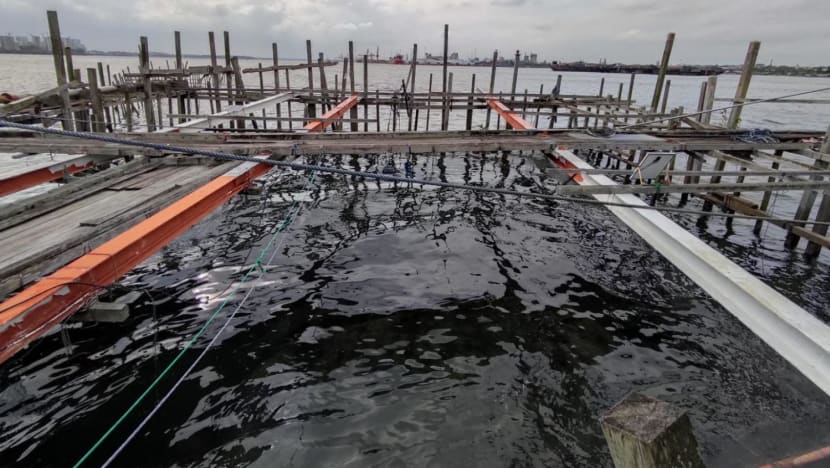 A fish farm in the north-western coast of Pulau Ubin. (Photo: 2 Jays Farm)
To encourage more customers to support local produce, SFA introduced a new label in 2020, to help shoppers easily identify home-grown food. It followed a survey commissioned by the Government which found that despite 94 per cent of its 1,500 respondents saying that they were willing to buy local produce, only around 65 per cent could identify such items when shopping for groceries.
The agency also set up a new S$60 million fund last year to help farmers better harness technology in local food production.
Under the Agri-Food Cluster Transformation Fund (ACT), local farms can receive grants to purchase eligible farming equipment, systems as well as small-scale pilot trials to increase their productivity.
"We understand that some long-time farmers are keen to transform their farms and increase productivity, but are used to their own farming methods and may find it difficult to change," said an SFA spokesperson, adding that farmers may also be at different degrees of readiness.
"There is always some form of suitable technology that can help raise productivity," the agency said.
This includes the use of aerators to increase oxygen levels in waters that have lower dissolved oxygen or the use of closed containment systems to isolate farms from environmental threats.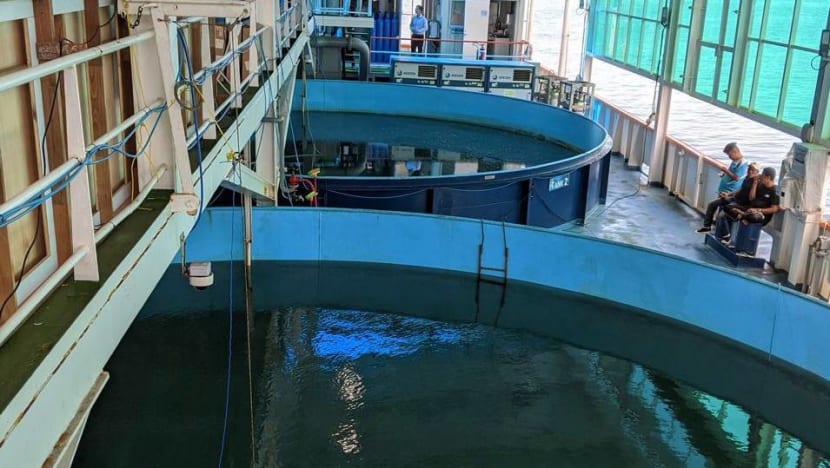 A floating fish farm with a closed-containment system. (Photo: CNA/ Vanessa Lim)
To support these farms, SFA said it has provided account managers to help them identify areas for growth and map out a development plan.
Meanwhile, Temasek Polytechnic's Aquaculture Innovation Centre (AIC), which was launched in 2019 to support and develop the small-and-medium enterprises (SMEs) in the aquaculture industry, has been working with farms to enhance their productivity.
This includes conducting research in developing quality broodstock and hatchery as well as helping farms to improve feeds and feeding management to reduce wastage.
Recalling the first five years of his business, CEO of The Fish Farmer Malcolm Ong said there were moments where it didn't seem like it would succeed as his efforts to boost productivity using technology required a lot of trial and error.
"We tried and failed so many times, we were basically going through the school of hard knocks, we lost money on some projects that we initially thought could work but in the end, didn't," he said.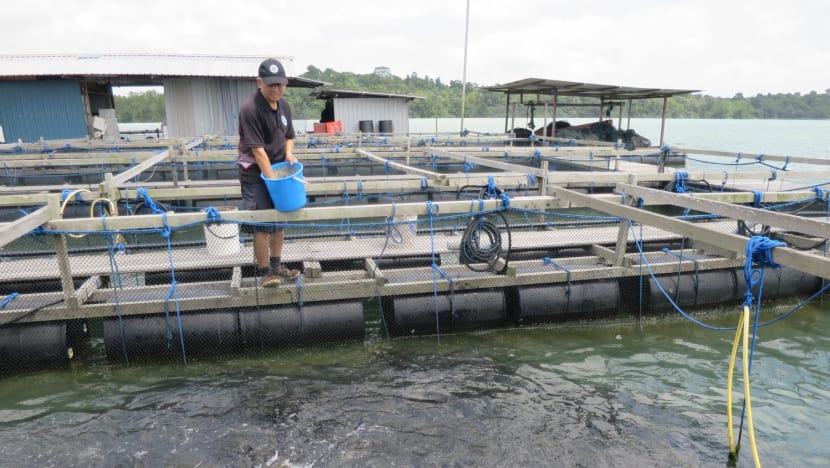 CEO of The Fish Farmer Malcolm Ong feeds fish at his farm. (Photo: The Fish Farmer)
"The issue with technology is that what might work for three months may not work for three years and out at sea, it's a tough environment, so you'll often see equipment or parts failing."
Eventually, his persistence paid off. The water monitoring system implemented at Mr Ong's farms - which have a capacity to produce a total of 1,000 tonnes of fish each year, including grey mullet, milkfish and red snapper - has greatly reduced fish mortality rate.
"We have problems with low oxygen levels twice, sometimes three times, a month," he said. "So without the system, our fish would be wiped out before we harvest a year later."
"It's about finding a balance," he said.
"For smaller farms like us, it's not financially viable to try and control every single thing, there are some areas where you have to put in the technology and some areas you have to work with nature," he added.
GREATER COLLABORATION
To lower their costs, Assoc Prof Tan said small fish farms could consider banding together to form a cooperative.
"Unfortunately, the farming industry in Singapore is quite fragmented, where every farmer works for themselves," he said.
"The moment we shift to a lease, these farmers will need to think very hard because now they will have a recurring cost, so I suspect that a group of small players will ultimately leave the industry," he added, noting that many traditional farmers are also elderly.
"But if they come together, it could throw a lifeline to all these farmers because when they make a central purchase or want to take their products to the market, their costs will come down," he said.
While there are already several associations for fish farmers, he said these do not group together and hence, aren't able to enjoy higher economies of scale.
Pointing to farming industries in Africa, which have cooperatives of at least 100 farmers, he said this has allowed them to order fish feed in bulk, reducing their costs significantly.
"If you have 100 farms that band together, it means that instead of ordering 1,000 tonnes of feed, you can order 200,000 tonnes, which is a lot of economies of scale for feed," he said.
Another potential solution could be for smaller farms to team up with bigger companies, which require space to try out new technologies or even develop new fish species, suggested NTU's Prof Chen.
"We're seeing a lot of innovation to breed fish that are more resilient to water conditions so there may be space for (breeding programmes) to be trialled in small fish farms," he said.
In turn, he said bigger companies can also reduce their capital costs as they can rely on the infrastructure of existing fish farms, instead of building a new farm.
"But beyond this, there's also growing research in technologies to improve efficiency in the aquaculture sector as well as sustainable alternatives for fish feeds, all these need to be tested in the real world, and not just in the lab," he added.
CARVING OUT A NICHE
Over the past three years, Singapore's aquaculture sector has seen next generation "smart" farms like Singapore Aquaculture Technologies (SAT) or Aquaculture Centre of Excellence (ACE)'s EcoArk sprouting up in its waters.
These facilities employ cutting-edge technology such as closed containment systems as well as artificial intelligence and video analytics, to improve the environmental conditions for their fish to grow in and achieve a higher yield.
According to previous reports as well as their company website, these offshore farms are capable of producing between 166 and 350 tonnes each year, which is significantly higher than the minimum production level of coastal farms.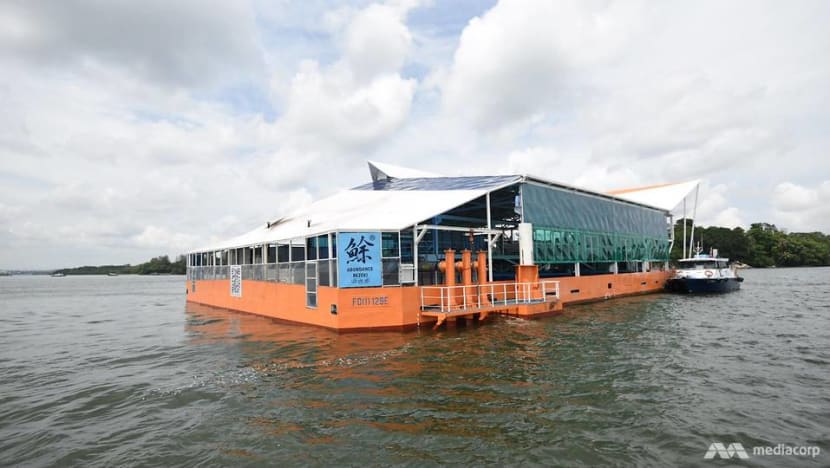 The Eco-Ark is an offshore closed containment aquaculture fish farm. (Photo: Rauf Khan)
Together with 22 land-based farms, Singapore's aquaculture industry, which comprises 110 fish farms in the Straits of Johor and Southern Water, produced 4,200 tonnes of fish last year. They also produced 730 tonnes of other seafood such as molluscs and crustaceans.
As the country moves towards more climate-resilient and resource-efficient methods of farming, it could see more large-scale smart farms being built, said Prof Chen.
However, smaller farms can still secure a spot for themselves in the market by supplying fish that the market demands but bigger players are unwilling to produce, he said.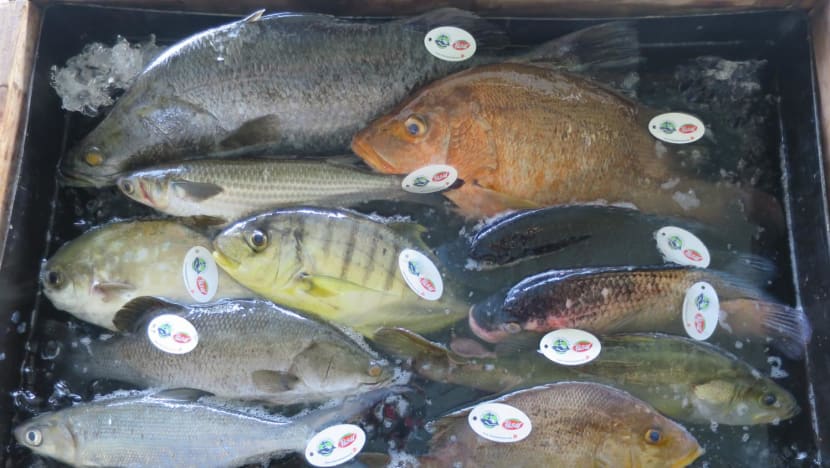 Fish produced locally in Singapore. (Photo: The Fish Farmer)
As industrial-grade facilities or high-tech farms tend to focus on producing single fish species and specification, Prof Chen said small farms will play a role in ensuring diversity in the aquaculture sector.
"Consumers want choice, and they don't eat the same thing over and over again, so it's not realistic to have all the fish being produced by big players (who may only produce certain types of fish) because you need diversity and balance," he said.
"Many of these farms have been around for a long time so they know the local consumer best and what consumers want and what is not so popular."
"So instead of trying to compete with the bigger tech-driven farms, they can try to complement them by producing other types of fish or fish of different sizes to cater to various consumer profiles," he added.
"This will add diversity and balance, helping to maintain a good seafood ecosystem."
THE FUTURE OF AQUACULTURE
Ultimately, experts and industry players say that small farms will continue to play an important role in the aquaculture sector, with Singapore eyeing to become an urban agri-food tech hub.
"Despite not being an agricultural country to begin with, Singapore has really created such a huge name out there that the world is looking into Singapore to see how this small country is able to create an aquaculture industry," said Professor Lee Chee Wee, director of Temasek Polytechnic's Aquaculture Innovation Centre, adding that the country has limited resources such as land and water.
"They are interested to see the technologies that we embrace, develop and solve these problems."
This is where existing fish farmers can contribute and help develop the aquaculture sector, he said.
Likening them to soldiers, Prof Lee said these farms have been "fighting a battle for the country to protect food security."
"The bigger players coming in can work with these small farmers because these are people who understand the water conditions fish need to survive and why certain things may not work," he added. "They know the water better than anyone else."
"So by engaging them and making them part of a bigger team, you gain important and useful knowledge and skills, which can then be combined with technology," he said.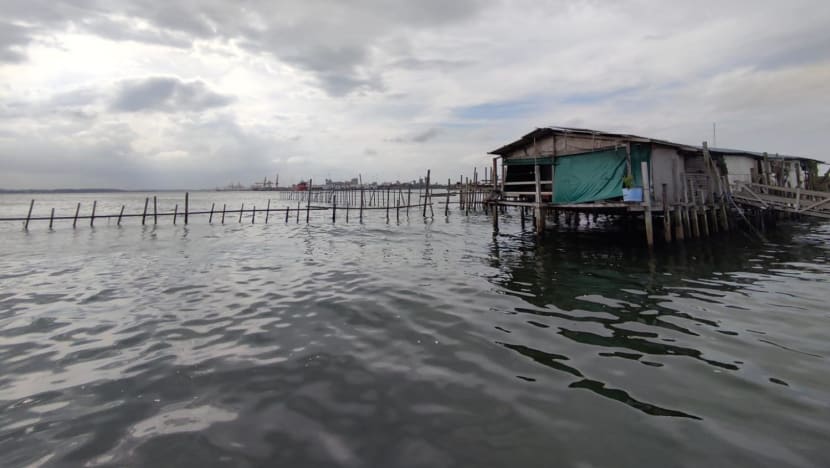 A traditional fish farm in the north-western coast of Pulau Ubin. (Photo: 2 Jays Farm)
Going forward, technologies tested and implemented by small farms here could also help the region to make its farming practices more sustainable and climate-resilient, said Prof Chen.
"A lot of ASEAN countries such as Vietnam and Thailand rely on small fish farms as part of their economy, so if these small farms here can test out some of these technologies such as alternative fish feed as well as more energy-efficient solutions to improve their farming practices, and then share these with other countries in the region," he said.
"This will have a positive impact in terms of sustainability and also help our smaller farms sustain over time," he said.
SOURCE: CNA