Interview • Portraits
Interview with Gersende Feitouchi: A change from the ordinary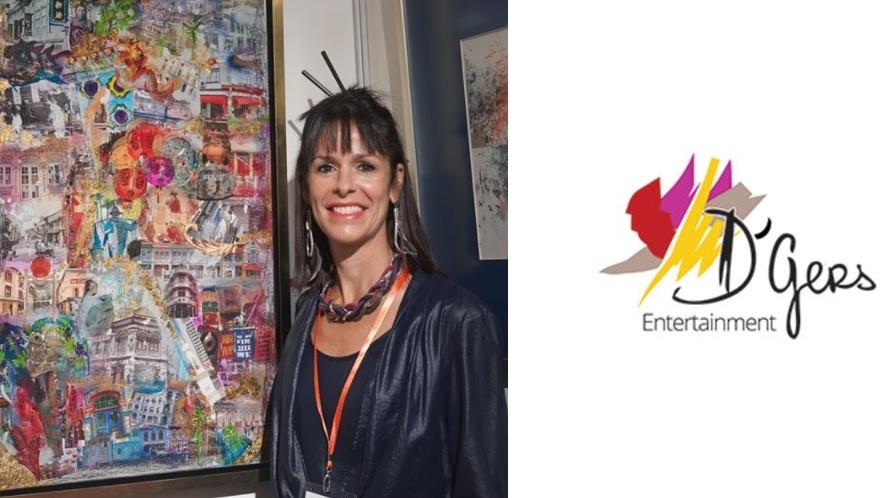 Take the time to explore Gersende's world, Owner and Founder of the art company D'GERS. She makes beautiful paintings and organize original workshops.
If you are looking for unique paintings with a style that doesn't exist anywhere else in Singapore, the perfect place for you is at D'Gers.
Can you quickly introduce yourself and your background in a few words?
I was born in 1978 and I grew up in Franche-Comté, a green region in France. I then studied "Beaux Arts" in Besancon, dynamic and spiritual place. I moved to Luxembourg later in 2004, a great city to work in a multicultural atmosphere. I moved to Singapore three years ago with my husband and my two kids.
I have always enjoyed meeting new people. I especially love to travel, explore cultures, and take photos. I always take the time to nurture my interest for architecture, human nature and wildlife.
What brought you to Singapore?
After working 10 years in Luxembourg, with winters that were too cold with grey skies and no sun for at least 5 months, we were dreaming of moving out than the "Singapore" opportunity popped up. My husband's new job coupled with my thirst of discovery encouraged us to embrace the change.
We decided to offer a unique experience to both our kids by exposing them to a universe of new people, countries, schools and languages… what a change!
Buckle up!
We moved from our house to a big condominium. This was a thrilling sensation to live in a community where the same number of people packed in blocks and units were approximatively the same number of people as our entire village!
How did you come to create your company?
After more than 15 years in marketing, communication, strategy and the events industry, I decided to go for a new challenge with my passion of art. I had a background in designing and I undertook a handful of art exhibitions along with some other artists in France.
I finally created my own company and it was a complete dream to devote all my time to art!
The goal of my company is to make art accessible to everyone because art is about sharing, expression of feelings, mix of techniques, imagination and lot of creativity.

I named my company D'Gers because when I was younger my friends used to call me me D'Gers. This name is very representative of what I want to offer, and my business values: being myself, sharing my knowledge's, through my artistic events or my artworks.
What's your own artistic style? Did you base yourself on previous artists?
Actually, I am the only artist representing and making this kind of art in Singapore. I am in fact very proud of my unique style. I do know my art is very specific however art is completely subjective; one can love as much as one can hate. And most importantly, art brings feelings and emotions which is exactly what my artwork does. I stimulate the creativity that exists in each of us, while offering pleasure, emotion and imagination around unique creation.
My art is focused on the use of upcycling materials. Due to our daily consumption, we have plenty of different materials at home; papers, carton, aluminum, fabrics, lace, tissues, or decorative elements. My paintings follow an innovative style where each artwork is a prototype made of painting, sticking, and recycling with fancy decorative accessories. I want to offer joy and dynamism as well as a non-conformist style.
What are the different steps in your projects?
I like to use mix media in my artwork: displaying different processes, working on various supports, with different materials and paintings.
I may also use photography to tell a special history. For example, some of my customers commissioned a personalized artwork with their own picture for a farewell, a birthday or a special event gift. Others customers can order new artwork. They can base it on pieces I have done before, with their own recommendations, or it can be completely different.

All artworks are composed in general with the same steps :
First, this is collage; representing something (abstract or figurative)
Then, I work on different paintings steps using acrylic, oil, patina, spray, ink, displayed by layers
After, I add my unique and glamorous touch by using various decorative elements like fabrics flowers, pearls, feathers, lace, glitter, depending on the artwork.

I leave time between each step so it can dry which gives strength and volume to the artwork and it is essential for a long conservation especially when I use relief.
What are your source of inspiration?
My main source of inspiration comes from relationships, travels, nature, and architecture. Additionally, I am inspired by Singapore, its impressive buildings, its vegetation and plants, and its different cultures.
I have separated Singapore theme in different series: the reconstruction/history of Singapore (using some pictures, building and shadows) or mix of culture (representing iconic places or objects in the city).
Singapore is an experience for many people. Expats usually want to keep a reminder of their stay there or share a picture with their family and friends from their country of origin. For this, I created a series called "loves from Singapore" representing the feeling of the Singapore life and skyline.

What is your experience in term of exhibition, after those last 3 years?
I took part in many exhibitions in Singapore such as the Affordable Art Fair, Visual Art Centre, SOTA, or at the ION gallery. I am proud to have been invited to participate along my Singaporean friend to a few local art exhibitions ("Singapore International Art Forum & Exhibition" and "Singapore 200 year International art exhibition") as a member of the federation of art in Singapore.
As a member of an international group of artists, I partook in a street art project in Ang Mo Kio, in collaboration with the Constituency Merchants Association. I participated in exhibitions and street art project in Borobudur Indonesia, or manila Philippines.
I had other projects in Vietnam, Hong Kong and Singapore but due to Co-Vid, everything has been postponed.
You are also very active in term of workshops?
Yes, I organize artistic events, focused on bonding, good energy, and fun. They can be corporate events, team building events, or even private parties. Art is a new amazing way to brainstorm, relieve stress, stimulate team identity, create experiences, and makes people happy.
I am also working with schools on long-term educative projects or extra-scholar activities. I give students a fun way to improve their physical, and emotional well-being by using a new and creative process. During the summer, I organized 4-week art camps at the IFS for elementary and secondary students.
My workshops vary depending on my customers which is awesome and makes me love these workshops even more. Even though I plan most of the workshops, I still have to improvise as my workshops revolve around different people. I am used to adapting to my customers and their needs and feelings.
How did you adapt to the circuit breaker's measures?
During the circuit breaker, I worked on my website adding an e-commerce functionality so I can sell my artwork online. It has been difficult to buy artwork online especially when there is relief and materials. However, some of my customers know my style and have already seen my artwork so they are prepared for it. Clients can now choose the poster option, especially for gift for friends, customers, family.
I also enriched my Instagram to maintain a connection with my followers using videos.
I created art sessions with my daughters for drawing or for DIY lessons. I than published those sessions online to help kids have a fun time during circuit breaker.
I received a lot of positive feedback on my videos and posters orders. Be that as it may, I definitively prefer meeting my customers and telling them the story of my art in person. I hope that exhibitions and artistic events will happen again soon.

Find out more on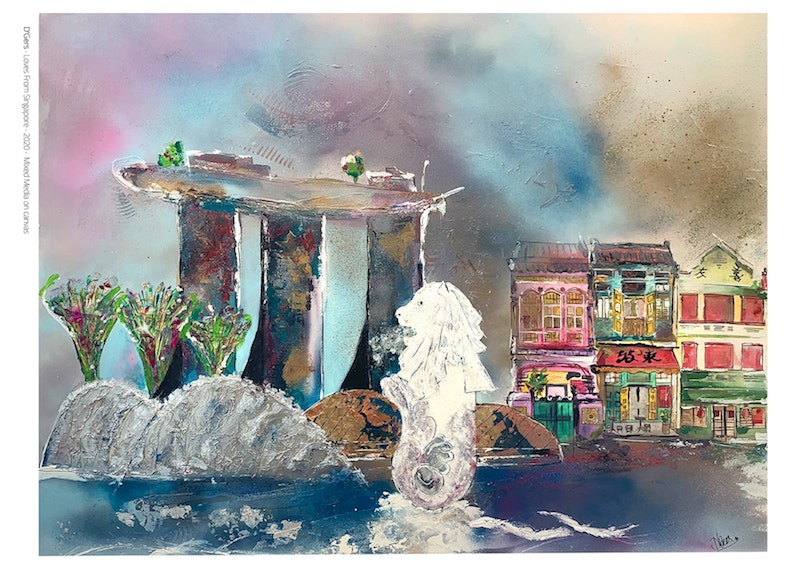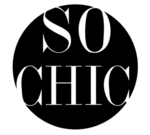 D'Gers is a participating member of So Chic. As the B2C platform of the French Chamber of Commerce in Singapore, So Chic showcases a diverse range of French lifestyle brands and entities in Singapore. For more information, visit https://www.sochic.sg/